With so many people making YouTube videos and creating their own content, the demand for video cameras has skyrocketed over the years. Still, not many people know how to choose the best video camera or what to look for when selecting one.
In this article, we'll talk about some of the best DSLRs for video and cover our top picks from a variety of brands to help you compare different options.
Best Mirrorless & DSLR for Video: Comparison Chart
Camera
Best For
Max Resolution & Frame Rate
Sensor Size
Inputs & Outputs
Current Price
Canon 5D Mark IV
YouTube Videos
4K @ 30 FPS
HD @ 120 FPS
35mm
HDMI, Headphone, and Mic
$2,599
Panasonic S1H
Professional Cinematic Shoots
6K @ 24 FPS
4K @ 180 FPS
35mm
HDMI, Headphone, and Mic
$3,697
Fujifilm X-T4
Hobbyists and learners
4K up to 30 FP
23.6 mm × 15.6 mm
HDMI and Mic
$1699
Sigma FP
Professional Shoots
4K up to 24 FP
35mm
HDMI, Headphone, and Mic
$1,899
Sony a7 III
Professional Cinematic Shoots
4K UHD 100/60 Mb/s at 23.98, 25, 29.97 FPS
35mm
HDMI, Headphone, and Mic
$1,998
Blackmagic Pocket Cinema Camera 6K Pro
YouTubers, Cinema
6K up to 50 FP
Super 35
HDMI, Headphone, and Mic
$2,495
Canon R5
Professional shoots including interviews and live events
8K up to 120 FPS
Full frame 36mm
HDMI, Headphone, and Mic
$3,999
Panasonic GH5S
YouTubers, All around shooting
4k up to 60 FPS
Four Thirds (19.2 x 13 mm)
HDMI, Headphone, and Mic
$1,897
Nikon Z6 II
Events, interviews, and fast action
4K up 12 FPS
Full frame (35.9 x 23.9 mm)
HDMI, Headphone, and Mic
$1,996
Panasonic Lumix S5
YouTubers, Filmmakers
4K up 60 FPS
Full frame (35.6 x 23.8 mm)
HDMI, Headphone, and Mic
$1,997
What is DSLR Video?
Short for digital single-lens reflex, DSLR cameras are extremely popular and used for both photography and videography. They use a reflex design that sets them apart from your everyday digital camera.
Thanks to this design, light travels through a lens and a mirror resulting in higher quality.
However, over the years, we have seen mirrorless cameras give tough competition to DSLRs for video.
Mirrorless cameras usually cost more but they're often worth the price, especially if you can afford an expensive mirrorless camera for videos.
Video cameras have evolved over the years, they're more compact, offer better quality, and can shoot for up to 30 minutes of continuous footage. This can make it tough for people looking to shoot continuous videos at a stretch.
Even the best DSLR camera for video will heat up after a point. Still, there are some great cameras that can be used for home videos, professional photography, and even movies.
Best DSLR Camera for Videos: Features to Look for
Here are a few things to look for when selecting a DSLR camera for videos:
Focusing System
There are few things as important as focus. A camera that fails to focus on your subject will rarely provide good footage. There are two options: manual focus and autofocus.
Manual focus is good for users who want to be creative and autofocus is for people who want to be fast. While effective, manual focus requires learning and might only be suitable for experienced videographers.
Autofocus comes with ease. You will get to choose from two methods:
Phase Detect Autofocus: This method involves splitting the image by projecting it onto two sensors. These images align once you use the autofocus feature. Accurate and fast, this method is known for being a little limited to shooting through an optical viewfinder.
Contrast Decision: This method works by finding areas of high contrast and adjusting the focus. This method isn't as fast as phase detection but is known for being more accurate, especially if the subject isn't moving at a very high speed.
However, we have now seen hybrid systems make some noise. One of the most popular is CMOS Autofocus that lets cameras have phase detection directly on the sensor for better results.
Most major video cameras now use hybrid systems but some older options still come with traditional autofocus features.
In addition to this, look out for the positioning and number of autofocus points. Some cameras come with a huge number of points that make tracking easier but can be complicated for manual systems.
More points don't always mean better results. It's more of a gimmick to attract buyers. You should rather pay attention to where those points are located.
Some video cameras have a majority of points close to the center, leaving some gaps along the edges, leaving subjects outside of the covered zone. Look for more sensor coverage for better results.
Stabilization
Good stabilization means stable, professional looking video. While you can add accessories to improve stabilization, it may not always be necessary since some video cameras come with built-in stabilization tools.
Since videos involve moving objects, we suggest that you go for cameras with a built-in image stabilization system. More commonly found in mirrorless cameras, some new DSLRs also have this feature.
Max Video Resolution
Technically speaking, most people would go for a UHD 4K camera but that may not always be a necessity, especially since not all screens support 4K. You should still choose a camera that supports full HD – 1080p.
The interesting bit is that there isn't always a huge difference between the cost of a 4K camera and a camera that supports lower resolutions. If in your budget, you should go for a camera that supports the highest possible video quality so that your device doesn't get dated too quickly.
Newer cameras are coming out with 6K and 8K. While it's unlikely (and unnecessary) to create 8K videos, more pixels mean more flexibility when editing – you can crop and zoom in without losing quality.
Slow Motion and Frame Rates
Just about every camera that shoots video supports the common frame rates of 24, 30, and 60 frames per second. But if you're interested in shooting beautiful slow motion video, you'll need a camera that supports high framerates. Think 120 fps or 240 fps.
Video Codecs and Bit Rate
Most cameras record 8-bit video internally. From a quality perspective, it is the same as a JPEG. Consumer-grade raw stills are higher – up to 14-bit. Some professional cameras even go up to 16-bit.
The higher the bit rate, the more details will be visible in a video. Plus, videos with a higher bit rate are better for post-processing, like color grading and adjusting exposure.
Size & Weight
Since most cameras are hand-held, size and weight can end up being an issue after a point. Don't forget that you may have to add lenses, which can add to the weight and even make it harder to mouth.
There's no such thing as the right size but most cameras are under 1.7 pounds so try and find one within this range. Mirrorless cameras are usually lighter.
What are you going to be doing – travel? Adventure stuff?
Battery Life
There are few things as disappointing as a camera with a bad battery life. The average battery lasts about 10 hours but some can last longer. It depends on a variety of factors such as LCD screens, Bluetooth, GPS, and autofocus. Some features drain batteries and can even harm it in the long-run.
It is not uncommon for videographers to need external batteries. Nonetheless, to be on the safe side, choose a camera with a multi-battery grip accessory option and a coupler for wall power.
Crop Factor
You can choose a full-frame DSLR or one with a cropped factor, like APS-H or APS-C.
Full frame options work well in low light with a better depth of field.
You will find some cameras that come with Super 35, sensors used in big TV productions and motion pictures. They work quite like APS-C, which is equally popular and slightly smaller than a 35mm photo film. Consider one with Super 35 sensors if you want to give your video a filmy look.
Ports
Ports matter a lot since you will have to connect external hardware to get more out of your unit. The three most important ports are: HDMI, USMI, headphones, and microphones.
Lens Mount
Buying a camera isn't just about buying a camera, it's about buying a system. You will have to add lenses to get better and sharper videos. Lenses are expenses – often more costly than the body – and they're not always interchangeable.
If you want to use a lens with specific features then make sure to pick a camera that supports it.
Media Type
Cameras don't have storage and you will have to use an external card to record videos. This is an important factor to consider because some cameras do not support large sizes. Since videos can run into 100s of GBs, we suggest that you go for a camera that supports large sizes and affordable card types.
Some DSLRs only work with expensive options like CFast, which can make it costly to shoot.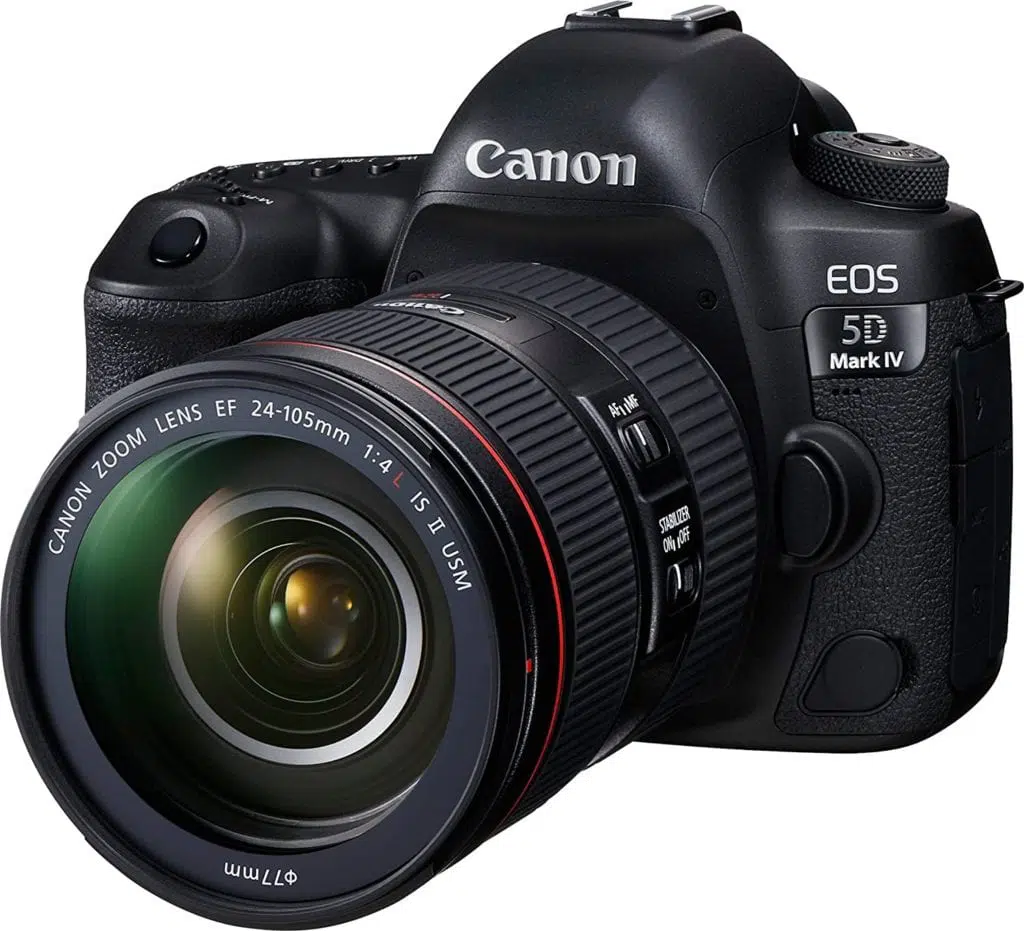 This Canon camera can be perfect for videographers looking for something affordable that can create high quality content. Many call it the best Canon DSLR for video.
At 1.96 lbs, it is slightly heavier than your average camera but works well thanks to a continuous shooting speed of 7 fps. It features 30.40x optical zoom and creates sharp videos that require a little bit of experience to edit well.
The main USP of this beauty is the Canon Log function that helps record content for post-processing that features a wide dynamic range. We noticed that it improves highlights and shadows providing more flexibility.
The camera uses a 150,000-pixel RGB+IR metering sensor for improved exposures. We tried it in different lights and were impressed even in low light.
Known as the best Canon camera for video, Canon 5D Mark IV with Canon Log features an improved 61-point High Density Reticular Autofocus that makes it not just fast but also easier to use.
Its 3.2″ 1.62M-dot screen works quite well outside and displays neat results. The camera supports 1 SD and 1 CF and can record as high as 4K/30/24p.
Pros:
Excellent weather sealing makes it suitable for outdoor use
Comes with a built-in bulb timer interval timers
ISO 100-32000 is quite exceptional especially since it is expandable to 102400
Supports WiFi for ease of use
Cons:
Top flash speed of 1/200s only
4K videos don't play back smoothly due to Motion JPEG codec and high bitrate
Maximum video recording limit of only 29:59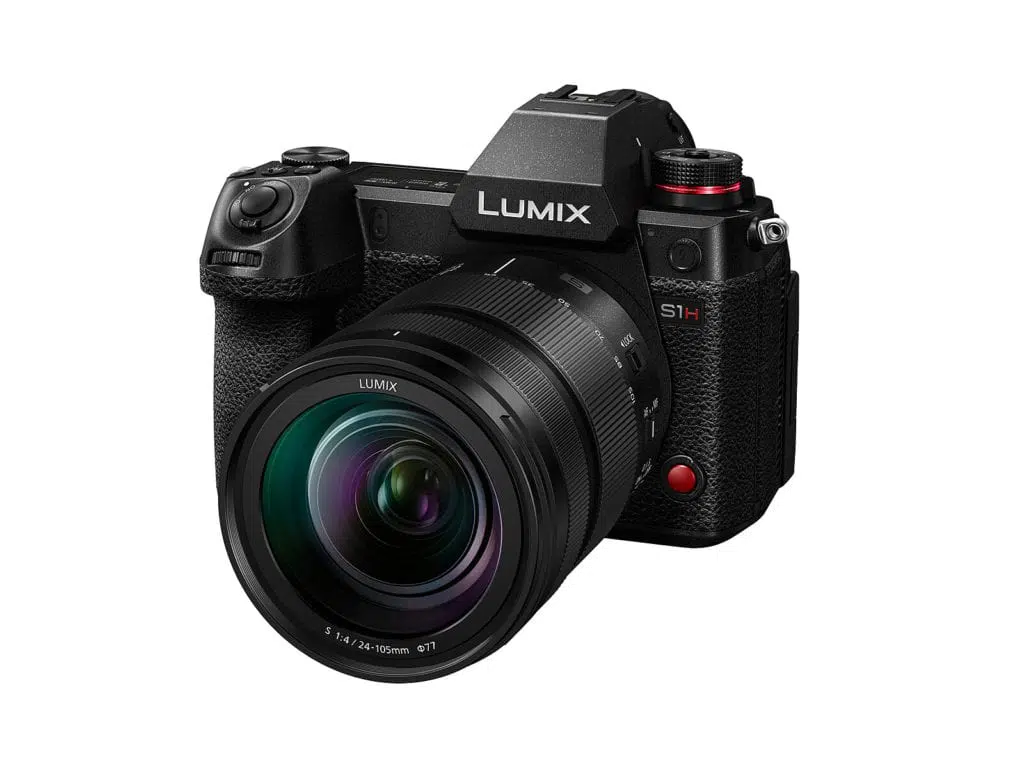 Ready to spend big on something pros use? Get your hands on this best cinematic DSLR for under $4,000.
At 6.3 lbs, it is one of the heaviest cameras on this list; however, we must mention that its design makes it easier to hold despite the weight. It offers continuous shooting at 9 fps (AFS) / 6 fps (AFC), which is among the best in the business.
This camera creates very sharp videos that highlight every detail. It introduced a new type of dual native ISO imaging pipeline designed specifically for videos.
The S1H can record in 6K resolution with a 3:2 aspect ratio at 24 FPS for up to 30 minutes even in conditions where the temperature reaches 40°C (104°F). However, at lower settings, it can go longer.
Panasonic has brought some great upgrades here. The image sensor is neatly mounted on an uprated sensor shift mechanism. It offers great accuracy and responsiveness.
Pros:
Its fan cooled body ensures it doesn't heat up quickly
Dual-SD card slots with V90 card support
Highly durable thanks to a magnesium-alloy body with freeze proofing and splash and dust resistance
L-mount lens compatible
Features a 3.2-inch diagonal touchscreen that makes it easy to use
Cons:
Uses contrast based AF
On the expensive side
Rolling shutter in full-frame modes
Heavy hence can be problematic for some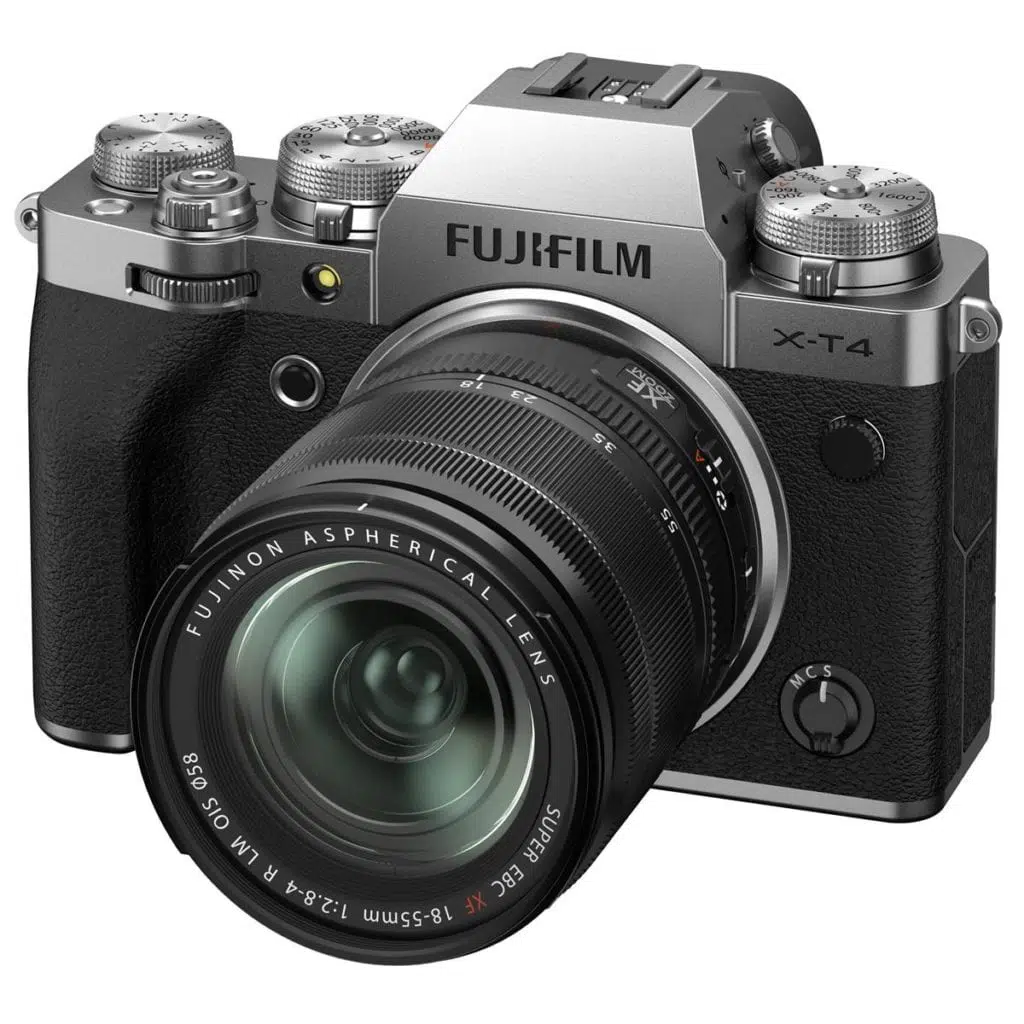 Weighing less than a pound with batteries, this mirrorless camera from Fuji is one of the best videography cameras for professionals who want to shoot indoors. While it doesn't have a headphone jack, it can support other accessories including some great lenses.
It features Fuji's X-Processor 4 Quad-Core CPU, which is among the fastest. It can go up to 20 FPS continuous shooting when using the electronic shutter. It falls down to 8 FPS when using the mechanical shutter.
Called the best DSLR camera for filmmaking by some, this beauty can capture 16MP images in 1.25x crop mode at up to 30 FPS using the electronic shutter.
It has a dial based, manual control system that is easy to use. Moreover, the company is known for releasing regular firmware upgrades to ensure the system continues to work well.
While it works well, we must mention it might not be the best for long sessions as the battery is not very impressive.
Pros:
Excellent autofocus with eye and face detection
The 3-inch rear screen is great and tilting
The presence of both Bluetooth and WiFi makes it easier to use
Cons:
Can be a little noise
Does not come with in-body image stabilization
Has a single card slot
Produces very fine quality output
Not perfect for outdoors due to no weather sealing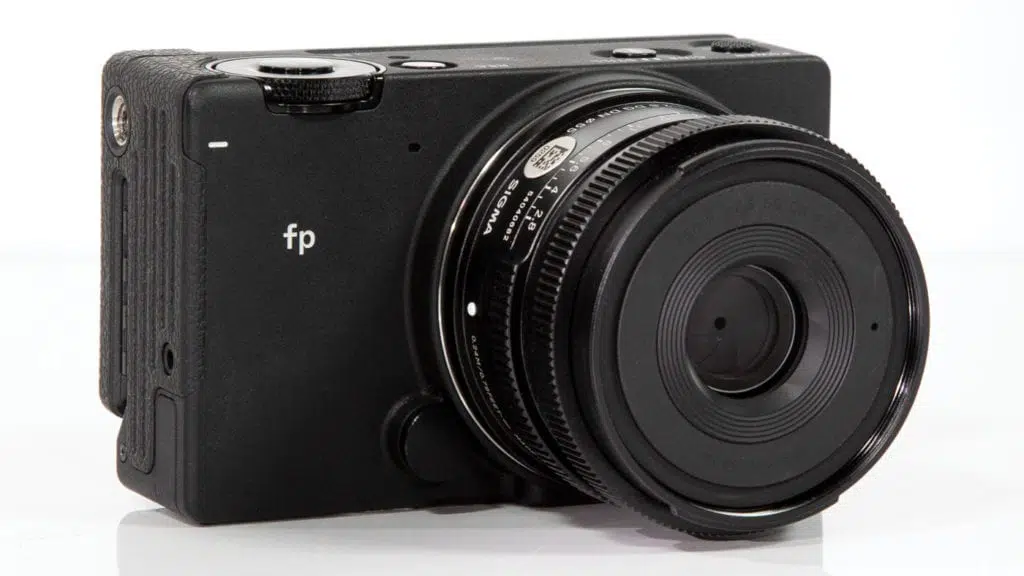 Sigma rarely appears when you talk about the best filmmaking cameras but this impressive model deserves a mention due to being the "world's smallest and lightest full-frame mirrorless ILC."
It uses the Leica L-mount that makes it possible to connect a variety of lenses. Plus, it has the ability to support external recording, which makes it the best cinematic DSLR. Due to this feature, you will not have to worry about the camera heating up.
Using the camera is easy due to electronic image stabilization and eye and face detect autofocus. The native ISO range is pretty expensive going as high as 102,400.
The 24.6-megapixel BSI CMOS image sensor makes it perfect to shoot videos. The camera works well when recording moving objects and can be great for slow motion shots.
Pros:
Perfect for outdoors thanks to a weather-sealed body
Scalable design lets you add accessories including grips and an LCD finder
The camera supports the ATOMOS open protocol
The director's viewfinder function works well
Has an internal card and a slot for an external card
Cons:
Doesn't have a built-in hot shoe
Can heat up pretty quickly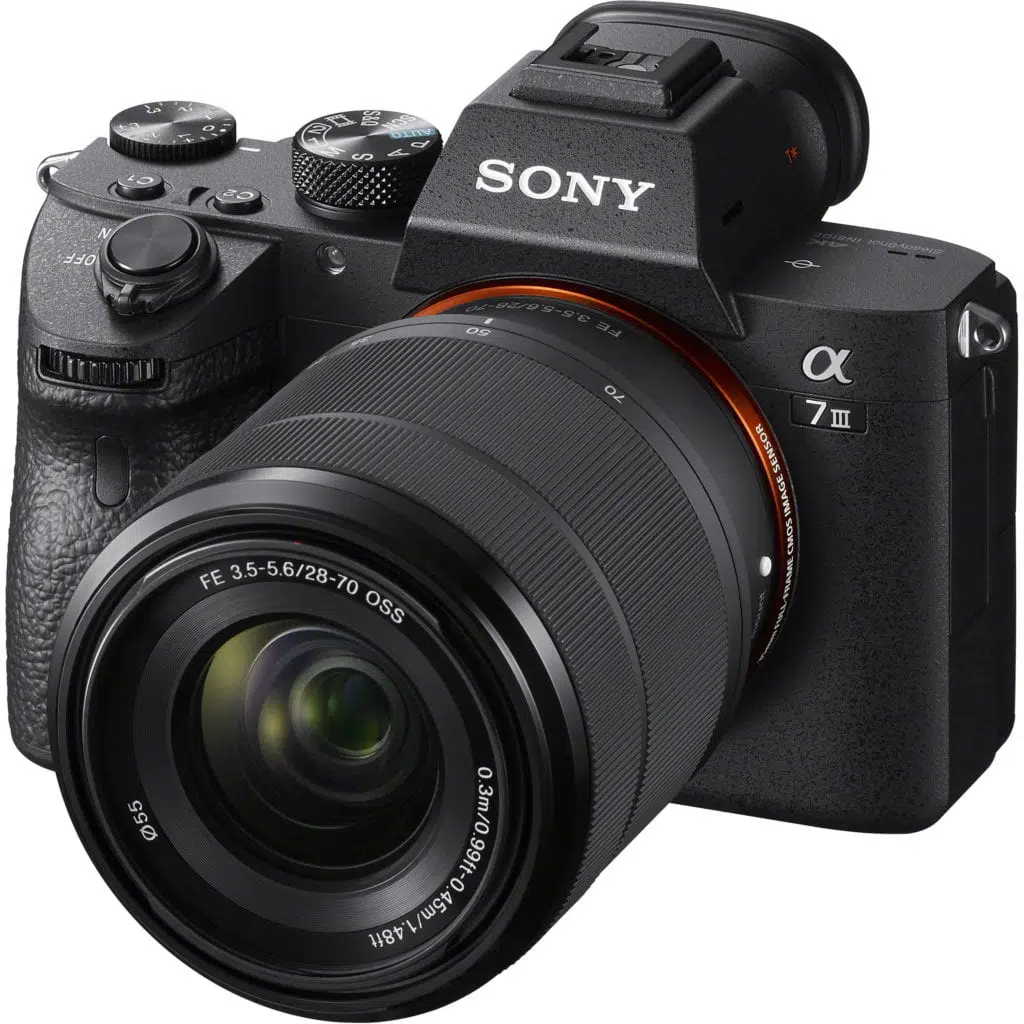 If you search the web for the best Sony DSLR for video, you will come across Sony a7 III, known as the best DSLR camera for filmmaking. Known for giving the cinematic look, it is marketed as an "entry-level" full-frame mirrorless camera
and uses the same AF method as Sony's pro-sports a9 model. Worthy of sports-shooting, this best cinematic DSLR works well in both daylight and low light.
Rolling shutter works well and slow-motion videos come out pretty neat, which makes editing easier.
The camera has dual SD slots, which means you will not have to pause shooting every now and then to change the card. It is one of the few cameras that comes with continuous autofocus at 10 FPS.
Pros:
Has an easy and fun to use tilting touchscreen
Silent shooting works well
Has a focus joystick
You can use flat profiles
Battery life is pretty good
Cons:
Can be a little slow to buffer even when using high quality cards
Only one card slot supports UHS-II
Does not have the option to losslessly compress content
Doesn't come with a dedicated battery charger and flash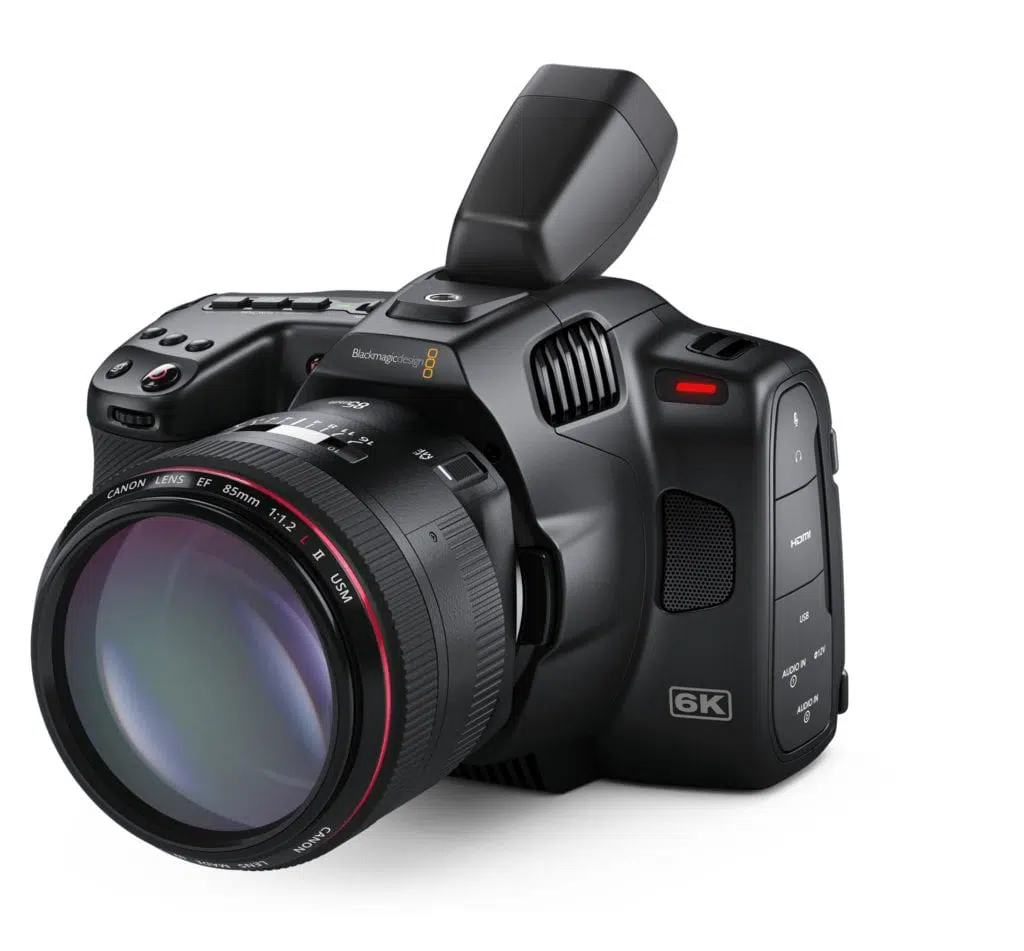 Blackmagic Design has carved a niche in the last few years by producing durable DSLR cameras with high-end features. If we had to pick their best, we'd go with the Blackmagic Pocket Cinema Camera 6K Pro due to its amazing features.
The camera doesn't have image stabilisation but the autofocus (contract detect, one-shot) works well.
It hits the bull's eye when it comes to extensibility as it has almost all the ports needed including a USB-C to record to an SSD. Despite the small size, the powerhouse can record for up to 45 minutes, which is pretty good.
Remember that you may have to spend big on cards as the highest quality requires 483MBps per minute. On the positive side, it lets you record compressed footage.
Pros:
Offers very high quality raw footage
two card slots—CFast 2.0 and SD
Comes with an AC power option
You can get more by investing in add-ons including a battery grip
Has both bottom and top tripod threads
Cons:
A little large and bulky
Screen could've been better – is tilt-only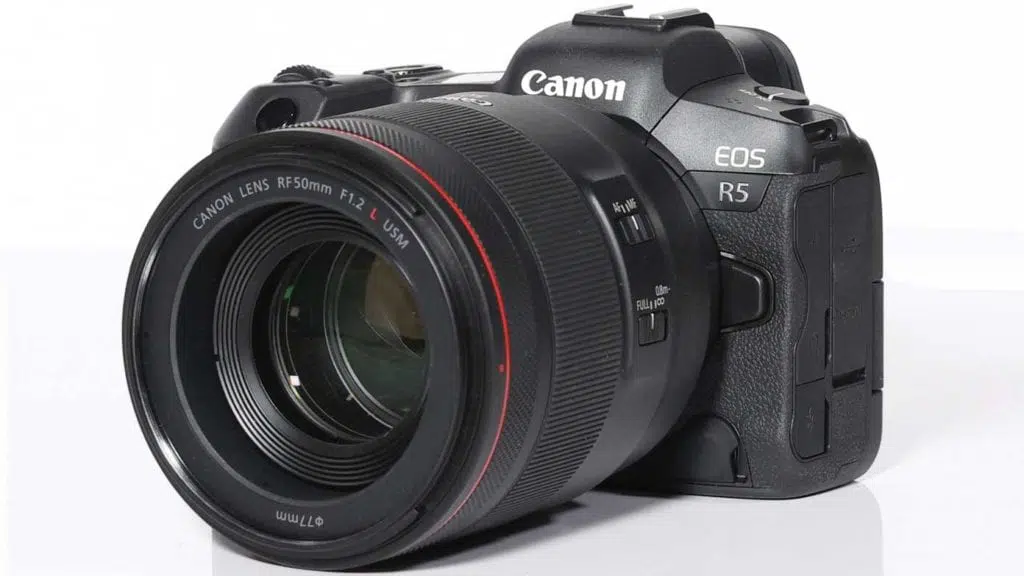 Stop searching for the best Canon camera for video and look at the R5, which is easily the best Canon camera for video.
This mirrorless camera comes with an ISO range of 100 to 102400 and flat profile. It was originally marketed as the best camera for photography; however, we think it can be perfect for videographers as well, especially when used with some excellent lenses that are supported due to its Canon RF mount.
Wed liked how easy this best full frame camera for video is to use. Controls are nicely placed and you will have no trouble getting used to it if you have used a Canon before. But, what truly sets this apart is its impressive EOS R5 autofocus that comes with tracking performance, excellent speed, and subject recognition.
The focus point covers the area well and it even gives you the option to fine-tune the system as per your requirements.
The five-axis system does a good job of keeping things stabilized and the camera shows very vivid details.
Pros:
Excellent 45MP full-frame
Good at subject tracking
Large and reliable EVF Swing-out touch LCD
5-axis IBIS
Supports dual cards – CF and UHS-II SDXC
Cons:
Not the most impressive battery life – 220 shots with the EVF
WiFi cannot be used to transfer 8k videos
High ISO Raw files do not look neat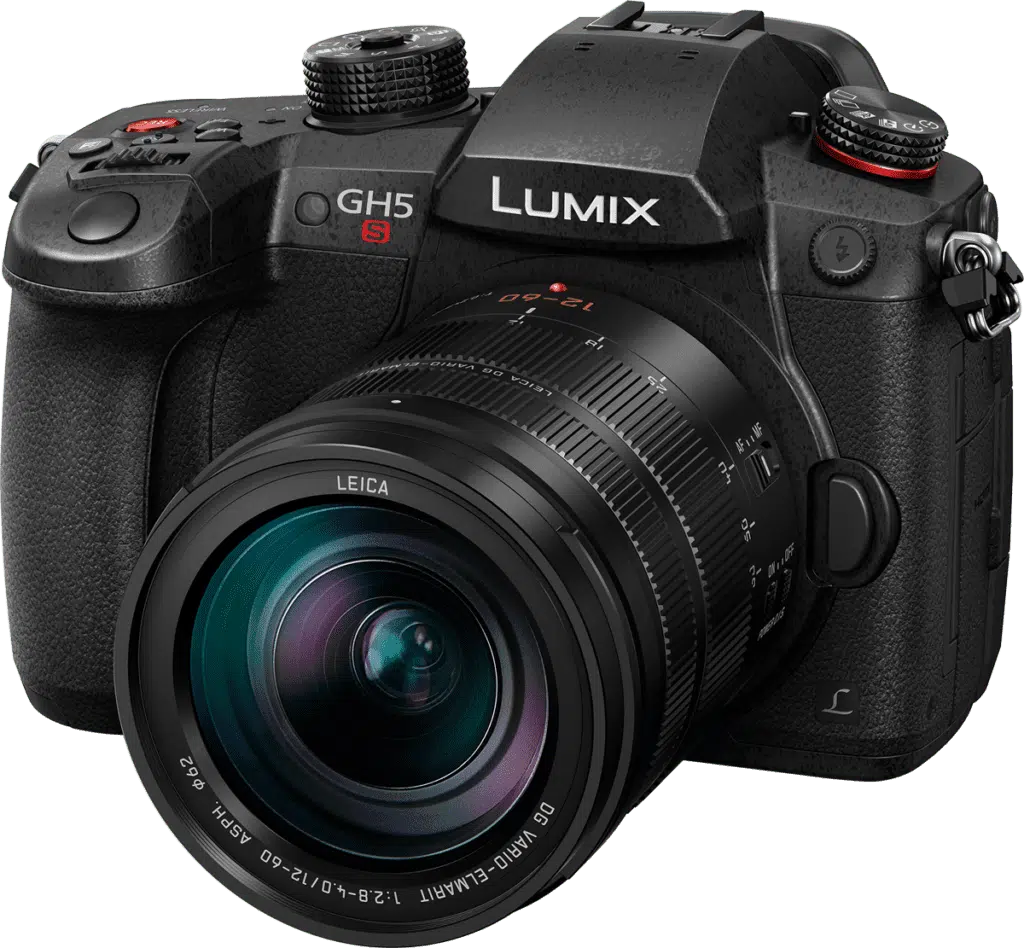 Panasonic mirrorless cameras are among the best for filmography and this unit shows why. Made for videographers shooting under poor light conditions, this 10.2MP camera offers an impressive dual native ISO design that leaves an everlasting impression.
Once you take this one in hand, you will notice that it looks familiar as it uses the same chassis as Panasonic's GH5. The buttons are neatly placed and you will not have much of an issue handling it as it is under 2.5 pounds.
The main selling point for this was its sensor. It was Panasonic's first Micro Four Thirds camera to support 14-bit Raw capture. It is highly versatile and can record 4K at up to 60 FPS. You will have more options at 1080p – up to 240 FPS. This can be great for slow motion shots.
Pros:
Perfect for outdoors as it is weather sealant
The focus peaking option for manual focus is great
ISO output is great and helps produce clear output
Dual card slots prove to be quite beneficial
14-bit Raw imaging HLG and V-Log L included
Cons:
Comes without in-body stabilization
There is no built-in flash
Videos above 6400 do not look very neat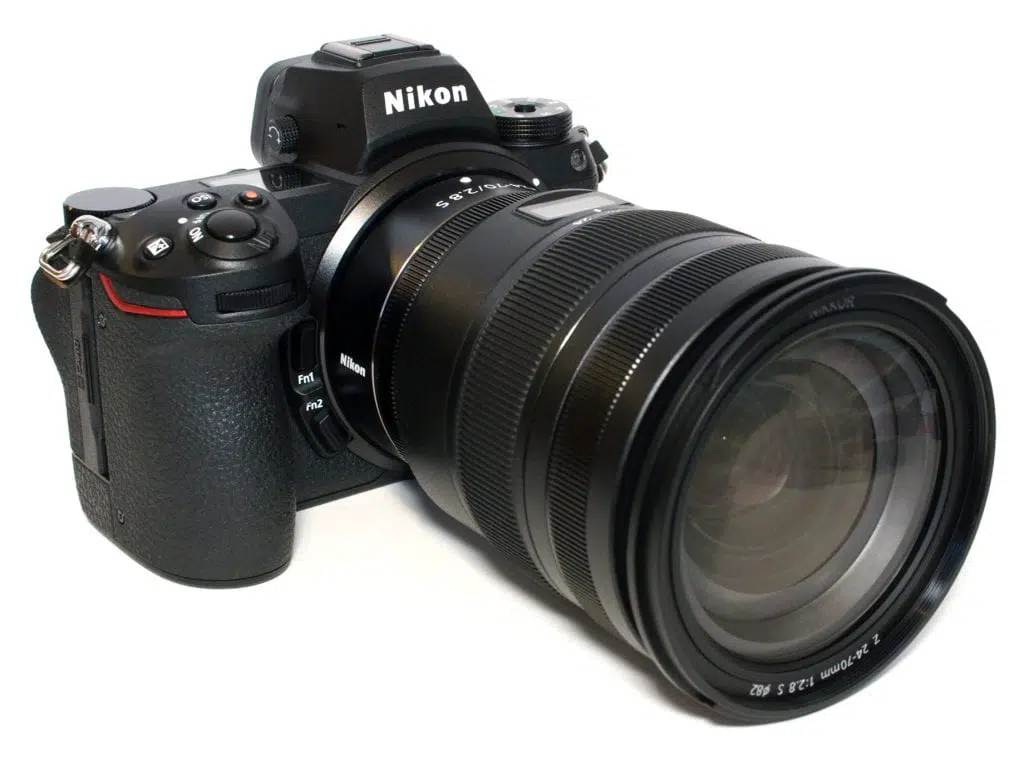 Surprised to see this one on the list? Nikon Z6 II is one of the best DSLRs from Canon, giving competition to big Sony cameras. The mirrorless camera is perfect for videographers thanks to its support for Z and adapted F lenses.
It is perfect to shoot fast moving action and even slow motion as it can push 1080p footage to 120fps.
The company has been fast to provide upgrades for the machine allowing it to shoot even better videos. We suggest that you update the firmware to get the best results.
While you get two memory slots, remember that recording to card limits quality to 8-bit. On the plus side, there is a flat (N-Log) color profile that can be perfect for users with an eye for grading and color correction and grading.
Check our best cameras for YouTube videos article for some more similar options.
Pros:
You have the option to connect an external recorder
Impressive ISO range – as low as ISO 50 (Low 1.0) and as high as ISO 204800 (Hi 2.0)
Up to 14 FPS continuous drive
Excellent stabilization makes it easy to shoot
Cons:
Some firmware updates are paid
Autofocus can take some time to learn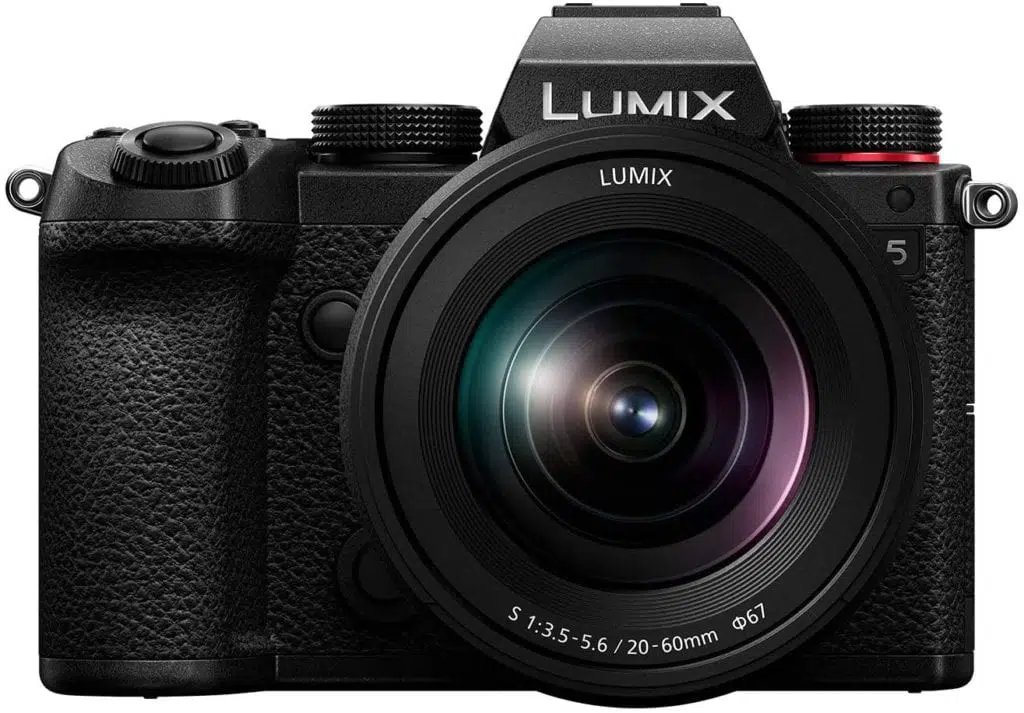 If you think 4K cameras are expensive then we'd like you to have a look at this best mirrorless camera for filmmaking.
With its 24MP full-frame sensor and reliable DFD focus system, it is one of the most in-demand Panasonic DSLRs for videography. It comes with 5-axis IBIS and excellent design that ensures you have no trouble using it for extended hours.
Users who want to save time can use its built-in editor to edit files on the go. Marketed as a professional camera, this beauty comes with 5-axis Hybrid Optical Image Stabilization and 20x zoom.
Some other features worth mentioning include wide ISO range and weather protection.
Pros:
Perfecto for outdoors
10-bit 4K60 video quality is excellent
Has two memory card slots
The contrast-detection autofocus system works well
Cons:
Doesn't support a wide variety of lenses
Not the best battery life
Best Camera for Photo and Video: Conclusion
This was our list of some of the best videography cameras out there. Compare these options to pick the best DSLR camera for filmmaking according to your requirements.
The best Canon camera for video discussed in this best cinematic DSLR camera review can be suitable for hobbyists or people who want to make YouTube videos. Those who want the best mirrorless camera for filmmaking should choose the best Sony DSLR for video since Sony cameras are known to offer the right cinematic fee.
For more options look at our best DSLR and mirrorless cameras under $1000 article that includes a review on the best Nikon DSLR for video.