My lack of pop culture (mainly sports) knowledge strikes again. I saw More Than a Game, a doc where filmmaker Kristopher Belman followed a high school basketball team in his hometown that happened to have a young, up-and-coming player named LeBron James, enabling him to document LeBron's rise to stardom.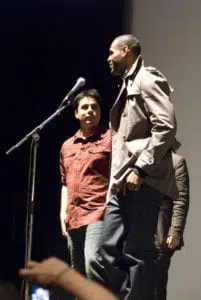 My first thought: "LeBron James, sounds kind of familiar. I guess he's important." This was supported when the entire audience went crazy when LeBron joined Kris on stage to open the film.
As for the doc, it was well made and used great techniques to make still photos interesting. It had a great rhythm to keep technical things, like elimination boards, interesting.
It was a little hard to follow at times, but I'm sure I'm in the minority from my lack of basketball knowledge. But with that said, I still think you'd need a little background on the subject to fully appreciate it, which I couldn't. 
I did learn something, which is part of my draw towards docs. Mainly I learned who the hell LeBron James is.