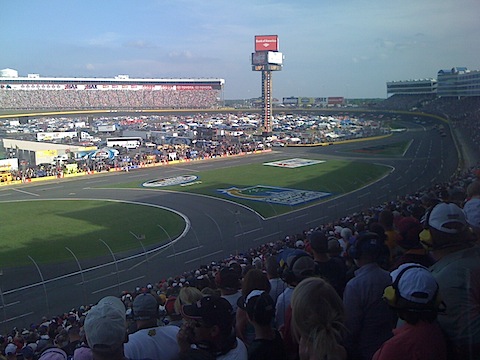 A few weeks ago I went to the Coca-Cola 600 NASCAR race in Charlotte. I never understood NASCAR and I still don't get it, but with 140,000 people in attendance (twice as many as the average football stadium), plus the millions that watched on TV, it's a force to be reckoned with.
But actually going to a NASCAR race I can better understand why 140k people would go too – they make it an event and experience that you can't replicate by watching it on TV. And that's why I'm writing about NASCAR – because like a film screening, it's all about adding something that you can't get by watching at home.
Merchandise – Outside of the track each driver had their own mobile 18-wheeler gift shop. Everyone's their own brand.
Follow Your Driver – And not just on Twitter. You can rent or buy a radio scanner and tune in to the radio chat between your driver and the pit crew, to get a more immersive experience while watching the race (I assume they say more than, "Turn left! Go fast! Keep turning left!"). Sprint goes one step further with FanView, which is a scanner and wireless TV, so you can listen in, watch the TV feed, or watch your driver's in-car camera while pulling up stats.
Visit the Pit Area – This was by far my favorite. With a special ticket, you can go down to the pit area a few hours before the race and check everything out, take some photos, chat it up.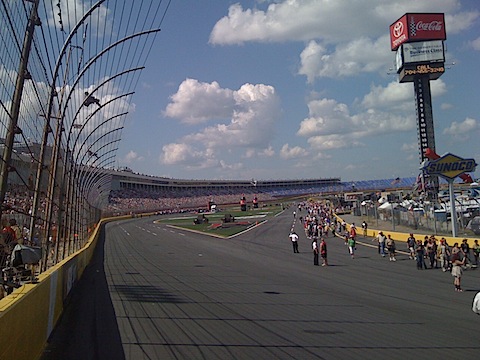 To get to the pit area you walk across the track. It's pretty cool to be down there and feel the angle of the track and how massive it is.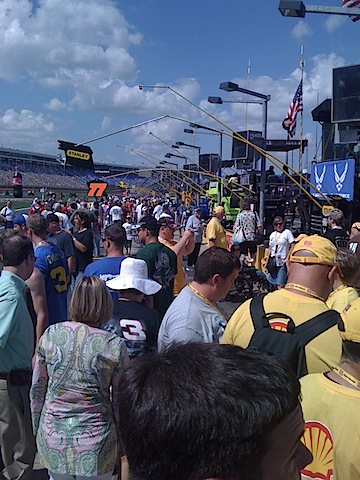 The pit area.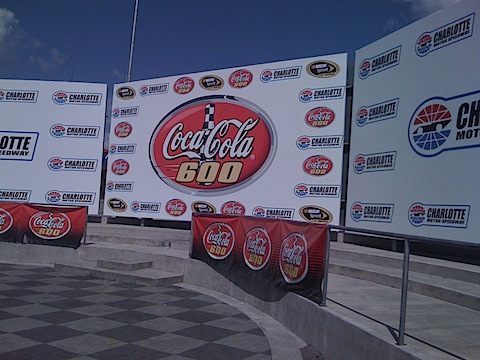 You can also get a picture in the Winner's Circle (or have one of the Fan Photographers take one for you, which of course you can purchase later).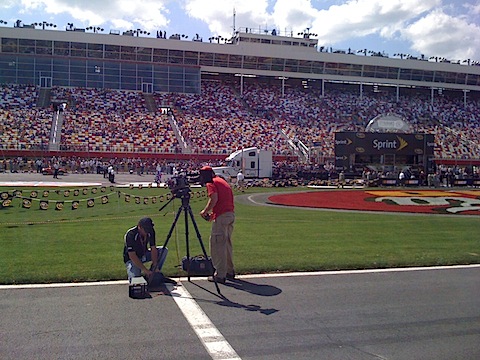 Of course nerdy me noticed a RED camera team and this one with a Phantom V2 high-speed camera.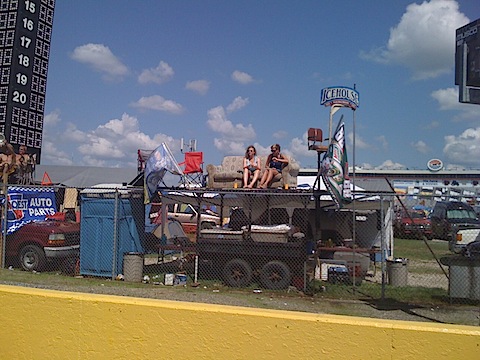 What other event lets you bring your own couch to the sidelines?
For some cross-promotion action, before the race started The A-Team van drove out on the track to bring the starting flag. But once it did start it was pretty much what I expected – cars driving around in circles. I saw a lot of people with scanners, some pointing at their car, telling them to go faster (they can't hear you, dude). And of course there's the obvious draw that I kind of left out – an excuse to drink as much as you want.
There is something to be said to feel the intensity of 40 high speed cars driving past you, but that wears off in about five minutes.