Podcasting is a great way to share your thoughts and ideas with the world. Not only is it a fun and engaging way to communicate, but it can also be a powerful marketing tool for your business. But before you can start podcasting, you must choose the right software.
There are a number of podcast recording software options available. In this article, we will share with you the 15 best podcast recording software for any device.
What to Consider When Picking The Best Podcast Software
When hunting for a podcasting program, consider the following features: podcasting software with decent editing capabilities, the degree of technical support you require, and the ability to save files locally.
When selecting audio editing software, you should also consider your budget; many of the best audio editing programs have a monthly or one-time cost.
Also, think about the future. Map out what you want your podcast to sound and look like when you launch, and in the future once you have more resources.
Recording Quality
The number one thing to consider is the recording quality of your podcast software. You'll need crystal clear audio (and possibly video) to create a polished podcast.
We recommend using software that records at least 44.1 kHz audio resolution. But if you can, use hardware with a 48 kHz sample rate.
You should be able to record in high quality on both mobile and desktop (or both), as well as virtually – this is very useful if you can't always arrange to meet people in person.
Video Recording
If you're producing a video podcast (and you should 100% be recording video for various reasons), make sure the recording quality is 720p HD at a minimum, but 1080p or 4K would be the ideal quality.
If you're recording video, consider software that records locally onto each person's computer. This ensures that each recording has the best possible quality, even with a weak internet connection.
Editing Features
Recording your podcast and editing it are two distinct tasks. You might need both recording software and editing software.
On the other hand, some recording software comes with editing capabilities to make the procedure simpler. If you're a podcaster looking for a one-stop shop, check out podcasting software with editing capabilities. Also, check if the software offers a library with sounds and music which can help jazz up your podcast. If you want to go deeper with your editing, you'll need software that allows you to keep separate audio and video files. This allows for the greatest control of editing your podcast later.
Computer and Hardware Compatibility
You'll want to double-check that the program you're using is compatible with both your computer's operating system (or web browser) and your podcasting gear. This may include anything from microphones, cameras, or other recording equipment.
Ease of Use
If you're new to podcasting or working with audio and video, you should go for simple and user-friendly software.
Technical support
If you're not especially tech-savvy, look for a digital audio workstation (DAW) with adequate technical support and help documentation.
You should have access to these resources in the event should technical issues arise. If it's a paid tool, support via email, chat, or phone should be provided, if possible, 24/7.
Online how-to guides, wikis, and video tutorials will also help.
When purchasing a tool, you should also consider the kind of support you'll get if you encounter any problems. If you need help with the recording software, it is essential to know that you can get help as soon as possible.
File storage
When recording a podcast, you need somewhere to store its audio files, including raw recordings and edited versions.
Basic podcast recording software should be able to save recordings on your computer locally. If you record a podcast with multiple participants, the split track recording feature on your DAW will allow you to record the audio of each podcast participant separately. This ensures that the quality of your podcast is retained regardless of who's speaking.
Easy Distribution
Some advanced audio software comes with one-click distribution, which allows you to upload and send your podcast to major podcasting apps, such as Apple Podcasts, Spotify, Audible, or directly to podcast hosts, like Buzzsprout, Captivate, Transistor, and more. 
Essentially, it does the distribution legwork for your podcast to reach the widest audience possible.
Price
When it comes to software, you get what you pay for. If you want the best quality podcast tools, you will have to shell out some cash. But don't worry – there are plenty of great options out there, even if you're on a budget.
You don't necessarily need to spend a fortune on podcasting software. Even the most basic recording software can produce great results. And most tools offer free trial versions. However, if you're looking for something that offers more features and flexibility, you have to decide whether it's worth investing in a paid version.
Best Software for Podcasting
Riverside boasts a studio-quality recording platform, allowing you to record up to 4K video with uncompressed 48 kHz audio resolution. You can even record from anywhere in the world, and invite up to 7 guests to join your recording session.
What's worth highlighting is that Riverside records everything locally, directly to your device, which ensures a crystal clear recording of your podcast regardless of any unforeseen connectivity issues or lags, allowing you to have more control over post-recording edits and modifications. Each guest gets a separate locally recorded track.
Clips by Riverside is another feature that will allow you to repurpose your content by creating shareable short-form clips out of your full recordings.
Overall, Riverside ticks all the boxes and comes with premium features, such as unlimited recording, screen sharing, live streaming, easy distribution to major listening platforms, and unlimited content transcription.
Want to create a professional video podcast in Riverside?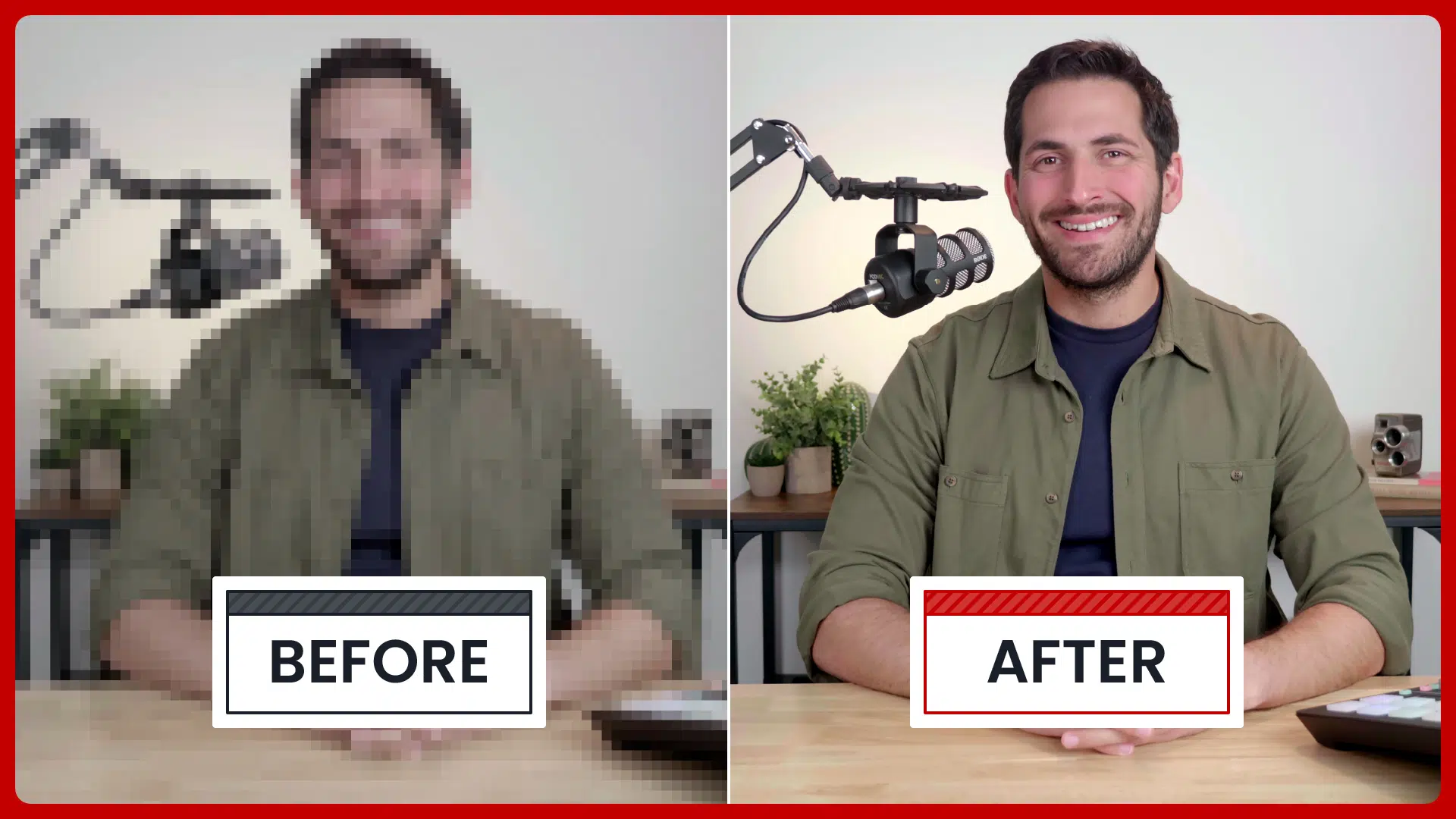 Check out our 2 hour Skillshare course that will take you from start to finish in producing a professional video podcast.
Best of all – use this link and you get a month of Skillshare for free (plenty of time to watch the course).
Price
Free, Standard ($15/mo), Pro ($24/mo), Teams (custom pricing)

But, if you use the code JOEY you can get 30% off Riverside
Compatibility 
Browser-based, compatible with Mac and Windows
Mobile-friendly, iPhone or Android app
Key Features
Records up to 4K video quality with 48 kHz audio
Local recordings for higher quality video and audio
Split track recording
Specialty tools: Clips, Media Board
Up to 8 participants per recording (1 host and 7 guests)
Live streaming and call-in feature
Screen sharing and split screen capabilities
Producer Mode (behind-the-scenes controller)
Shared working environment (enterprise plan)
Pros
High-quality recordings of up to 4K video resolution at a 48 kHz audio rate
Locally recorded files
Access to Riverside specialty tools for post-edits: Magic Editor, Clips, Media Board
Cons
Advanced editing will require the use of a third-party app

Restream is a powerful cloud multistreaming platform that allows its users to stream video content to multiple video platforms and social networks simultaneously, enabling content creators to reach a wider audience.
The Restream Studio also has a record-only feature to record audio/video for scheduled publishing. Split audio track recording is also available.
Price
Free, Standard ($16/mo), Professional ($41/mo)
Compatibility
Browser-based, compatible with Mac and Windows
Features
Multistreaming of live content with 30+ channels to choose from
Scheduler for organization of recorded content
Records up to 1080p Full HD with 48kHz audio
Chat overlay
Split audio track recording
Pros
Podcasters can take advantage of Restream's robust live streaming and multistreaming capabilities
Advanced podcast features are available on the Free plan
Scheduler streams recorded videos live
Cons
High-quality recording up to 1080p Full HD. 4K recording not available.

Audition is a powerful podcast tool that helps you create, mix, edit, and restore audio. It's one of the most popular podcast software out there, thanks to its established brand name.
Audition enables users to manipulate any audio files with its powerful multitrack, non-destructive editing environment. It is part of the Adobe Creative Cloud professional product suite, which includes well-known editing tools such as Premiere Pro, Photoshop, Illustrator, After Effects, etc. With such sophistication, needless to say, that recording and editing your podcast episodes in Audition will give you professional-quality videos.
Price
Free 7-day trial, monthly costs $20.99/mo on an annual plan
Compatibility
Features
Toolset includes multitrack, waveform, and spectral display for creating, mixing, editing, and restoring audio
Live monitoring while recording
Known for its intricate precision, restoration, and remixing abilities
Built-in presets available with royalty-free effects and a music library
Apply effects to files with ease using Audition's batch processing feature
Pros
Professional editing tool for audio
Best-in-class presets, toolset, and effects
Substantial audio restoration and noise reduction capabilities
Integration with Adobe Premiere Pro and other Creative Cloud apps
Cons
Not as 'simple' as many podcasters prefer
Need additional software for remote guests
Targeted at professional users
Specifically designed for music enthusiasts, GarageBand is another podcast software and a highly regarded tool for podcasters and alike.
GarageBand is your music studio inside your Mac, fully equipped with intelligent audio editing capabilities, including reverb, visual EQ, panning, and more.
Price
Compatibility
Features
Record, mix, master, and polish it off with visual equalization and compression
Intuitive, modern, macOS-clean interface
Works with Logic Remote, which turns your iPad or iPhone into a mixer
Syncs across all your Apple devices
Backed up in iCloud
Pros
Excellent audio production features, considering it's free
Forever free with macOS and iOS devices
iOS app available for on-the-road activities
Cons
Only compatible with Apple OS. Not available for Windows.
Lacks advanced editing and podcasting features
Need additional software for remote guests

Logic Pro is another popular music app for Apple users that also works great for podcasting. Much like GarageBand, Logic Pro's target audience are musicians rather than podcasters. Its niche is within its music production capabilities and creative songwriting, editing, and mixing toolsets.
Logic Pro may be intimidating for some podcasters. However, its powerful features open a room full of creativity and inspiration for its users.
Price
One-time fee of $199.99 with a 90-day free plan
Compatibility
Features
Industry-leading software with a comprehensive audio production platform
Compatible to work with GarageBand files
Works with Logic Remote, which turns your iPad or iPhone into a mixer
Support for up to 24-bit/192kHz audio
Pros
Advanced editing features for creativity and personalization
Access to sound effect and production music library
High-quality output
Cons
Available on Mac users only
Features are geared towards music recording and editing than podcasts
Need additional software for virtual guests

Auphonic is an automated post-production platform that uses its AI-based audio algorithm to automatically analyze and enhance your recordings to produce professional-quality output.
Smart sound engineering includes features such as intelligent leveler, loudness normalization, audio restoration, and multitrack algorithms.
Price
Free for up to 2 hours of audio per month, $11/mo for 9 hours, $24/mo for 21 hours
Compatibility
Browser-based, compatible with Mac and Windows. Mobile app available for Android and iOS.
Features
Efficient and quality post-production services
Intelligent sound engineering with intelligent leveler, loudness normalization, audio restoration, and multitrack algorithms
Automatic speech recognition with transcript editor in over 80 languages
Encode metadata and chapter marks to audio files
Deployment feature allows integration to content distribution platforms or storage
Pros
Great for quick automatic filters and audio cleanup with high-quality results
Produces transcripts of recordings
Automatic upload for distribution or storage
Cons
Not a fully featured digital audio workstation
Limited manual editing capabilities
No direct recording on the platform, although a separate free recorder app is available

Audacity is a free, open-source, cross-platform multitrack audio editor. It had been a go-to recording and editing program for podcasters and sound engineers for years. Advanced features such as pitch and tempo change, noise reduction, equalization, bass and treble, and volume like compression, fade in/out, and crossfades are available to users. Any conversion made uses high-quality resampling and dithering, ensuring quality outputs every time.
Price
Compatibility
Features
Allows recording through a microphone or mixer
Easy, straightforward audio editing capabilities
Equalizers, adjustable fade effects, and other built-in effects like distortion, reverb, and echo available for post-production modification
Supports 16-bit to 32-bit rate
Audio effects library available
Export or convert into multiple file formats
Pros
Forever free
Great post-production features and after-effects
Cons
No remote recording capabilities
Expect a steep learning curve for advanced settings
Geared towards production without so much podcasting and distribution capabilities
The interface may appear dated to some
Hindenburg Journalist specializes in solving common radio and podcasting challenges such as noise, uneven sound levels, and inconsistent voices.
Hindenburg Journalist comes in 3 separate software: the Field Recorder for iPhone audio recording, the Hindenburg PRO for radio and podcast production, and the Narrator Studio for audiobook production.
For podcasters, the Hindenburg PRO multitrack editor comes fully equipped with robust features, from recording, to editing, to publishing, all curated with intricacy for quality.
Price
Pricing for Hindenburg PRO varies between subscription and perpetual licensing. Starts at $400. Free trial is also available.
Compatibility
Features
Intelligent audio algorithm for a balanced mix of sound
Advanced features such as trimming, sound leveling, noise reduction, and more
One-click publish to upload your podcast to major platforms
Remote recording available
Pros
Designed for journalists, broadcasters, and podcasters
Fully featured audio workstation
Intricate algorithm guarantees excellent quality of audio content
Lauded support staff
Cons
No video editing features
On the more expensive end

REAPER is a full-featured digital audio application that offers multitrack recording, editing, mixing, and processing and includes everything you need for professional quality audio production at the most affordable price. The built-in track effects and plug-ins provide a wealth of sound processing and manipulation options. REAPER is also lightweight software and can run from a portable drive.
Price
Discounted license for personal/small business ($60) or Commercial license for enterprise ($225) with a 60-day evaluation period
Compatibility
Features
Can be installed and run from a portable or network drive
Multichannel support
64-bit internal audio processing
Support for third-party plug-ins and virtual instruments, like VST, LV2, DX, etc.
Access to a library of studio-quality effects
Pros
Relatively cheaper than most digital audio workstations
Lightweight software
Excellent production features for its price
Cons
Limit on simultaneous usage depending on license
No mobile app integration
Expect a steep learning curve
No video editing features

Most podcasters would rather focus on their podcast channels' goal, which are to grow their audience, book interviews, and earn sponsorship along the way. Alitu is specifically designed with that in mind. No prior technical knowledge is required. Alitu's drag-and-drop interface and automated cleanup make editing less worrisome for podcasters.
Price
$32/mo on a monthly plan with a 7-day trial
Compatibility
Browser-based, compatible with Mac and Windows
Features
Record with up to 6 participants
Drag-and-drop episode builder
Basic features such as transitions, splitting, trimming, all made easy
Automated audio enhancers (noise reduction, hums, loudness, etc.)
Access to sound effects and music library
Pros
User-friendly and intuitive interface
Basic tools and features with auto-enhancements
Great for podcast beginners and/or those who would not want to deal with the nitty gritty of audio editing and editing
Cons
Advanced users may find the available processing features too basic
No video editing features

Anchor is a popular podcast hosting platform from Spotify.
With Anchor's one-stop solution, you can record, edit, upload, and distribute your podcasts without shuffling through multiple apps and platforms. Once you reach 50 listeners, you will be able to sign up for Ads by Anchor to monetize your content. Anchor advocates for free speech. Hence, this free forever platform for everyone to share their stories and be heard.
Price
Compatibility
Browser-based, compatible with Mac and Windows. Mobile app also available for iOS and Android.
Features
Record, edit, and distribute using the Anchor platform
Free and unlimited content hosting
Distribution to all major listening apps such as Spotify, Apple Podcasts, Amazon Music, etc.
Reliable insights and analytics from Spotify
Set up monetization and ads with a breeze
Intuitive customization tools
Pros
Free for life
Easy and efficient publication of your podcasts
Smart interface
Cons
Lacks advanced editing features
250 MB file size limit, including audio extracted from video files
3-hour play length limit for videos
BounceCast is an intelligent digital audio software that automatically records, improves, and masters podcasts and video audio on both desktop and mobile devices. Through its smart audio processing feature, BounceCast can optimize the sound coming in for every situation and environment. This app will provide tips on how to improve your recording and even send feedback on how to adjust your current recording setup.
Price
Compatibility
Features
Record, trim, and enhance your content from within the app
Smart audio enhancement for compression, limiting, de-essing, and level normalization.
Intelligent soundcheck to analyze your recording environment.
Import, master, and export your recordings
Pros
Great features at a good price
Automated enhancements to meet professional standards
Cons
May be too basic for advanced users
Lacks advanced features

PodBean is a podcast hosting service that offers all the tools for managing your podcast. From recording in the Podcast Studio App to publishing, to monetization, PodBean aims to support its users from start to finish.
The Podcast Studio App records your remote interviews in studio quality and allows you to edit your recordings from within the app. Content monetization is PodBean's strong suit, with custom monetization programs tailored to every podcaster's needs.
Price
Basic ($0), Unlimited Audio ($14/mo), Unlimited Plus ($39/mo), Business ($129/mo)
Compatibility
Mac, Windows, iOS, Android
Features
Unlimited podcasting for a flat rate
Professional scheduling tools made easy
Reliable hosting network
Live streaming option available for live sessions
Audience engagement with powerful, easy-to-use interaction tools
Comprehensive podcast and insights
Pros
All-in-one solution from recording to promotion
Great monetization options to monetize your content
Cons
Expect a steep learning curve to get used to its flow
Separate recorder app

If you're looking for exceptional quality audio and video recording, Podcastle is the web-based platform for you. With just a few simple clicks, you can edit and enhance your audio tracks and then download them immediately in lossless quality.
Podcastle's Magic Dust is an AI-powered auto-enhancer that automatically isolates the speech and adjusts it to sound flawless.
Price
Basic ($0/mo), Storyteller ($14.99/mo), Pro ($29.99/mo)
Compatibility
Browser-based, compatible with Mac and Windows, iOS app recorder
Features
Professional quality audio recording made easy up to 320kbps MP3
Multitrack recording
Video recording feature up to 4K
Magic Dust audio enhancement
Has an on-the-go iOS app for recording
Revoice text-to-speech feature
Pros
High quality audio and video recording
Automatic transcription for audio & video
Royalty-free music and sound effects library
Cons
Lacks advanced editing tools for post-production touch-ups

By the looks of it, Spreaker appears to be your all-in-one solution for all your podcast needs. From recording and post-editing through their podcast studio (available for both desktop and mobile) down to podcast distribution, promotion, and monetization programs, Spreaker's got you covered. Its podcast recording software is available on mobile and tablet for on-the-go moments.
Price
Free Speech ($0/mo), On-Air Talent ($8/mo), Broadcaster ($20/mo), Anchorman ($50/mo), Publisher ($120/mo)
Compatibility
Browser-based, compatible with Mac and Windows
Features
One-click distribution of your podcast episode to major listening platforms
Designed for your success, marketability-wise and monetary-wise
Podcast analytics to learn more about your listeners
Spreaker app for your on-the-go sessions, also comes with mixing tools and effects
Pros
End-to-end podcast solution
If content monetization is your goal, Spreaker may be a good fit
Cons
Lacks advanced editing tools for post-production touch-ups
Learning curve

Zencastr is a powerful web-based recording platform that doesn't require any installation. Everything happens right inside your favorite browser. Zencastr is perfect for recording podcasts, remote interviews, meetings, or any other type of conversation, all in high fidelity. All your guests have to do is visit the invite link, and Zencastr will take care of the rest.
Price
Hobbyist ($0/mo), Professional ($20/mo), Free 14-day trial available
Compatibility
Browser-based, compatible with Mac and Windows
Features
Up to 4 guests + host
Records high-quality audio/video (16-bit 48k wav/1080p HD)
Live editing soundboard for in-session sound effects
Automated transcription
Pros
Everything happens within your browser, no installation needed
Excellent audio and video quality
Automatic post-production with smart enhancements
Cons
Lacks advanced editing tools
Not ideal for sessions with big groups

Whether you're a music producer, audio engineer, musician, or just a music fan, Pro Tools is a must-have piece of software. It's a digital audio workstation that provides all the tools you need to create and produce professional-grade content but is generally geared towards audio/music production. This DAW is ideal for musically inclined podcasters and/or audio geeks. And yes, this workstation is Grammy-winning.
Price
Pro Tool Artist ($9.99/mo), Pro Tools Studio ($31.99), Pro Tools Flex ($99.99)
Compatibility
Features
Full-blown digital audio workstation
Wide array of recording and production toolset
Professional post-production suite and toolkit
Pros
Best-in-class, professional quality output guaranteed
Ideal for musically inclined podcasters
Industry-standard toolsets
Cons
Expect a steep learning curve
May be intimidating for beginners
Need additional software for virtual guests

RINGR's value proposition says it all: Record a conversation with anyone anywhere in the world and have it sound like you're in the same room. Its no-nonsense approach to remote conversations is ideal for podcasters who just want it simple and sweet.
Price
Basic ($7.99/mo), Premium ($18.99 mo)
Compatibility
Mac, Windows, iOS, Android
Features
Up to 4 guests using RINGR's conference calling feature
Studio quality recording
Sound auto-enhancement
Pros
Unlimited calling and storage
Guaranteed premium audio content
Easy-to-follow flow
Straightforward interface
Cons
No post-production tools for editing
No support for video

Designed with Mac users in mind, ECAMM Live will not disappoint aesthetically. ECAMM provides a professional-feel environment. It has a live camera switcher function which allows you to direct your show in real time, like running your own broadcasting and production studio.
Price
Standard ($11.20/mo), Pro ($22.40/mo
Compatibility
Features
Support for multiple cameras and HDMI capture devices
iPhone and Mac screen sharing
Live camera switcher allows you to direct your show in real time
Pros
Solid features
Clean, Mac-inspired interface
Live streaming functionality
Cons
Designed for Mac users only
No free plan (Trial version available)
If you're new to podcasting, or even if you're a pro, SquadCast is an excellent recording software to check out. It's similar to Zencastr and Riverside in many ways, but it has a few advantages and disadvantages of its own. SquadCast is a browser-based recording software which makes participating in podcasts easy. No need to install any third-party apps. It also has some great features, including the ability to record high quality and edit your recordings directly in the software.
Compatibility
Browser-based, works with Mac and Windows
Features
High-quality audio and video output (48 kHz/1080p HD)
Multitrack recording
Auto-save with backup included on all plans
App integration via API (Zapier)
Video + Screen recording
Pros
Clean, intuitive interface
Guaranteed quality output
Cons
Limited participants and record hours depending on plan
For its features, it's a bit on the pricey end

There's no denying that Zoom is one of the most popular conference call services today, especially during the height of the pandemic. Zoom offers HD video conferencing, ample meeting spaces, and optimal cloud storage. Zoom also offers many features that other conference call services simply don't have, such as the ability to record sessions and share screencasts. Such capabilities make it a go-to app for podcasters alike.
Price
Compatibility
Windows, Mac, iOS, and Android
Features
HD video and audio recording
Audio-only conference feature, perfect for those camera-shy podcasters
Messaging function for engagement
Appearance and background auto-filters
Pros
Great call and web conference features for a free product
Familiar software, like everybody knows how to use Zoom
Cons
Quality of recording relies heavily on the user's internet connection
Lacks advanced editing tools for post-production
No podcast distribution features

When it comes to staying connected with friends, family, and colleagues, Skype is still one of the most popular options out there. And this is especially true for podcasters who want to give remote guests a familiar and easy-to-use interface.
Price
Compatibility
Windows, Mac, iOS, and Android
Features
Audio and HD video calls
Integrated screen sharing
Live subtitles
Pros
Free to use with a familiar interface
NDI output for sending to other applications
Cons
Quality of recording relies heavily on the user's internet connection
Lacks advanced editing tools for post-production touch-ups
---
Now that you understand the different types of podcast recording software and what to look for, it's time to experiment. Try out a few of the programs we mentioned and see which one works best for you. Don't be afraid to play around with the settings until you find something that feels comfortable.
And don't forget, practice makes perfect! The more podcasts you record, the better your skills will become.