You want to get a top notch DSLR kit. What comes to mind when you need to buy and build this kit? Canon 5D or 7D, Zoom H4n recorder, Zacuto rig. What if I told you all of these (and more) have less expensive alternatives that provide an equal if not better user experience and quality footage.
This is a list that goes against the status quo, a head to head showdown of popular gear and its underdog alternatives. For some the price difference is a few bucks. For others, it's thousands.
Every recommended piece of equipment I personally bought and own, usually after doing extensive research. Like saving money? Read on.
Panasonic GH2 vs Canon 5D Mark III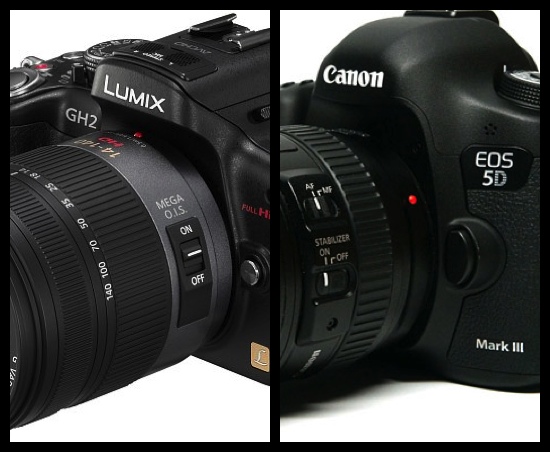 I love, love, love the GH2. I've had it for a little less than a year and it's become my go-to camera, pushing out the solid Sony EX1. Amazing quality, wide range of lens adapters, fast and flexible touch screen monitor. No overheating. No clip limits. I've shot two and a half hour interviews on it, uncut, without a problem. I have very little complaints.
Out of the Canon lineup, the only camera I've had positive experiences with is the 5D. The 7D and T2i always become overheating duds, bringing production to a halt. And the full frame sensor of the 5D is gorgeous. But for maximum return of kick-assness to dollar spent, the GH2 can't be beat.
Now unlocking a good portion of that kick-assness comes from hacking the camera, but it is extremely easy to do. The GH3, coming out in December, eliminates most of the benefits you got from hacking, so the kick-assness should come out of the box. High bitrate, timecode, audio in/out – it's ready to shoot video, whereas video still feels secondary on Canons.
Zoom H4n vs Tascam DR-40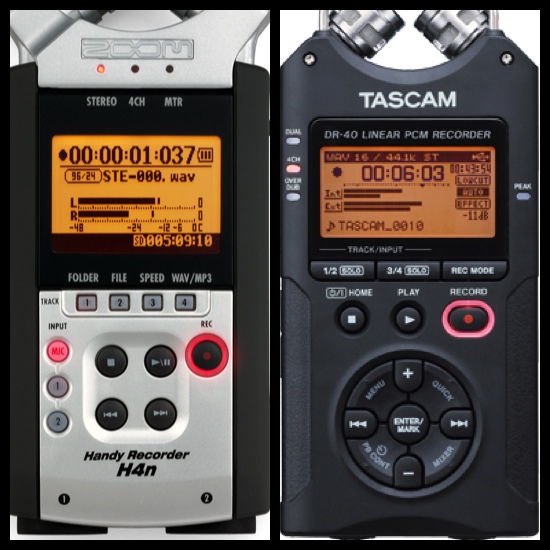 The Zoom H4N is the standard audio recorder paired with a lot of DSLR kits, and it's great. But the Tascam DR-40 does everything the H4N does, has a much more solid build, and is about $100 cheaper. $100 that can be used for more toys.
Zacuto Stinger vs Gini Rig Extreme 17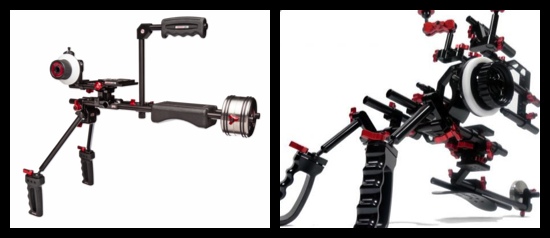 If you're shooting handheld with a DSLR you'll want some sort of rig. With the GH2, if I use a Panasonic lens it has a pretty good image stabilizer. But going handheld with my Nikon lenses and an adapter produces an unacceptable wobble.
Zacuto is the gold standard of rigs. Per ounce, it also trades at a higher value than gold. OK, not really, but they're damn expensive. And I just felt kind of silly spending 2 – 3 times more than the cost of my camera on a rig.
Behold, globalization and the Gini Rig.
Made in South Korea (Gangnam, actually) the Extreme 17 is a huge bang for the buck. It's all modular, but you get enough pieces to build a shoulder mount rig with two handles, counter weight, shoulder brace, camera cage, two flexible arms, AND a follow focus.
Ordering overseas I'm always worried about quality. Fear not, these parts are SOLID. Screws are tight, nothing wiggles. The follow focus has a nice weight and build. And the sizes are standard, so you can easily add a custom Zacuto or Red Rock part without having to buy the whole kit.
Two notes if you get this: Shipping is pricey. Budget roughly another $100, and make sure you get everything you want so you don't have to order and ship again. Also, the rig doesn't come with a lens ring for the follow focus (well, they have a holiday special where they're throwing one in for free for now). They sell one, and like the rig it's a nice build, but it's a big hassle to put on and off. I'm planning on buying a pack of these zip tie focus gears.
Kino Flo Diva 201 vs Flolight Kit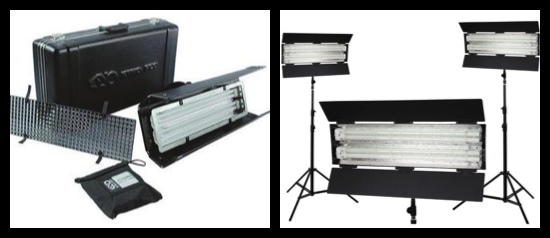 I love Kinos. They produce great, soft light and keep the set and your subject cool. They're also a fortune.
Browsing B&H, I came across a different brand of fluorescent rig. This Flolight kit comes with 3 fixtures comparable to the Kino Diva 200 plus stands, all for $550.
I just shot some interviews with them and I was very pleased with the results and light quality. Do they have the build of Kinos? No. There is no dimmer, but that was easily fixed with some diffusion. The website doesn't list this, but they actually come with both 3000K and 5500K bulbs. And the fixture is compatible with Kino bulbs.
As for LEDs, I'd say stick to name brands like Arri or Litepanels. I bought one of those low cost fixtures and the light quality made people look ill without some gels.
Glidetrack vs Konova K3 Slider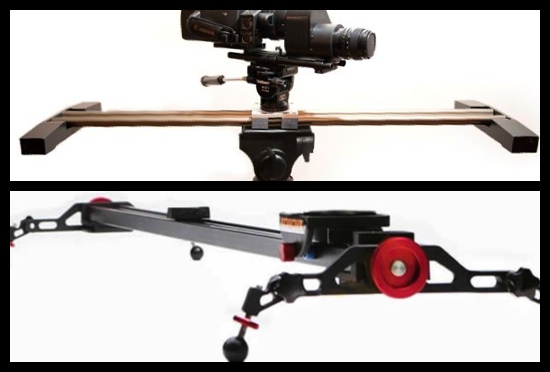 This one's a close call and more of a cautionary tale. There's lots of sliders out there, so this is a pretty competitive field and prices have come down.
My first entry into sliders was buying the raw parts from Igus. These parts are exactly the same parts that a lot of other sliders use, but only cost $150. However, it's friction based. There's no wheels involved.
My engineer friend, who was helping me drill the holes in the parts so I could use it with the tripod, laughed. He said it was going to get gunked up and stop working and that I needed something bearing based. He was right. (Though I did manage to shoot everything in this film on the slider, but not without a lot of creative applications of pressure and awkwardly contorting my body to keep it steady.)
So if you're looking at a slider that doesn't have bearings (like the Glidetrack above), beware.
Hunting for a new slider, I settled on the Konova K5. The whole unit is self contained, it's bearing based, and there's lots of available accessories for creative mounting and time-lapse control. I've been really impressed with the slider.
(I know, it's not the K3 pictured above, but I've used the K3 and had the same positive experience.)
Bonuses
C-Stand and Flag Kit – I found Digital Juice to have the best price for these grip staples. Sign up for their emails – they run specials regularly, like $50 off and free shipping. It'll save you some extra money on these items.
If you have a Costco membership, check out the electronics. Usually it's consumer stuff, but occasionally they have some good finds. Right now they have GoPro HERO2 for less than Amazon.
Lastly, a shout-out for my favorite editor and one of the greatest bargains. FCPX is faster than anything else out there in so many ways. Whether it's how you organize and find media or make edits, it just lets you get things done quicker. And for $300 it's a steal and far cheaper than anything else out there.