Adobe just released a slew of updates across the board for their Creative Cloud apps. One of the big ones in Premiere that I've been looking forward to for a while is the Morph Cut transition. This transition is designed to stitch together a jump cut in an interview to mask the cut. Well, that's the idea at least.
The only thing similar to this that existed before is Avid's Fluid Morph in Media Composer. Fluid Morph works really, really well. So well that I downloaded the trial of Media Composer to clean up some jump cuts from Dolphin Lover, then export them back to FCPX.
But since I'm a Creative Cloud subscriber, it'd be nice to have this tool permanently in my arsenal. So I exported the same clips I ran Fluid Morph on to try out Morph Cut and compare how it handles the edits.
Check out the side-by-side comparison in the video above.
My impression from this test: Avid's Fluid Morph is still hands down the better option. I'd say out of all the cuts, Adobe Morph Cut maybe did an acceptable job on a third of the edits, and they were definitely the least noticeable jump cuts.
The biggest issue is Morph Cut won't work under 12 frames (what I found from my testing). The trick of masking the cut is to make the transition really quick – usually 6 frames in Avid works really well. When I would do a six frame transition in Premiere, I'd get this error.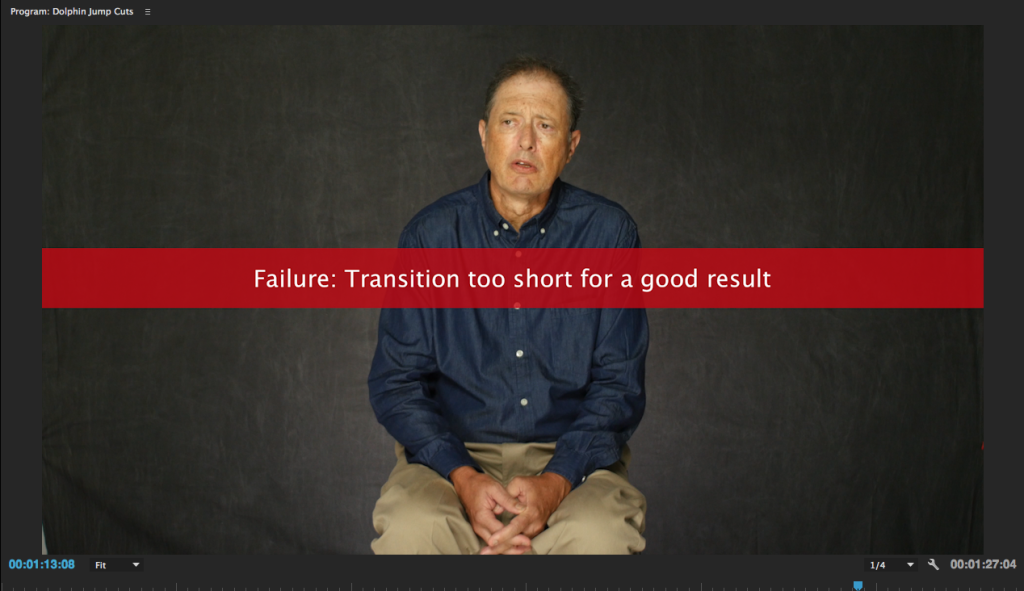 When the transition is too long, the video and audio stop syncing because the transition is starting while the A side clip is still talking, giving away the effect.
Bottom line – Morph Cut works on very subtle jumps but still has a ways to go before being as reliable as Fluid Morph.