Blackmagic just announced their best ATEM Mini switcher yet, The ATEM Mini Extreme, plus an updates to their Web Presenter HD and Pocket Camera 6K Pro.
Watch the full breakdown in our Video Signals episode or read on!
Blackmagic ATEM Mini Extreme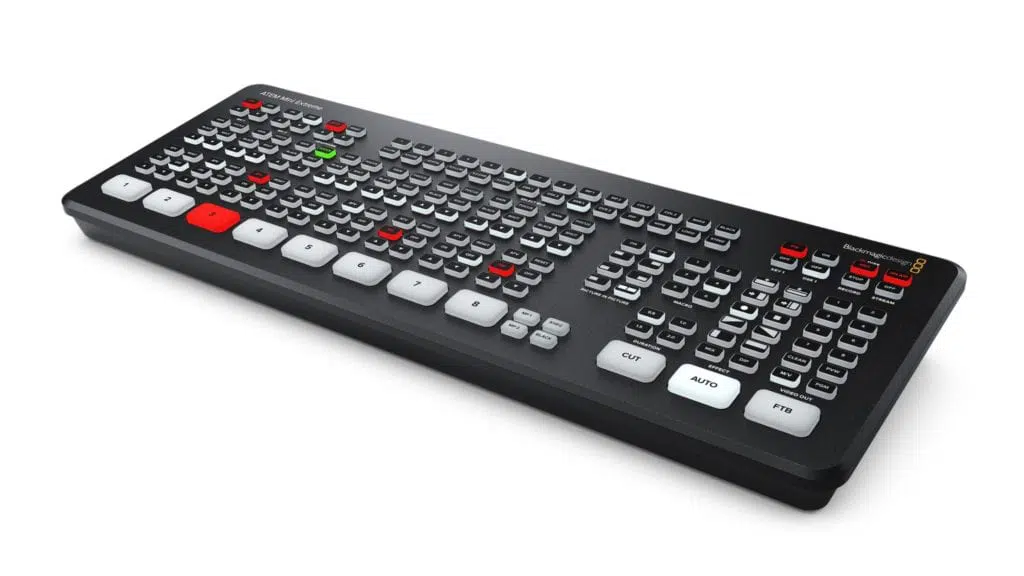 The biggest announcement is the release of the new ATEM Mini Extreme and ATEM Mini Extreme ISO live production switchers. Extreme is aptly named. This thing is a beast.
It's got 8 HDMI inputs, 2 HDMI outputs, 2 USB ports and a headphone output in addition to the standard 2 audio inputs and an ethernet port.
On top of that, it has a larger variety of compositing and keying effects that are just as sophisticated as the ones you'd find on their $10,000 constellation 8K switcher. All in a portable $1,000 package!
More Ports, More Possibilities

The most obvious update is that the ATEM Mini Extreme has double the amount of input options—including a total of 8 HDMI inputs. Like the previous ATEM models, this can handle anything up to 1080p 60 frames per second and it will automatically convert mixed sources.
Now you might be thinking "I have no need for 8 different cameras" and for most, that's probably true. But these inputs aren't just for cameras. More on that later.
It also has an extra HDMI output. This means you could have one output for your multiview display to see all the source previews and audio levels and another output as a final mix or any one of the 8 inputs if you needed to send it to a projector at an event or some other source.
HDMI 1 has direct buttons for control over which output you see on the ATEM itself. HDMI 2 has to be controlled inside the ATEM software.
The other thing that got doubled is USB ports. There's also two. So one could be connected to a hard drive for recording while another is connected to your computer serving as a webcam or streaming online.
The ATEM Mini Extreme also includes a gigabit ethernet port for streaming directly or controlling the ATEM on a local network (Grant did make a comment that it could also be used for 'future stuff'). But another use for that extra USB port is tethering.
You can plug your phone directly into the ATEM and use your phone's data for streaming directly or as a backup to the ethernet connection. This is huge for streaming in weird locations and to have as a backup for spots that might have iffy internet connectivity. (And phone tethering is not just for the Extreme models – it's available as a free software update for the ATEM Mini Pro and Pro ISO.)
And the last additional port added is a headphone output. Monitoring your audio is obviously important but surprisingly, none of the previous models included a headphone port. You had to monitor the audio from the HDMI output or on your computer. This was really inconvenient, so the new output is a much-needed addition.
The headphone also has its own buttons to control the monitoring levels. And there's still the standard two 3.5mm audio inputs as seen on all the previous ATEMs.
Powerful Built-In Video Effects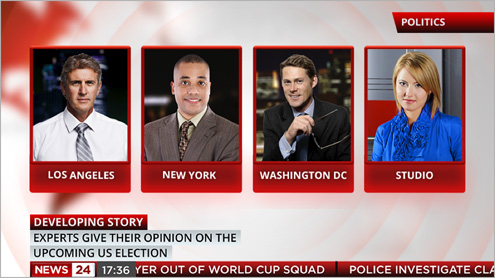 So all the extra inputs and outputs are great, but where the ATEM Mini Extreme really shines is the powerful video effects it has built-in. I believe the only other Blackmagic mixer that has comparable features is their $10,000 8K Constellation.
The Power of Hardware Encoding & Mixing
Now I've had the ATEM Mini Pro since it was released and I rarely use it. While doing live streams, I need the flexibility of doing custom layouts, bringing multiple sources into one shot, adding overlays like social media posts and lower-thirds—but the ATEM Mini Pro really doesn't let you do that.
I've been doing all my live streaming with vMix, which is a software encoder and mixer. There are a few similar products like OBS and Wirecast that do something similar but because they run on a software level, you can end up using A LOT of computing power to run everything you need.
If you haven't used broadcast hardware before or only used streaming software, it's easy to assume taht you can keep layering as many sources as you want but if you actually stack 6 independent live video sources in a software encoder, you'll need a very, very beefy machine and graphics card to process that in real-time or run the risk of the computer crashing.
I've been there.
Hardware encoding and mixing would be more preferable because they are much more reliable than a computer that has lots of process running on it. Going the hardware route was usually a much more expensive endeavour, but with the Extreme a whole new world is unlocked.
Why Digital Video Effects (DVEs) and SuperSource is a BIG DEAL
So first up is 2 Digital Video Effects (DVEs) instead of just 1 on the Pro models. DVE is just a broadcast term for any time you'd manipulate a video source, like shrinking and overlaying one video on top of another for a picture in picture effect.
Picture in picture is pretty much all you can do in the Pro with 1 DVE. 2 DVEs means you can manipulate 2 video inputs and overlay them on top of a background or third source. The best use case is having two shots up during a live interview in a split-screen layout.
That alone is huge and unlocks tons of possibilities, but the Extreme also has SuperSource, which is a 4 DVE multilayer compositing engine. That means you can take 4 individual inputs and arrange them however you like and then layer that on top of another source.
Think sports and esports. Think multi-person panel discussions where you have multiple people on screen from their own camera source.
SuperSource is in addition to the 2 DVEs, so I believe in theory you could make a custom layout with 6 individual HDMI video sources on top of a 7th video source or still image background. That is huge.
There's also support for layering images above and below the SuperSource or DVE. So think custom multiperson shot layouts with namekeys in your own design and branding. I do this all the time in vMix. Now you can do it here.
The Extreme has two separate media pools which can each store up to 20 images. And it finally doesn't clear out the media pool when you shut down – it'll save the images.
The media pool is also useful to Downstream Key – which is a fancy broadcast word for applying something over your output no matter which source is selected, like a logo. A downstream key was always available on the Pro but you had to turn it on in the software, now there's a button for it. You can also use the images for stinger transitions, where a logo or image wipes across the screen during a transition, another professional touch.
You don't find these features in broadcast hardware as much, except in super high-end setups, because with broadcasting you want to make sure that whatever layout you put together and whatever sources you mix together it'll be 100% reliable and not freeze, not crash, not buffer. Just work. And that's why seeing these abilities in a little piece of hardware is extremely impressive and unlocks the possibilities found in super high-end broadcast productions in a tiny $1,000 box.
More Chroma-Keying for Green Screens
But wait. There's more. It also includes 4 independent chroma keyers. While the Pro models did have chroma-keying, it could only key one source. If you had two cameras pointing at something with green screen you'd have to redo the key for each angle so it was really only usable with one angle.
But with 4 independent keyers you can key out four different cameras or inputs and layer them on top of still images or any of the other HDMI sources.
And ATEM's chromakeying is really good. I've debated adding the Pro to my vMix setup for my green screen shots because it's just that much better.
So with 4 keyed video sources on top of 4 other video sources you have the possibliity of virtual sets or any other number of uses. This is why I said earlier that having 8 HDMI sources unlocks flexibility, even if you don't have 8 cameras.
You can plug in computers to bring in people via Zoom or playback videos. Get a USB-C to multi-HDMI output and one computer has 2 to 3 monitors which means 2 to three different sources.
They didn't really touch on it but the ATEM also integrates with the Hyperdeck, which is a recording and playback device from blackmagic. If you need to play back pre-recorded videos you could play it off a laptop, but you'd have to get the playback timing right. Or you could play it off a hyperdeck which communicates with the ATEM and can automatically cue and playback videos.
Chroma keying works the other way as well. There are a lot of web based apps that can create dynamic graphics and pull in social media posts and comments like Singular Live and Megaphone. This also unlcosk the pretty afforable ProPresenter app to incorporate dynamic graphics and titles. All these apps are keyable so you can overlay them on top of your other video sources and create some dynamic titles and social media graphics.
Truly a lot of possiblity here.
Buttons & Macros Galore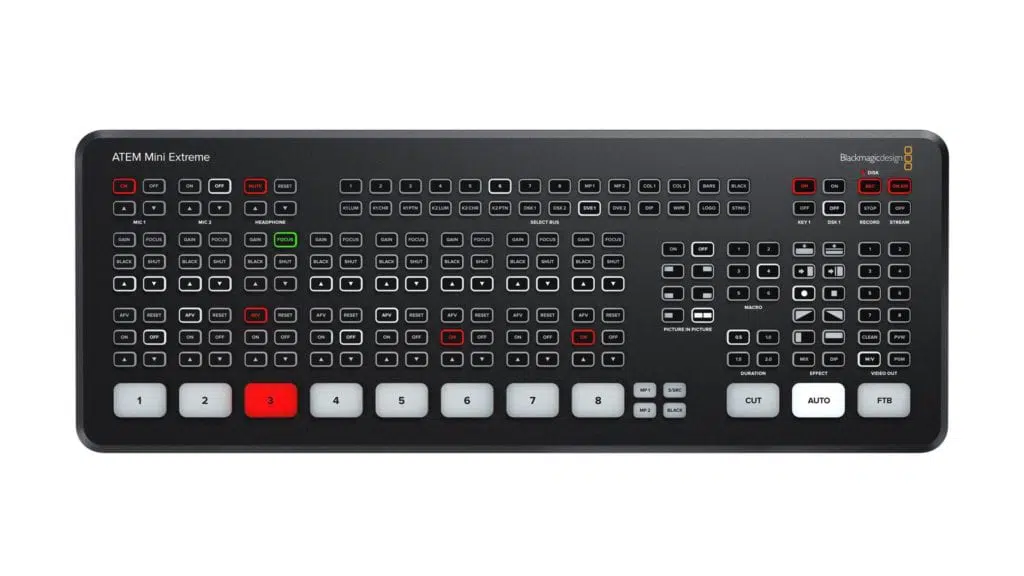 The ATEM Mini Extreme is a huge leap in the ATEM Mini product line. We had the ATEM Mini come out a few years ago which was just mixing, no streaming or recording. And last year, Blackmagic launched the ATEM Mini Pro and Mini Pro ISO (Check out my interview with Blackmagic's Bob Caniglia), which added a built-in encoder so you can stream online directly from the device, no computer required.
All these ATEMs had really impressive features under the hood if you connected it to your computer and ran Blackmagic's ATEM Software Control. But digging into software is slow and tedious and a bit of a pain.
The name of the game in broadcast is buttons. lots of buttons. Buttons let you do things so much quicker. That's why people pay $3000 for the ATEM 1 M/E advanced panel which by itself does absolutely nothing except give you lots of buttons to control other Blackmagic hardware.
But now we've got the Extreme (which by the way can be controlled by the 1ME panel). Obviously it's bigger to accomodate the extra HDMI ports but it also has more buttons.
It's got buttons for headphones. Buttons for the chromakeys, downstream keyers, DVEs, and SuperSource. They also added more transitions and there are buttons for those.
There are also buttons for controlling the camera. Now in the Pro they added the ability to control the settings of any connected Blackmagic Pocket Cinema Cameras, but it all had to be done in software. Now there are buttons to directly adjust Iris, shutter speed, black level, and focus.
And there are buttons for 6 macros. Macros are like programmable shortcuts where the ATEM Mini Extreme does a lot of things at once. Like setting up a SuperSource shot where you assign four different inputs to various positions, plus your layout overlay, plus the background – that'd be something program into a macro so you push one button and the shot is up.
The Bottom Line
With the insane amount of features, I'd say calling it Extreme is not hyperbole. And the under the hood, the tech and software capabilities have really been levelled out across all their products.
The key consideration here is whether you are fine using the more consumer-grade HDMI cables and cameras or need pro-level SDI. You can build out a really impressive setup with this but you're still at the mercy of HDMI – it's a lot easier to get knocked loose and you can only run a cable 50 to 100 ft max. But for most setups and uses, that's already more than enough.
The ATEM Mini Extreme is $995 and the ATEM Mini Extreme ISO is $1295, ISO adds the ability to record all 8 sources independently plus your mixed output.
Blackmagic Web Presenter HD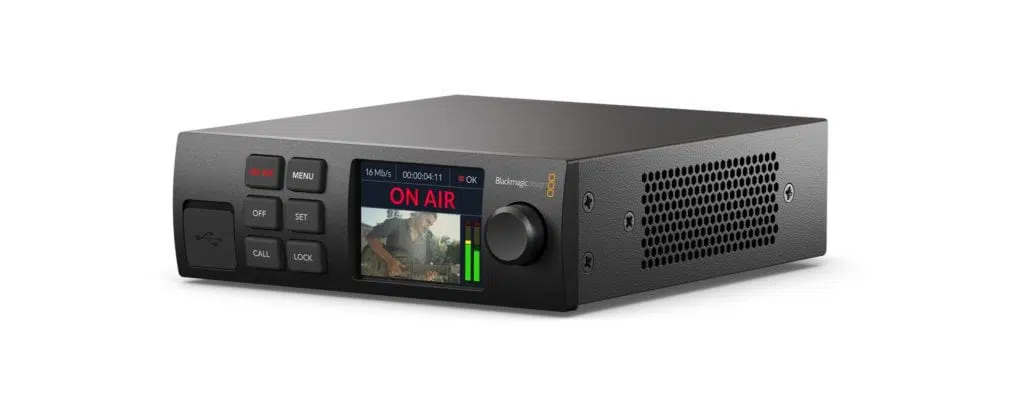 So if that wasn't enough, there are still two more product updates. Let's go over the refresh of the Web Presenter, a device that has a special place in my heart. It was the first streaming device I bought, but it's a really weird device yet has come in very handy for its flexibility.
In case you're unfamiliar with this product, the Web Presenter is a box that allows you to plug multiple devices and use it as a webcam source. The very first version of this product, you could plug either HDMI or SDI into, as well as XLR and analogue audio—which you can then plug it into a computer.
But it could only output 720p and didn't have the capability of streaming directly to YouTube or elsewhere. You also had to spend another $100 for a control panel to actually make it usable. In the time before the ATEM Minis, though, it was a handy way to have a two camera mixer and use XLR microphones without having to convert them. I used this for my deep dive on virtual events live stream.
But admittedly, weird use cases and not the most practical, especially when it cost $500 ($600 with the panel) and you can buy an HDMI to USB adapter for $20 now.
What's New?
So they did a complete redo of the Web Presenter with a much clearer use case: it's an SDI encoder that you use in tandem with their broadcast level products to directly send out a live stream.
Gone is the HDMI and XLR port—it's now just for SDI with an SDI in and loop out (but it still has HDMI out for monitoring). They've also added a second redundant power input, USB and ethernet ports. AND the front panel is included; no extra purchase required!
So unlike the previous version, this is an encoder that can stream to any web destination. It has a software utility to adjust all the settings. And obviously, there's the ethernet port for internet connectivity, but it also supports phone tethering, the same thing we saw in the ATEMs.
But even with these new additions, the Web Presenter still maintains the same webcam functionality as the previous model. Like the ATEM Mini Extreme, the Web Presenter HD allows you to both stream directly online AND send the video out as a webcam over Zoom or to QuickTime for monitoring the video.
Now my favorite feature is going to be its monitoring screen. It looks like something out of the Mandalorian or WandaVision if they did live streaming (which I guess WandaVision technically is).
As someone who's had some disasters with streams, I always want to have as much stream data as possible and monitor the stream health. This new Status screen has all that. Video preview. Audio levels and audio waveform. Encoding status. cache status. Plus a lot of other technical stuff that I wasn't even aware of but it's all there.
The new Blackmagic Web Presenter HD costs the same as its predecessor at $495. But it comes with its own control panel and a whole set of new features, so in the end, you save more with this new version. Obviously, it's targeted towards more high-end use but if you fit that market this looks like a phenomenal streaming encoder.
Blackmagic Pocket Cinema Camera 6K Pro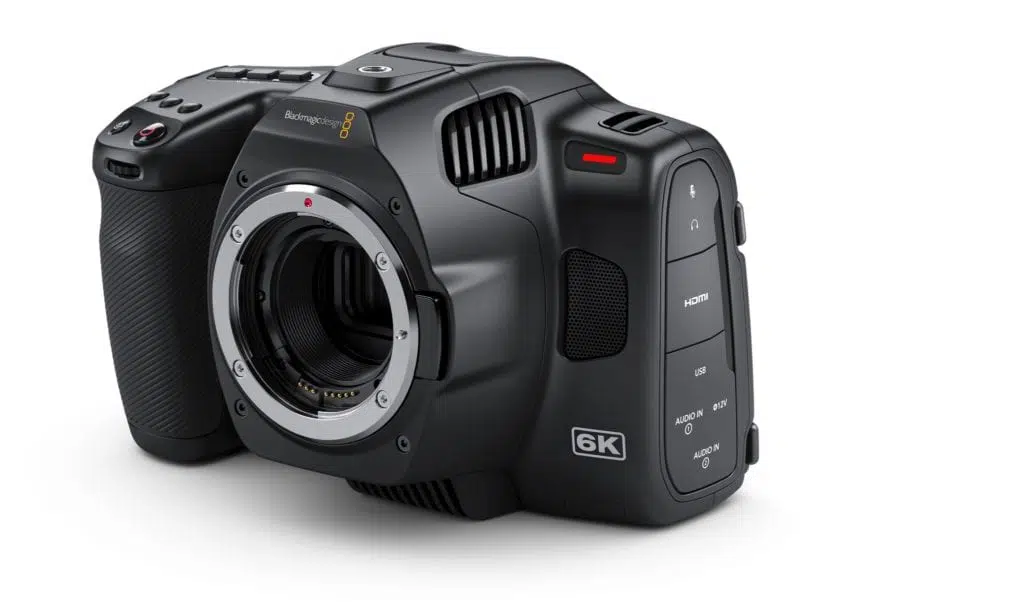 And lastly, the new Pocket Cinema Camera 6K Pro. This is not just an internal upgrade to the 6K—it's got a bigger, beefier body. Their goal was to bring some of the features from the URSA mini into the pocket cinema camera line.
It's got an upgraded 6K sensor, a brighter LCD screen (which can also flip out so you can adjust the angle) and, most impressively, built-in ND filters—2, 4, and 6 stop filters. I don't think I've ever seen built-in ND on a DSLR style body before.
This is a game-changer for filming outside where environments are bright but you still need a low f-stop to achieve certain depths of field. ND filters help darken the image so you don't blow out or overexpose your shot with an open aperture. Normally, you have to screw an ND filter on top of your lens—having it built-in makes things so much quicker and easier, especially if you're filming on-the-go and constantly switching between filming inside and outside. Built-in ND is something you'd usually see on bigger body cameras so it's great they managed to put it in such a small package.
The Pro model has an added second mini-XLR connection, so now it can accept two audio inputs and provide phantom power to both. And they announced two new accessories for this model: an electronic viewfinder and a battery grip.
In addition to all that, Blackmagic will be providing a free camera update across all the Pocket Cinema Cameras—adding upgraded color profiles and an RGB histogram monitor.
The Blackmagic Pocket Cinema Camera 6K Pro will sell for $2,495. The viewfinder will be $495 and the battery grip $145. Batteries not included.
---
Be sure to subscribe to our YouTube channel for more weekly signals and how-tos on growing your brand with video, and check out our comprehensive guide to live streaming and virtual events.