Continuing what I love about FCPX, I've saved my favorite feature for last. Many hours of potentially productive work by mankind has been wasted by double clicking on footage in a bin, moving the mouse over to the viewer, clicking and dragging the time indicator to skim through the video, returning to the bin and repeating until the desired clip is found.
No more! All the media in FCPX is now displayed as a filmstrip. I can zoom in and out of footage while viewing it all in one continuous filmstrip, skimming and scanning and finding what I need near instantaneously. I can drag across areas, mark favorites and tags and see what areas are tagged based on different colored lines. Massive timesaver.
There are also a lot of options on how to display and group the clips – name, date shot, camera shot, etc. Paired with smart collections and metadata, it gets even easier to find footage.
Premiere CS6 borrowed some of this functionality, but really didn't go the full mile to make it as useful as FCPX. In Premiere you can view you footage as thumbnails, and as you skim over it with the mouse you can preview the clip. But that's still valuable time wasted mousing over everything. With FCPX, it's as simple as scrolling down with the mouse to move through the filmstrip, then mousing over a section to finely search for your specific clip.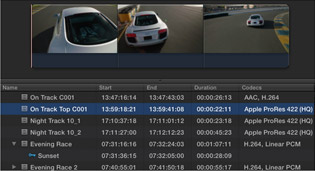 For a more classic view, you can still view footage in a list. Tags and favorites appear below each clip.