Want to control your digital SLR camera from your iPhone (or Touch)? When I was taking pictures of grilled cheese sandwiches, there was a bit of downtime between the grillin', so I figured out how to work this totally awesome magic, all for less than $4.
(While writing this and researching links, I realized OnOne has their own dedicated tethered shooting app. However, their app is $20 while the one I describe below is only $4. And before you say there's a $2 Lite version, you can do so much more with Keymote)
Here's what you'll need:
Digital camera ((This post is specifically geared toward Nikon and Canon shooters, but as far as I can tell, as long as you can tether your camera (that goes for point and shoot too) and you can control it from your computer via keyboard shortcuts, then this should work.))
Laptop or computer (Mac) with USB cable for tethering
Tethering software for your camera (links and free workarounds for Nikon users below)
iPhone or iPod Touch
Keymote iPhone App and their free receiver software installed on your computer
First is to get your camera and laptop setup to shoot tethered. Scott Kelby and Joe McNally have great posts on their personal setups and if you want more details on tethering you should check them out.
However, what they leave out is a free tethering option for us Nikon shooters. Canon users have a free ride with the EOS Capture Utility. The Nikon option is Camera Control Pro 2, but it's $160.
If you don't want all the bells and whistles and just want to be able to operate your camera from your computer, there's Sofortbild, a free Mac tethered shooting app. Actually, it's quiet amazing for free. You can control all your settings, have images displayed full screen, setup time lapse, and probably do 90% of the things you'd want to do in Camera Control, but for none of the cost.
So you've got your free tethering setup, now you need to make the magic happen with your iPhone. Keymote is an app that once linked with your computer it let's you save sets of keyboard shortcuts to specific groups. There's a bunch of preset program specific ones you can download, such as Front Row, Hulu, Finder, Final Cut Pro, or, in our case, you can create a new one, such as this: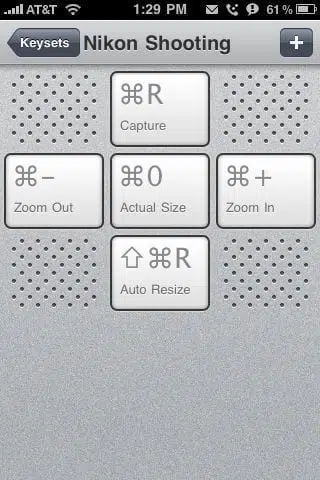 The iPhone and Mac connect via a wireless network. Don't worry, you don't actually need to be in a hot spot. You can just create a network with your Mac and join it through your iPhone.
It's pretty simple from here. With Sofortbild and Keymote launched and the two paired, just press away and watch everything go to work.
This worked out really well with the food when I had to position something and snap a picture before it all toppled over. Other uses I can think of are working with kids, getting a better connection with subjects and models, and anything else where timing or ruining the moment is at risk by running back behind your camera.
And as I said, Keymote will work with anything that uses keyboard shortcuts. So it's been really nice to sit back on the couch and watch some cuts in Final Cut, and even be able to mark clips and subclip raw footage.