Got back from Haiti – great trip, I'll write about it soon. For now I just wanted to highlight some of the ways I use my iPhone to stay in touch without paying the ridiculously high data/voice rates.
(These tips are from first hand experience with an iPhone on AT&T. You'll have to check your own provider for their data rates.)
Enable International Roaming
Whether you use your phone's data or not, for AT&T you need to enable the International Roaming service. It's free, you just need to have had an account in good standing for a few months. I did it over the phone with an AT&T rep, but you might be able to do it online.
For about $6 a month there's a World Traveler add-on that will give you lower minute rates when using your phone in other countries. But that's just an additional option to the free International Roaming.
SMS and Twitter are your Friend
After landing and turning on your phone, it will automatically connect to a cell provider. You'll also get a text from AT&T with the current data rate for where you're at. When landing in Haiti, it was $19.97 per Megabyte!
By default, International Roaming, an option in Settings, is off, which means your phone won't use data when abroad (though you might want to double check that it's off before you leave).
So aside from WiFi (which you should definitely try to find), the only other way you can transmit data to and from your phone is SMS text messaging.
For AT&T, it's free to receive (or just deducted from your regular plan) and $0.50 to send. You can also pre-buy an international texting package, like 50 texts for $10 ($0.20 a text).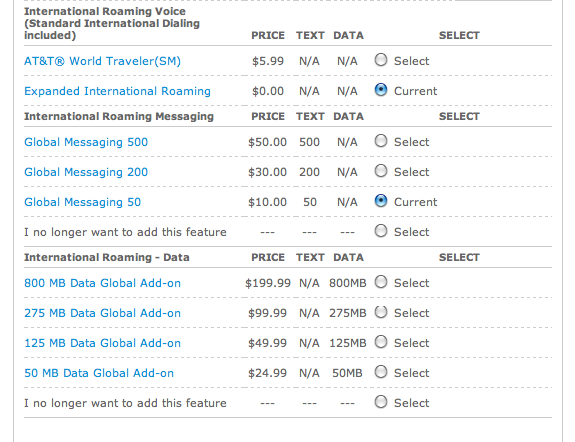 Twitter was natively built to work with texting (thus the 140 character limit). When setting up a Twitter account, it'll ask for your phone number. Once setup, you can simply text a tweet to 40404.
What are the advantages of this even if you don't use Twitter? Simple. 1 tweet, 1 text, unlimited recipients.
When going to Haiti it's far easier and cost efficient to send one message anyone can read to know my status and well-being (well-being is more a family concern).
Family not up to par with technology? No problem. Any cell phone can follow you via SMS. For example, anyone could follow me by texting 'follow @C47' to 40404. Done, that's it. Updates go straight to their phone. Here are some more Twitter SMS tips.
It's also a good idea to turn on SMS notifications for Twitter news feeds to get them sent to your phone, like CNN. And easy way to stay in the loop.
That's all I got. This lets me keep people updated without paying crazy rates. If you need to communicate locally you can also buy a prepaid phone.
I've heard of unlocking phones and swapping SIM cards to have a local number (and be able to use data). Anyone have more info on that? Or any other tips?