It's 4 AM and I'm about to shoot a movie in two hours, but I can't seem to go back to sleep. So I'll write!
It seems that Director of Photography is the most nerve wracking position. It's a blend of using your technical knowledge to create artistic images, while managing a bunch of people and getting pressured to stay on schedule. And of course you're responsible for what everyone sees, so you don't want to mess that up.
For me, preparation is the best way to ease my nerves. I need to have a plan and know what's going to happen.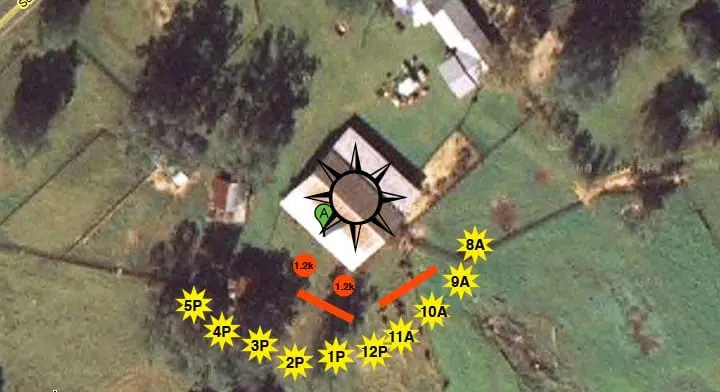 This is a lighting diagram I did for the location we're filming at the most. It's a barn, but with open sides, so sunlight will be playing a big part. We're required to do a diagram, but I kind of took it a little further.
The areal image is from Google Maps. If you right click and manually set your location, it will tell you the GPS coordinates. I charted the path of the sun using the Sun Path Chart Program and those coordinates.
Based on the chart, I plotted the position of the sun for the day, as you can see from the little yellow stars. The plan is to set up two 12-by-12 silks to diffuse the light, and then add some direction with some HMIs (lights that are color balanced to daylight). As much as I love the sun, it won't be my pal because I have to make what takes 10 hours to shoot look like it happens in 10 continuous minutes.
I see it's now time to get ready. I also hate being late.