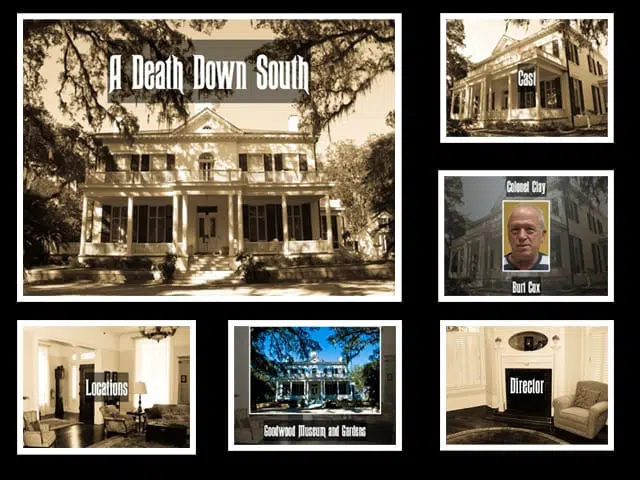 Lately I've been reading blogs about presentations, from Presentation Zen to Merlin Mann's Inbox Zero. They've introduced a new way of doing PowerPoint (or Keynote) presentations, one that draws a lot of parallels with filmmaking, such as using storytelling and visual images, rather than bullet points.
Unfortunately, we don't get a lot of chances to do Keynote presentations at the Film School. The only opportunity is during Director's Prep. Part of the job of the producer is to show photos of the cast and locations. Generally students just show some printed photos that get passed around the table. I like to bring a little more.
Above are a few slides from the Director's Prep of A Death Down South. Sticking with some techniques from Presentation Zen, I used images to completely fill the background. I also used a different image for each part of the presentation to visually signify sections, and gave everyone who had to say something a title card. I also sent an e-mail out letting the ATL know I could add photos for their part of the presentation. Production Design took me up on the offer.
Below are some samples from The Treasonist.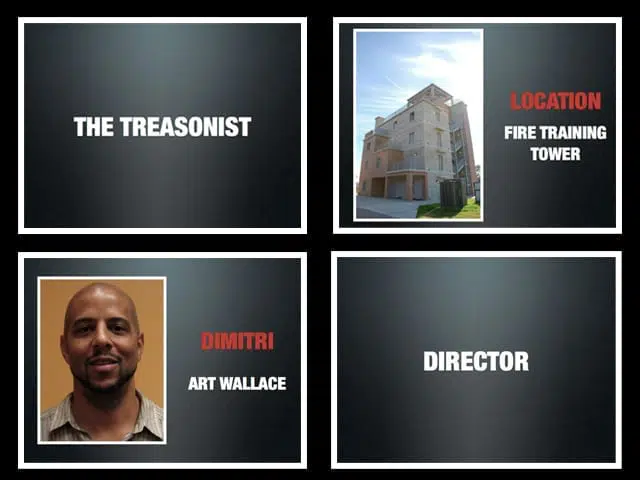 There is one part I still need to figure out. A big part of Director's Prep is showing tone clips. Generally we'll bring in a DVD of the film, and then spend a good minute going through the chapters to find the clip. I ripped the scene I needed with HandBrake, but when I would play it back through Keynote it would play extremely sluggish. I'd like to think my computer can handle it, but I have yet to figure out smooth playback.
I set the presentation up with Keynote on my MacBook, which comes with a remote control that works great with the slideware. Instead of using a projector, I hooked it up to the TV we use to play the tone clips. It works great and is something that will definitely make a return for thesis.