Producing is like being the Chief Happiness Officer on set. It's all about keeping the crew happy and the set flowing smoothly. After producing two films, my view is the 1AD works on a micro level, creating a detailed set-up schedule and working shot to shot, while the producer does the macro tasks of getting locations, cast, vehicles, food, and making sure people are happy and things run smoothly.
As I've said before, the way to win the crew is with good food and craft services. You also have to be flexible and listen to comments.
The second day of production was cold and rainy. I had a coffee maker (and had already made three pots), but the number one request was hot chocolate. So I sent the 2AD out to pick up some hot chocolate packets, cups, and marshmallows.
I believe the original reaction from the crew was disbelief, thinking this was some evil prank. But they were in no position to doubt, and once convinced there was no foul play, the hot chocolate quickly disappeared.
Another good morale booster is mobile craft services in the late afternoon. About three hours after lunch ended, I'd assemble a small spread on a pancake and take it around to the crew, Jeeves style. Timing is everything — they said I'd appear just when they were starting to get some late afternoon munchies.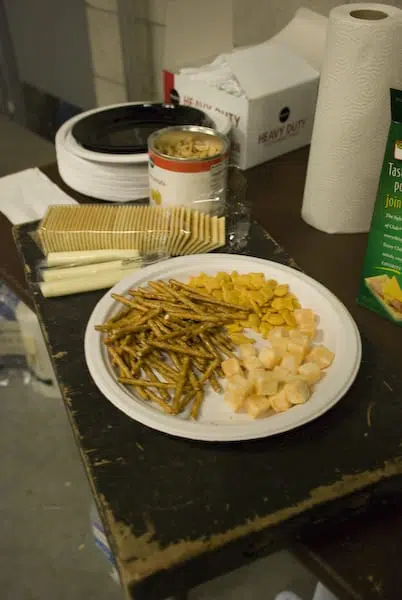 You also don't have to break your budget to get good food, or stoop to those 'low-price' places. The secret is Publix's buy one-get-one-free. Just look for those signs and you'll have plenty of food and variety, a happy crew, and money to spare.