Shooting great quality videos is no longer a challenge. From filming with an iPhone to DSLRs to mirrorless cameras, there's an option for every budget level.
However, once the camera stops you're going to want to edit the pile of footage shot down to something engaging and watchable before you upload it to YouTube.
In this post I'll cover a variety of the best editing apps for both mobile devices and computers.
---
Editing Apps for Smart Phones and Tablets
Adobe Premiere Rush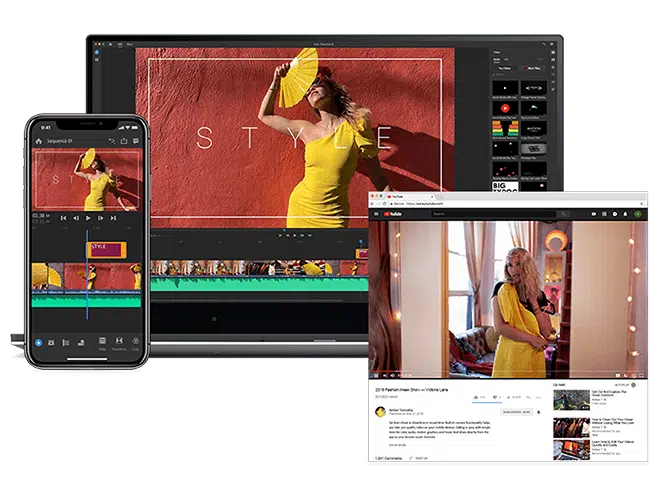 Premiere Rush is the latest video editing offering from Adobe. A lighter version of their industry-standard editing program Premiere (more below), it's designed to be a faster way to import and edit footage across any device, from smartphone to tablet to computer.
It's simple enough to handle basic editing and titles for the beginner yet robust enough to finely tune mixing audio, color correction, and a library of title templates. You can have up to four video tracks and three audio tracks; plenty of space for titles, overlays, music, voice-over, and sound effects.
It has a built-in export to popular social media platforms, including YouTube. Also, you can send Rush projects to Premiere for finishing on the full-fledged edit system.
Cost: Limited free version, $9.99/mo
Systems: iOS, Android, Mac, PC
More at Adobe Premiere Rush
iMovie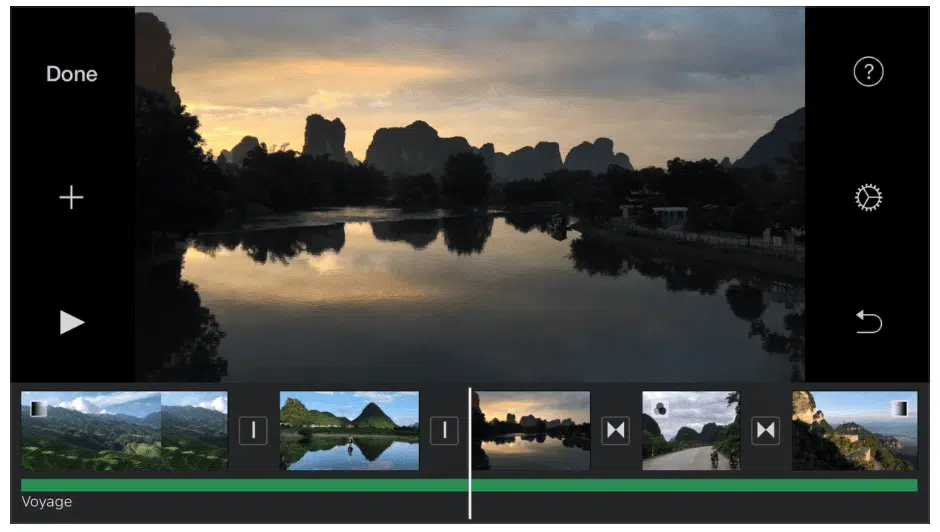 If you have an Apple device you've probably messed around with iMovie, both the iOS and Mac versions. Its strongest selling point is it's free.
It's also extremely capable and easy to make a solid video. While the interface might not look like much, it has basic audio effects, speed control, filters, and decent text and transition templates. Though at this point the template styles are so ubiquitous that if you use them it's like a subliminal iMovie watermark.
Similar to Adobe Rush, you can send a project that you start on your phone to your computer to finish. You can also send it to Apple's pro editing app, FCPX. However, this is more of a one-way workflow, unlike Rush that keeps everything synced in Creative Cloud.
Like I said, its best selling point is it's free and capable. However, it has limitations and is not as robust as Adobe Rush. Tracks max out at two, so you can't do anything fancy with overlaid text, images, and video. And speaking of text – customization options are limited.
But again, it's free, so if you have any Apple device be sure to give it a spin before deciding if you need something fancier.
Cost: Free
Systems: iOS, Mac
More at Apple
LumaFusion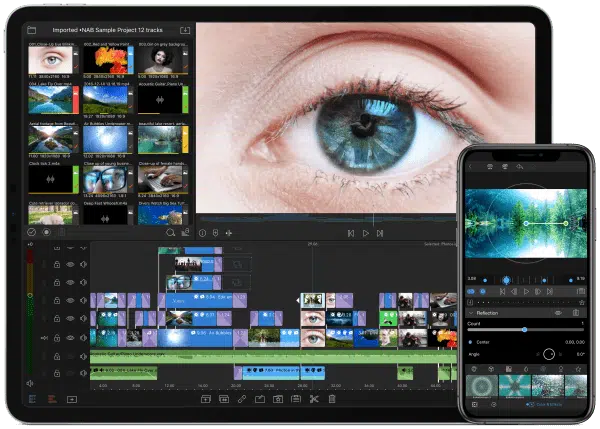 LumaFusion belongs squarely in the middle of this post, right between mobile apps and full-fledged desktop programs. Unlike the first two apps, LumaFusion only works on iOS (iPad and iPhone). However, it's packed with features you'd only find in the pro-level desktop apps I'll talk about later.
For one, it can handle up to 6 video tracks and 6 audio tracks, which means plenty of options for layering video and sound effects. It has a variety of video effects that can be stacked and tweaked, as well as a title designer, audio mixer, and lots of filters.
For all the features it includes for finely tuning your video, it lacks the library of title animation templates you'd find in the other apps. If you want something that's more drag and drop template based, this isn't your app. But if you want a pro-level editing app with the highest control over every frame of your video (especially if your primary device is an iPad Pro), then this is for you.
Cost: $29.99
System: iOS
More at LumaFusion
There are tons of other editing apps out there, many of which come and go overnight. The ones I highlighted here are from established companies invested in their software and are going to be around for a long time. This is important in knowing you'll be able to open old projects. However, if you want more mobile editing options, check out this post from Later Media.
Editing Software for Mac and PC
Now we're entering the pro-level app territory. What does pro-level mean if you're not a professional editor? Pretty much unlimited control over every aspect of the image, more effects, more transitions, and the ability to load third-party plugins for even more effects and templates.
Apple's FCPX
A while back Apple completely rebuilt its industry-leading Final Cut Pro 7 and turned it into FCPX. The first version wasn't that great but it's made vast improvements and in my opinion is the best editing program out there (this is a very controversial opinion).
The workflow for most editing programs are based on their roots for being a way to edit actual film or tape. FCPX recognized that most projects are now shot and distributed digitally and reimagined how an editing platform should work. That threw a lot of people off.
Some of its standout features include the magnetic timeline, filmstrip skimming, tag-based workflow, easy to use effects, and the ability to handle a variety of media without crashing.
What also goes unnoted is its price. It's $299, which may seem high compared to the previous apps, but that's a one time cost and it's consistently updated. I bought FCPX when it came out in 2011 and haven't had to pay a dime more (unlike the trend of every other company going subscription based).
To round out the Apple video suite you can add Motion and Compressor for $49 each, but they're not necessary to edit and share to YouTube.
Cost: $299
System: Mac
More at Apple
Adobe Premiere Pro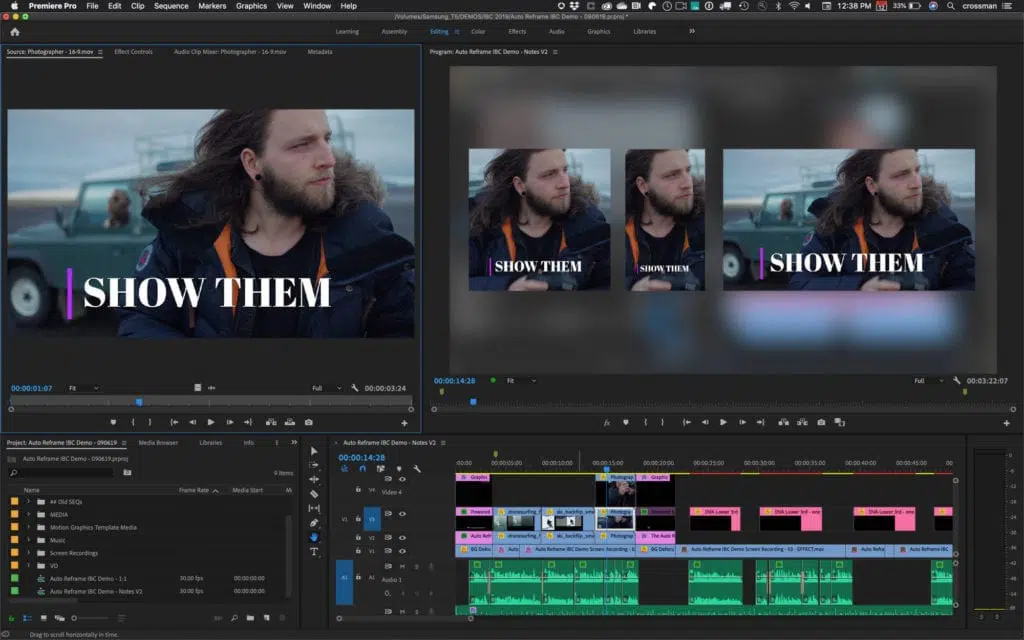 Adobe Premiere Pro is used by everyone from YouTube vloggers to Hollywood directors like David Fincher.
Premiere is a pro-level editing app that's been around forever. Tons of options for importing and exporting a variety of media, a classic timeline with lots of tools for precision editing, great title designer, and lots of transitions, filters, and audio effects.
If you subscribe to Adobe's full Creative Cloud, all the apps work really well together, including After Effects for special effects and Photoshop for masking images and importing into Premiere.
Cost: $20.99/mo Premiere only, $52.99 all apps
Systems: Mac & PC
More at Adobe
Blackmagic's DaVinci Resolve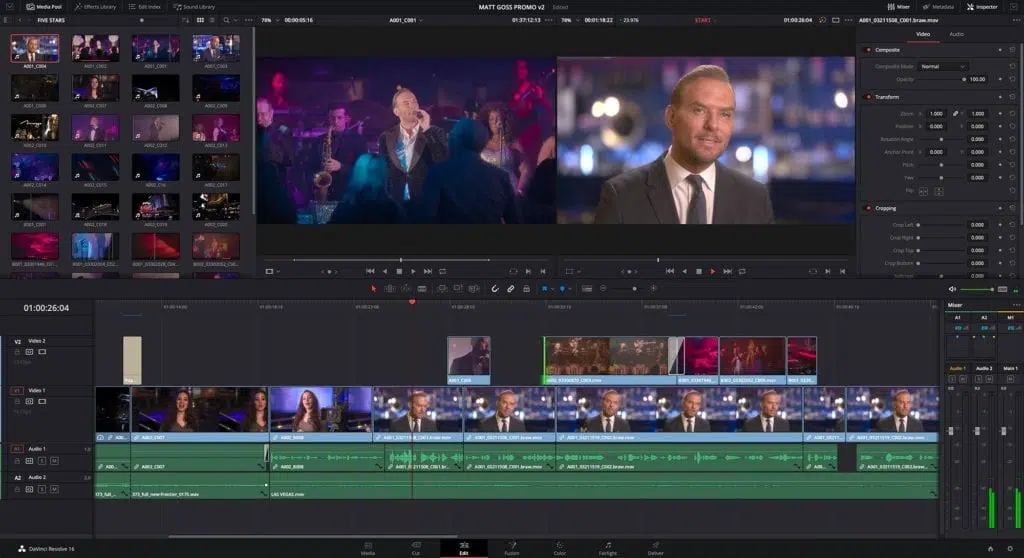 DaVinci Resolve is one of the industry-standard platforms for color correcting Hollywood movies. A few years ago they introduced video editing features which have continued to improve with every new release.
It has all the pro-level features you'd find in Adobe Premiere. However, you won't find as large of a plug-in ecosystem for titles and effects as you would with Premiere or FCPX. But since its foundation is in color correction, if you're going to heavily stylize your YouTube videos this is a great system for that.
In my opinion, Resolve has the steepest learning curve of the three programs highlighted here. But I mention it because it's 100% free. There's a Studio version for $299, which unlocks more effects and collaboration, but the free version works great and doesn't have any time limitations. Blackmagic makes their money off Resolve by selling hardware, like a $1000 keyboard or $30,000 studio panel.
Cost: Free, $299 Studio
Platforms: Mac & PC
More at Blackmagic
Bonus: Best Video Plug-In Websites
I'm a big believer in not reinventing the wheel. When making videos for YouTube you're going to want a couple of nice-looking graphics, especially intro titles, lower thirds, transitions, and call-outs for people to like and subscribe to your channel.
Fortunately, there are a few sites with lots of well-designed templates that can offer a sleek, professional feel to your channel. If you feel like using a template means you're not being that original, they all let you dig into the settings to customize the look so it fits with your brand.
My favorite plug-in sites:
---
So these are a few of my favorite editing options. I personally use FCPX for 90% of the videos I edit, along with a variety of plugins. But this is by no means an exhaustive list, especially when it comes to mobile editing and online-based options. What did I leave out and what do you use to edit?