It is estimated that by 2022, 82% of all consumer internet traffic will be made up of videos. (This number is 15x higher than what it was in 2017!)
This just goes to show how crucial it is for your business to focus on video to grow your brand in today's times.
You may have considered making a video marketing strategy for a while now, and we are here to tell you that video marketing isn't dying down anytime soon. If you're not creating video content yet, 2021 is the year to do it!
In fact, statistics show that …
Have we convinced you to include video in your marketing strategy yet?
With all that being said, you may be wondering what video you should create.
Should it be educational? Entertaining? Persuasive? With all the video ideas circulating on the internet, you may be stumped on what video you need to make.
If you are having issues brainstorming ideas, no worries.
We've got your back.
Here are 10 creative ideas you can use to grow your business!
10 Video Marketing Ideas for Your Business
Videos are a powerful form of digital marketing.
Whether it's a welcome video, how-to guide, product review, testimonial, or something else entirely, videos are a highly engaging way for your audience to learn more about your brand and what you have to offer.
Let's look at some video ideas to help you get started in your video-producing journey.
Video Marketing Idea #1: How-To Videos
"How-to" videos are a great way to show your audience how to use your product or sign up for your services. These videos are a great introductory video to get your audience acquainted with your brand and to trust your business.
Your how-to videos don't have to be long either!
Adobe Creative Cloud utilizes YouTube shorts to give Adobe users short tutorials about their products, so they can learn how to troubleshoot or create in just a few seconds.
Fun Fact: 49% of business videos are less than a minute long.
Video Marketing Idea #2: List Videos
List videos are another popular video idea you need to try to get your audience clicking in and excited to watch.
This video title can look like "5 reasons to _____", 6 ways to _____", or something else!
Countdown videos are another popular type of list video that keeps your audience anticipating until the end. (Who doesn't want to wait around to find out what #1 is?)
GoPro posts great examples of list videos on their YouTube channel. They do this by uploading "Top 10 " videos. Here is one of the top 10 videos they posted titled "GoPro: Top 10 Human Flight".
Pro Tip: You can utilize the YouTube chapters feature so your YouTube audience can skip ahead to the points in the list that they are most interested in hearing about.
Video Marketing Idea #3: Product Showcase
A product showcase video allows your potential customers to see exactly what your company's products look like in action. This type of video can also help build trust and credibility for your business's products.
In this video, you can highlight the benefits, specifications, and production process to help customers better decide if your product is for them or not!
Osprey does this through their "Product Tour" videos.
With every new backpack product launch, they will do a product tour video explaining the differences between similar products, why you would use that particular backpack, benefits, and compatibility information.
Fun Fact: 68% of consumers prefer watching videos to learn about new products or services, as compared to articles, infographics, ebooks, and presentations.
Video Marketing Idea #4: Testimonials
Did you know that 79% of people have watched a video testimonial to find out more about a company, product, or service?
Testimonial videos are the best way for your audience to see and hear how your business helped another organization or individual out. Whether you saved them time, money, or something else, it's always great to hear what your raving customers have to say about your business on camera.
Zoom, the video conferencing software, posts testimonials on their YouTube channel to show their followers how they helped other businesses or individuals thrive.
Here is a testimonial video where the VP of Corporate & Business Development at HubSpot discussed how Zoom helped their business have seamless communication even when all of the employees worked remotely.
Fun Fact: 42% of people say testimonial videos are effective because they showcase an actual person and help the viewer understand their story.
Video Marketing Idea #5: Top Tips Videos
Who doesn't love helpful tips? Top tip videos are one of the highest performing video ideas — and for a good reason.
Audiences like to feel as though they walked away learning something new in a video. This is why you will see many other brands curating "top tip" videos on their YouTube, IGTV, TikTok, and other social media platforms.
Top tip videos are great for turning into a blog post, and vice versa.
Indeed, the online job board, posts YouTube videos pertaining to interview tips, job search advice, and more!
Here is a peek at their interview tips video that gained over 1.4 million views in the past year.
Pro Tip: If you are having problems with brainstorming different "pro tip" video ideas, try looking at the competition for inspiration. Sometimes your competition may have ideas that you may have never thought of before!
Video Marketing Idea #6: YouTube Ads
Gaining organic traction on YouTube is a great way to get free traffic back to your site, but you shouldn't forget about creating YouTube ads too.
Although YouTube ads are an investment upfront, these ads will bring in new leads to your business over time.
Your ad will be shown to only those who fall into a certain audience group and are more likely to take action after viewing your ad. YouTube is a great advertising tool to help your message get displayed in front of those who care about what your ad has to say. Pretty cool right?
Fun Fact: The sweet spot for video ad length is 6-10 seconds.
Video Marketing Idea #7: Company Mission Video
Company mission (or about us) videos can make your audience learn more about your company's why. Your mission doesn't have to be philanthropic by any means, but it's always great to hear from companies about why they do what they do.
Is your "why" to help enterprises in their operational processes? Is it to help children in need? Or, is your sole why just to entertain?
Make a video highlighting whatever your "why" is! It makes your customers feel more connected to your brand and more willing to engage with your products or services.
Digital marketing guru, Neil Patel, helps businesses in numerous industries thrive through digital marketing tips, tricks, and insights on his website. He also offers free marketing tools and paid consulting services to those who are serious about growing their company's presence online.
On his YouTube channel, you can find his mission video titled "Learn Digital Marketing in Just 5 Minutes a Day" which gives viewers information about who he helps, his professional background, and his solution.
Pro Tip: Include your mission video as the channel trailer. This "trailer" will automatically play when someone lands on your channel page, so new viewers can get a better understanding of what you do and why you do it. These are also great to include on a landing page.
Video Marketing Idea #8: Employee Highlight
Have you ever wondered what your favorite brand's employees have to say about their job or the company?
Employee profile videos are videos that highlight the insights of a specific employee within the company. They may talk about why they love the company or show the audience a "day in the life" what it's like to work for the brand. This type of video puts a face behind the brand and keeps viewers watching until the end.
Hilton uses employee profile videos to highlight why their company is a great company to work for.
This series of videos are used by Hilton for talent recruitment purposes, but you can also make these types of videos for your everyday customer as well. Check out one of their employee profile videos below.
Pro Tip: Feel like you've posted too many employee highlight videos? Instead of uploading a video like you normally would, one of your employees can go live on the company's YouTube channel or other social media account. This employee can then answer any questions they receive from the viewer in real-time.
Video Marketing Idea #9: Behind-the-Scenes
When you think of "behind-the-scenes" videos you probably think of movie bloopers or other behind-the-scenes footage. It makes you feel like you have exclusive access to footage that makes you feel closer to the acting cast.
Just like with movies and TV shows, businesses can utilize "behind-the-scenes" videos to give their audience access to footage of their product being made or an inside look at their business's workplace culture.
Nike created "behind-the-scenes" videos on YouTube showing the design thought process and inspiration behind the Nike Joyride sneakers. This video is a mix of b-roll and interview footage to capture the activity and emotions associated with the shoes.
Video Marketing Idea #10: Vlogs
Just like how the "behind-the-scenes" videos can make your audience feel more connected with your brand, so can vlogs. When you think of the term "vlogging", you may resonate the term with the different viral video producers on YouTube. But, did you know that businesses can vlog too?
Vlogs are a mix between a video and a blog. Many people like to watch vlogs because they are seen to be more authentic and transparent than other types of videos. Vlogs are great for businesses to capitalize on because they give companies the space to connect with audiences in a way they may not have been able to otherwise.
Vlogging may not be the right fit for every business because of the video format. But, the outdoor company REI does a wonderful job utilizing vlogs to share stories. Whether it be surfing, bicycling, or rock climbing, REI effectively captures it all from regular customers who love to live an active lifestyle.
Fun Fact: Statistics show that over 44% of internet users watch vlogs every month.
Launch Branded Video Content on YouTube & Social Media
As platforms like YouTube and TikTok continue to dominate the video marketing space by storm, it's not only recommended but necessary to create a video in today's fast-paced digital marketing world.
By using the video marketing ideas we highlighted in this article, you will be prepared to make your first watch-worthy video and increase your business visibility through video content marketing.
So, what are you waiting for? It's time to pick up the camera and hit record.
---
This article was written by guest author Ryan Gould.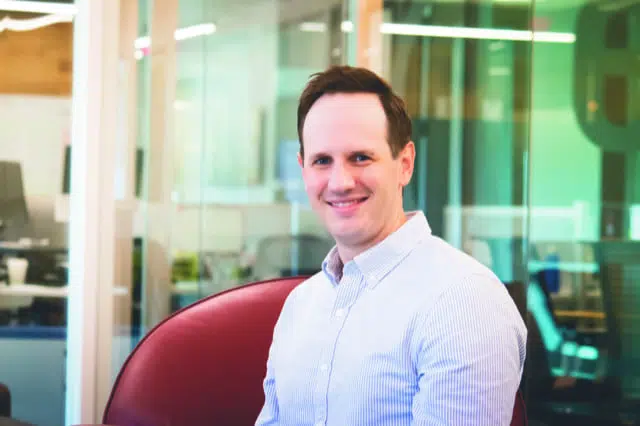 Ryan Gould
Vice President of Strategy and Marketing Services
From legacy Fortune 100 institutions to inventive start-ups, Ryan brings extensive experience with a wide range of B2B clients. He skillfully architects and manages the delivery of integrated marketing programs, and believes strongly in strategy, not just tactics, that effectively aligns sales and marketing teams within organizations.
Ryan is known for taking complex marketing and business challenges and developing solutions that simplify processes while driving customer outcomes and business value. He also thrives on guiding Elevation teams toward the execution of strategies that help companies succeed in new verticals while staying true to core values and brand integrity.