Video marketing is a huge opportunity for business owners and marketers.
It's no secret that social media giants like Facebook and YouTube have been working hard to increase video viewing time on their platforms to make more money from advertisers. And with mobile video consumption skyrocketing, this trend will continue into 2021 as the next evolution of digital marketing and branding for businesses.
If you've ever tried making videos, then you know how challenging yet rewarding it is. While videos take more time to produce than just about any other type of content, it has become a prime source of marketing and conversions for many businesses.
The base of any successful video marketing campaign lies in its strategy. A single video can bring unprecedented growth to a business and make it possible to quickly reach long-term goals.
Birchbox found that just having a video on their website increased the odds of their purchase by 40% and when a customer watches a video, it increased the likelihood of the purchase by 24%.
So if you're thinking about making videos, then the best place to start is with a marketing strategy. In this article, let's examine how to create a video marketing strategy, plan the shoot and distribute your video.
Why You Need Video Content for Marketing
Video marketing is about using video to promote and market your product or service effectively.
Reaching out to your audience, improving engagement, educating customers, and ultimately boosting conversions.
For example, there are many different types of videos – all serving specific purposes – and an entire world of ways of implementing them to meet your objectives. While video content plays a central role, it should be integrated into, and work in tandem with, the rest of your overall marketing plan.
A lot of companies are leveraging videos to bring in a sharp incline in their revenue. In fact, 87% of marketers agree that videos provide a good ROI which is a huge jump from 33% in 2015.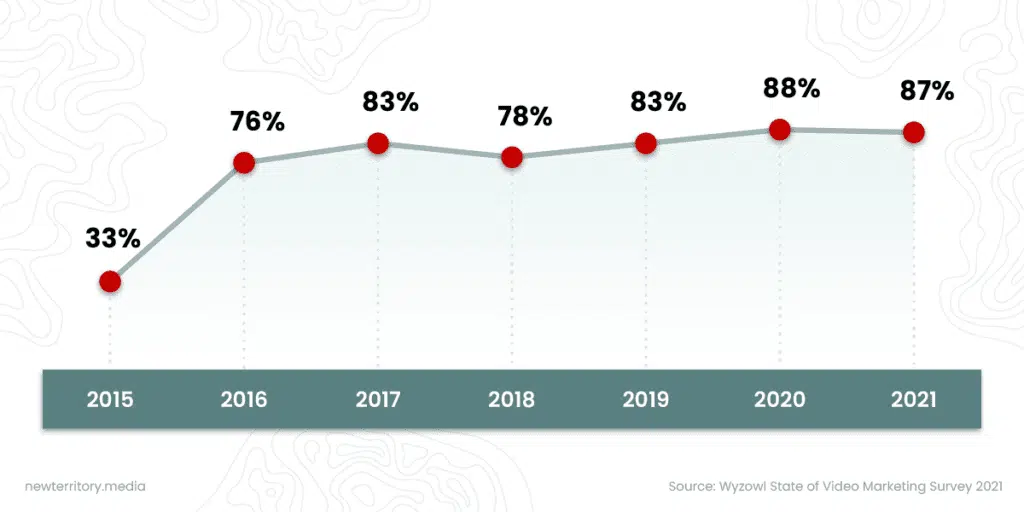 ROI isn't the only reason why you need to invest in video marketing. People's attention span has become so shorter that many people usually leave a website within 10 to 20 seconds.
With our busy lifestyle, we cannot expect our audience to stick around to read a long piece of content. Instead, videos are a great alternative to provide the information in a short time and keep people engaged.
Also, videos are great for SEO since search engines give importance to websites that have engaging videos. Video marketing combined with SEO also increases the amount of time people spend on a website, which means the bounce rate goes down. With so many benefits of video marketing, it only makes sense for businesses to make the most of it.
So how can you leverage video marketing for your business? Let's find out.
How to Create a Video Marketing Strategy
Videos have become essential to any content marketing strategy. To create attractive and interesting videos, you need to work on your marketing strategy to lay a strong foundation.
Research Your Target Audience
If you create a video without a specific audience in mind, it's much more likely to be a flop.
If you already have a set of buyer personas, that's a great place to start.
If not, don't worry.
Ask questions like:
What are the demographics of our target audience?
What are their biggest problems or pain points?
At what stage of the marketing funnel are they in?
Why are they looking for this solution?
What do they expect from our product?
Such questions will help us define the audience and develop a video marketing plan that meets their expectations.
The most important thing to consider is understanding where your audience is in the video marketing funnel.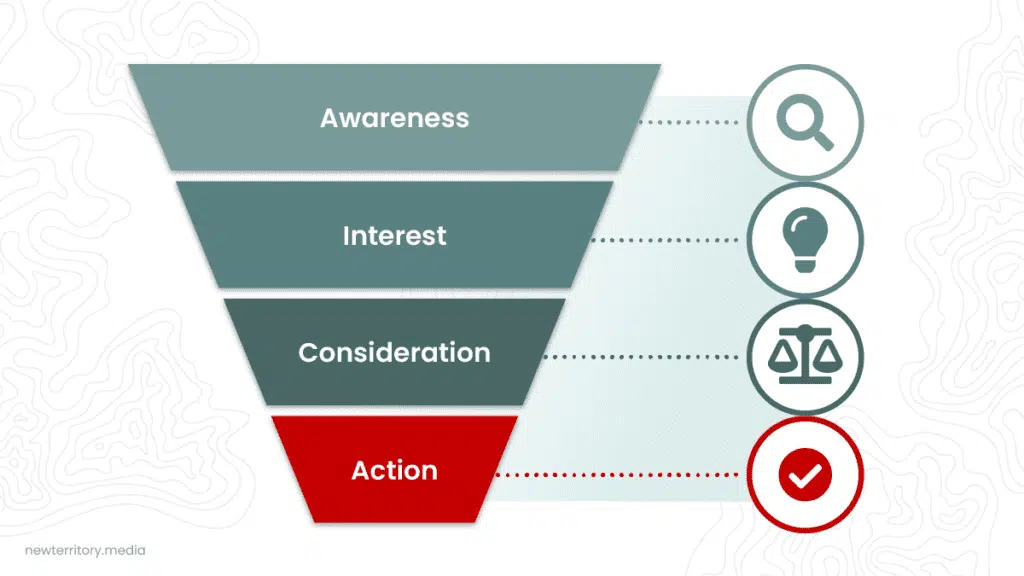 Awareness – In the awareness stage, a potential customer catches some of your content. They probably don't know your brand produced it. They're also probably not actively searching for a solution to their problem (or are even aware they have a problem). Content that's about your industry's niche (but not about your product/brand) works well in the awareness stage.
Interest – Now the customer is aware they have a problem and is looking for ideas on how to address it. Can they do it themselves? Do they need to buy a product or hire someone? They might be a little bit more aware of your brand (and your brand's content) and look to you as a subject matter expert to learn more. Tutorials and how-to videos (about problems customer's face, not how to use your product) work well in this stage.
Consideration – The customer is actively searching for a solution to their problem and comparing multiple options. Your brand is one of them. Consideration is where videos about what you do and how you solve customer problems come into play.
Action – This is where the potential customer becomes a customer and decided to go with your brand to solve their problem. Videos in this stage might be tailored to your potential customer (product demos, video sales pitches) or take the form of different formats, like a webinar with a specific CTA to get attendees to convert to customers.
By understanding the exact mindset of your audience at every stage in the marketing funnel, you will be in a better position to create content for every stage in your video marketing plan.
Analyze Your Competition
This is often a neglected step when creating a video marketing strategy. As you're analyzing your audience, take a look at what your competitors are doing.
Try to explore how they're using video marketing for their customer acquisition strategy, the type of videos they use, and how effective they are. Many companies are now coming up with novel ideas to create videos.
Look at such recent marketing videos and how they're positioning them. It's not just enough to watch the videos but go beyond and analyze the metrics — the response rate, the conversions, the video view rate, and other vital metrics.
You can learn a lot from their wins and losses and tweak your current marketing strategy to bring in the best conversion.
Define Your Goals
There can be several reasons why businesses create marketing videos. It can convert interested leads to customers, bring in new leads, engage old customers, convert them to repeat customers, increase social media following or create an online buzz.
Whatever it may be, you need to identify exactly what you want to achieve. When you're clear on your end goal, it becomes easier to create a video marketing strategy.
You can ask questions like:
What's the purpose of this video?
What action do I want the audience to make?
What should my audience take away from this video?
YouTube specific goals include:
Percentage of video viewed
Total watch time
Engagement from video (comments, likes, subscribers)
Develop a Story Around Your Brand and Customer
Now that you're aware of the stage the audience is in and what you want them to do, the next thing to do is to develop a story.
Every video — whether it's a brand video, an explainer video, or a demo video — should have a compelling narrative and fit in the larger structure of your brand story.

As humans, we love a good story and are programed to respond to the universal hero's journey.
However, there's a common misconception when brands try to create their own customer story. Your company is not the hero; your customer is the hero.
Your company's job is to be the guide that helps the hero reach success.
Here's the common 5 part structure of the hero's journey
The Hero – your customer
The Challenge – your customer's problem
The Guide – your company
The Journey – you and your customer solve their problem
Success – your customer is victorious which means you are victorious
Brainstorm with your team and come up with multiple stories for the marketing videos. Go through each of the stories and analyze them for the emotions they invoke. It can be a raw story without too many details. Or a specific one that can directly be taken into production.
It depends on your video creation process, but having that base story will help to get an idea of the timeline and your estimated budget.
Decide the Timeline and Budget
Every video should have a budget and a detailed timeline for production and release.
Once you have a clear idea of how your video should be, you can decide how to produce the video (webcams, video production, animation, screen recordings).
Based on such constraints of shooting the video and the work involved in post-production, you can set your timelines and budget.
If you don't have a clear idea of the budget and timeline, ask around. Talk to a few agencies and experts about the typical cost of shooting and editing a video with your vision. Many agencies will be more than happy to give you a free quote and you can decide your budget with their inputs.
Create a Video Production Plan
When you have a base idea for the video, its budget, and a timeline, all that's left is to plan the produciton of the video.
Every video should have an owner or producer – someone responsible for overseeing all the parts from start to finish.
You then need to decide if you'll create the video internally or outsource parts of it (such as the production or editing).
How to Produce a Marketing Video
To start making your marketing video, you first need to be clear on your video marketing strategy. Once you have everything down on paper, you'll be in a better position to plan and write the script. For all those wondering how to create a marketing video, here are four simple steps.
Step 1: Decide the Context of the Video
Think about how you want the video to look. It can be pure animation, a customer-included video, a product shoot, or a combination of graphics and real-life shots.
The number one challenge in making a marketing video is standing out from your competition and, at the same time, creating a video that's catchy and immersive. To create such a great video, you need to lay down a strong foundation that starts from the video context and setting.
Envision the video through different elements and settings and pick the best one. This can also serve as a broad theme for the video, which will make it easy to move to the next step — creating the script.
Step 2: Plan the Script
Scripting is where the major action of pre-planning takes place. With the overall setting and a basic storyline in mind, you'll plan the second by second play of the video and take them through different visual elements and voice-overs.
You'll be writing down the dialogues, the scenes, how you want them to look, the rise and fall of the background score, the text on the videos, or any other silent movements. The script can go through multiple edits and rechecks until everyone on the team is satisfied with it.
Step 3: Shoot the Video
The production day is when you finally see the video come alive. You'll have to think about the lighting, styling, location, audio quality, and other technical details when shooting a video.
If it's an entirely graphic or animated video, the production can go on for many days. In some cases, the production and the post-production stages of a complete graphic video can merge into each other.
Step 4: Edit & Finalize the Video
After the raw footage of the video is completed, then comes the post-production activities. This involves adding editing the raw footage into a cohesive and engaging video, adding music and sound effects, voice-overs, superimposing graphics, and giving the color a final polish.
There are several video editing software apps that you can use to snip and condense the video. You can use one of the popular editing apps like Adobe Premiere or Final Cut Pro, or you can use a collaborative web based video editor like Clipchamp.
The visual effects, the graphic effects, and the sound effects are all critical to making the video engaging. You can also add a Call to Action towards the end of the video if you want to lead the customer to the next step.
If people are speaking, you can add on-screen captions (useful for default muted platforms like Instagram) or get the video captioned later as a SRT file for YouTube.
When creating variations of your video for social media, you might need to incorporate some additional apps to create marketing videos with specific CTAs for every platform.
How to Distribute and Optimize Your Videos
Your hard work doesn't stop at just uploading your videos to YouTube.
You need to make sure your video has the proper metadata and is cross-promoted across all your available channels.
Organic and Paid Distribution
The organic and paid distribution channels are often within the realms of website and email marketing.
You can add your marketing videos to:
Product pages
Landing pages
Website homepages
Blogs
Video ads on other websites
Webinars
Case studies
Email marketing
Social Media Distribution
You can promote your videos on social media platforms where a majority of your audience are residing. YouTube is one of the major video distribution platforms.
If you're planning to make regular videos, then you must definitely have a YouTube channel. YouTube should be treated like a blog with a solid SEO strategy – each video should be optimized for a keyword to rank on YouTube.
Apart from YouTube, you can distribute the videos on other social media platforms like:
Instagram
Facebook
LinkedIn
Twitter
Snapchat
Twitch
You can publish the whole video, break them into small snippets and share them as a part of your social video marketing strategy. For example, you can break down the main video into a few second videos and share it on Instagram stories and posts. Similarly, you can do the same for other social platforms.
How to Measure the Success of Your Video Marketing Strategy
Once you've released the video after long hours of planning, shooting and editing, the next most important thing to do is to track the results. You need to keep a constant eye on the video's performance to gauge your audience's response.
You need to track metrics like:
Social media engagement: What are the numbers of likes, shares and comments?
Average watch time: How many people are watching the video till the end?
Number of unique views: How many people have watched your video?
Clickthrough rate: What percentage of the audience are clicking on the CTA?
Conversion rate: What percentage of the audience are converting after watching the video?
Pay attention to these basic video marketing metrics to understand how your video is performing. If there's a drop in the watch time or the conversion rate, then you can analyze and learn from your mistakes to create better videos the next time.
If your marketing videos have high social media engagement, then you can create your subsequent videos to serve that audience. Similarly, you can weigh in from your past video performances to create videos with better engagement.
Final Thoughts
Video marketing can provide an excellent opportunity for your brand to reach a broader audience. Videos are the preferred form of content by consumers, so it's only natural that videos will become the focus in online advertising going forward and establish new ways brands advertise themselves on social media.
With many different social platforms promoting videos more than ever, this is the right time to take full advantage of it. You can follow these simple steps in our guide to create a powerful video marketing strategy and execute it flawlessly.