I loved this movie. It was by far my favorite film at Full Frame. I've noted before how I'm on the fence about going into narratives or docs. This proved you can accomplish both.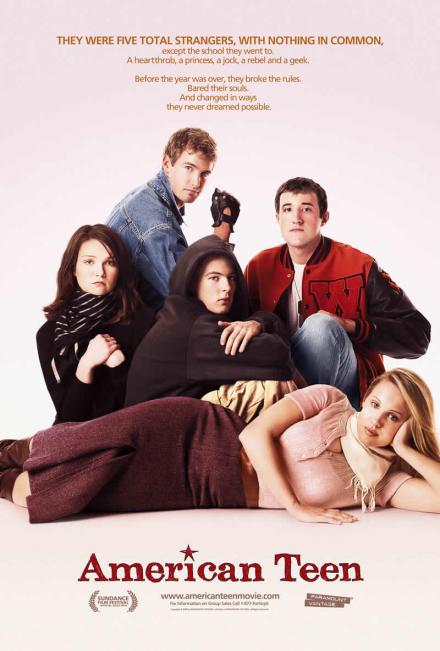 Following four high school seniors, American Teen was like watching all the best high school classics – Sixteen Candles, Fast Times, Risky Business, Mean Girls – but it's all true.
The film feels so much like one of the above movies that I forgot these were real people, my age, that had a history before the film and a life after.
This main shock came when I looked at their Facebook fan pages and they had the usual 'my life in an album' pictures. This is just a testament to how well the film was made.
Hopefully this will be one of those few docs that will break its way into the mainstream and hold its own against the Hollywood blockbusters.
I really wondered how Nanette Burstein, the director, got such candid shots and access to these teen's lives, so the Q&A was quite enlightening.

There were lots of pre-interviews and location scouting to find high schools that would cooperate. In the end 10 high schools agreed. They did a casting call to pick who they would follow.
They started following quite a few students, but once the school year and stories unfolded, Nanette was able to focus on who she would feature.
In the beginning the students were still getting used to having a camera follow them, so none of the footage was usable.
Eventually they got used to the camera, and a second camera crew was around all the time, allowing for some nice cutting. Nanette had a small camera on her just in case.

Some of the most intimate moments caught (like filming the girlfriend of one of the main characters cheating on him during a late night swim) were a matter of coincidence and being at the right place. There were a lot of times when the students didn't want her filming, but what they thought was private didn't really interest Nanette.
I did stumble across this photo, which looks like they had some serious toys for B-roll (and a serious budget).
I strongly encourage you to watch this any way possible. It's on a limited theater run, and if it's not playing near you, since A&E produced it they'll be screening it.
And of course there's Netflix. The only thing there isn't is an excuse, so check it out.