Here's a story that combines a little six degrees of separation with a hint of networking. I was having dinner last night with my mom at Oriente on Ocean Drive. Across the street, near the beach, we noticed some giant tents set up – looked like some sort of party. But I noticed a sign that read 'Crew Only.' And then I saw one of the trucks had 'MOO-V-FOOD' on its side. I knew what this was.
After an awesome meal of Sea Bass and Tuna Steak, we walked over to see if my mom knew the off-duty officer (She works at the police department. If you were wondering.).�
She did, and the Captain informed us this was craft services for Confessions of a Shopaholic. They were shooting �a few blocks away, and he told us we should check it out.
We went over to Espanola Way, where they were filming. I didn't see any big grip trucks on the street, but as soon as I saw the power cables leading in I knew this was the spot. Just follow the cables.
Before I knew it, we were right in the middle of the set. No barricades, no PAs stopping us, no "Hot Set" signs. I didn't even see that many crew members. I felt like I could have been on a Film School set (except for the Panavision camera, Fischer dolly, and giant Airstar lighting balloon, pictured above).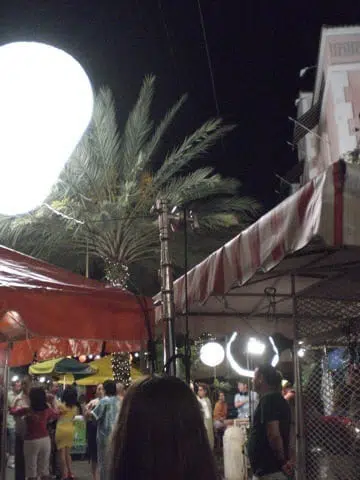 Our friendly Miami Beach Police Captain later joined the set, along with the President of Film Florida, who happened to be at a Florida Film event I went to at the Capitol a few weeks ago.
The Captain informed us that this was the most disorganised shoot he's ever seen. This was their last leg. It was supposed to be a 14 week shoot. This was week 16. The original budget was around $40 million. Now they're up to $70. The entire crew and equipment was brought in from New York.
In my mind this makes me cheer for the Film School and all the well run sets I've been on, as well as hope that we'll survive, and hopefully thrive, once we're in the real world.
But here's where six degrees comes in. Burn Notice films in Miami, and the Captain works off-duty for that show as well. After my mother did what all proud mothers do, and inform everyone within ear-shot that I'm in film school, the Captain got me in touch with Melanie, the Location Manager for Burn Notice, to see if I could be a PA.
I gave her a call. She was super nice, but thought I was in Miami for the entire summer. Since I'm only here for a few days, getting on the payroll would be tough ($125 a day), but she invited me out to the set this Friday to go around and meet everyone. They've converted the Coconut Grove Convention Center into a sound stage.
To add one more degree to this story, they're shooting next to Marley & Me, which is wrapping Friday, and the Key Grip on that show is a Film School grad. So Friday should be a pretty awesome day.
Now I need to work on my "What do you want to do?" response and educate myself on Burn Notice.