Last week Panasonic announced their long rumored 4K successor to the GH3, the aptly named GH4. The high resolution in a body that's expected to be under $2000 drew lots of attention and comparisons to the only other comparably priced 4K camera, the Blackmagic Production Camera, which has since gone down to just under $3000.
But Panasonic also announced a new accessory specifically for the GH4 that adds pro-level video features you're not going to find in anything under $10,000, the YAGH Interface Unit (not the sexiest of names). If you're looking at this camera for video work (and why else would you care about 4K if you weren't shooting video?) you've got to look at it as a whole package.
The YAGH adds 2 XLR inputs with audio level controls and monitoring, uncompressed 4K SDI out, timecode sync, DC power in, and some sort of rail system for lens support and accessories. The XLR inputs are what really sold me. No more relying on fragile 3.5 mm inputs or dealing with sync sound later. Plus if you need to run-and-gun you can take it off and go with the very capable Panasonic MS2 shotgun mic, built specifically to work with these cameras. If we assume the unit will be under $1000, that's $3000 (probably less) for a 4K camera with pro-level features. That's crazy.
I'd say that's comparable to the Canon C500, a $20,000 camera, except unlike that camera the GH4 can actually record 4K without the need of an external recorder. Of course they're not equal – the C500 has a Super 35 sensor and RAW 4K, but that's up to you if it's worth an extra $17,000 (plus an external recorder if you actually want to record 4K). Of course if you're interested in RAW 4K, there's the Blackmagic for $3000, but you're not going to be running-and-gunning with that camera. It'll be interesting to see the Zacuto 4K shootout once all these camera's are officially out.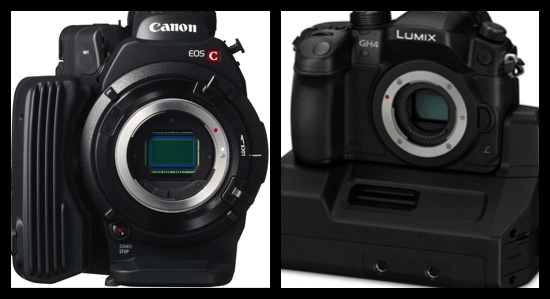 Here's some 4K sample footage. You can find more videos of the camera in action at No Film School (nothing on the YAGH).