iMovie is a versatile video editing app available on Macs, iPads, and iPhones. Best of all – it's free!
Once you're done editing your masterpiece, you're going to want to share it with the world – and by 'world' that most likely means YouTube.
In this article we'll cover how to export from iMovie to YouTube on the iOS app, and how to share your project from the Mac app and upload to YouTube.
We'll make sure your settings are set to the highest quality, tell you how to figure out upload time, and help you troubleshoot should you get any errors.
Ready to learn how to go from iMovie to YouTube? Read on.
How to Upload to YouTube from iMovie on Your Mac
Before you go through these steps, make sure you have a YouTube account and your version of iMovie is up to date.
In previous versions of iMovie you used to be able to connect your YouTube account and upload directly. However the latest version did away with the connection (you can still do it in Final Cut Pro). So you need to export your video as a movie file and upload the file to YouTube.
Take Our iMovie Course for Free
In less than 60 minutes you'll be an iMovie pro
Step 1 – Export Movie from iMovie to Your Computer
Quickest iMovie Settings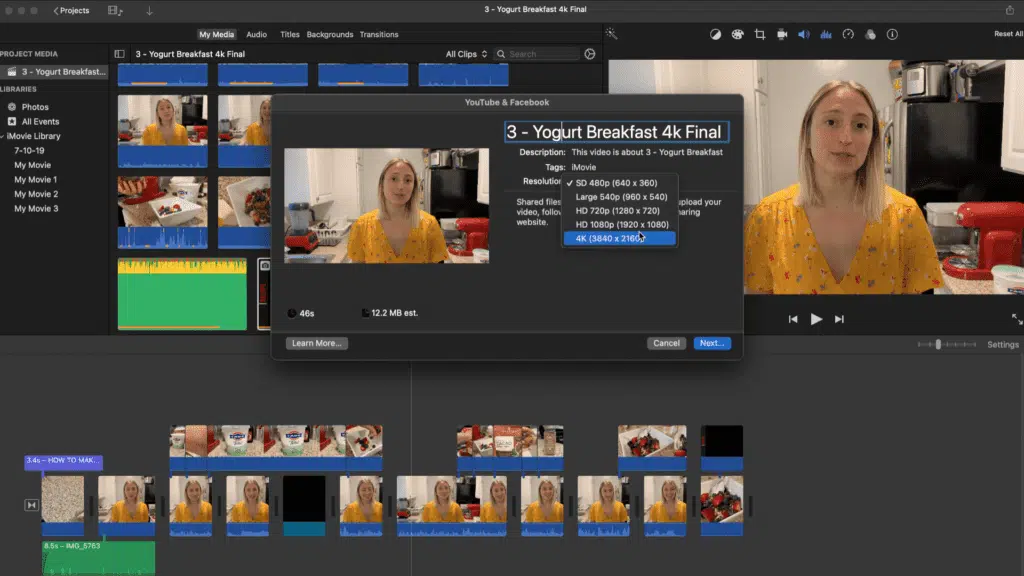 Click the Share button
Click the Share icon in the top right, or go to File -> Share.
Select YouTube & Facebook
Enter file info
In the pop-up window, you can enter a title, description, and tags. Don't worry about this too much – you'll edit this on YouTube later.
Select video resolution
Under Resolution choose the highest quality available – usually HD 1080p or 4K. The options you see will depend on your project's resolution.
Choose where to save the file
Click next and choose where you want to save your file.
Export movie
Click Save and your movie will export.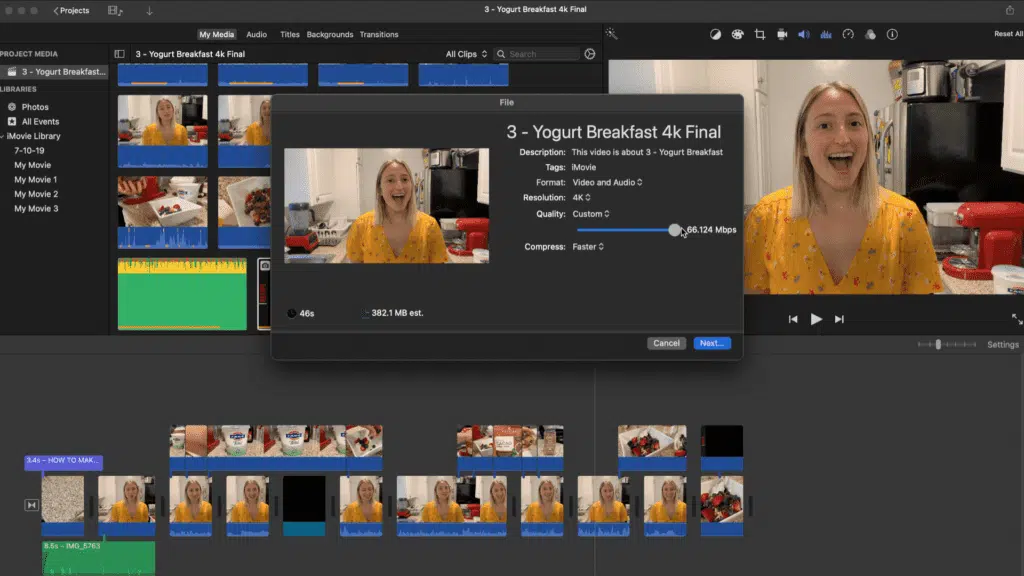 Highest Quality iMovie Settings
Click on the Share button in the top right or go to File – Share.
Click on Export File (if you want to export just a still for creating a thumbnail, choose Save Current Frame).
In the pop-up window, you can enter a title, description, and tags.
In Resolution choose the highest quality – usually HD 1080p or 4K. The options you see will depend on your project's resolution.
Now we have additional options for Quality. The absolute highest quality video codec will be ProRes. However, if your source material wasn't shot with something with a high bitrate, exporting to ProRes won't magically make your footage better.

The best option is to choose Custom and drag the slider all the way to the right (66 Mbps in our example).
Under Compress, change the option to Better Quality.
Click next and choose where you want to save your file.
Click Save and your movie will export.
Step 2 – Upload to YouTube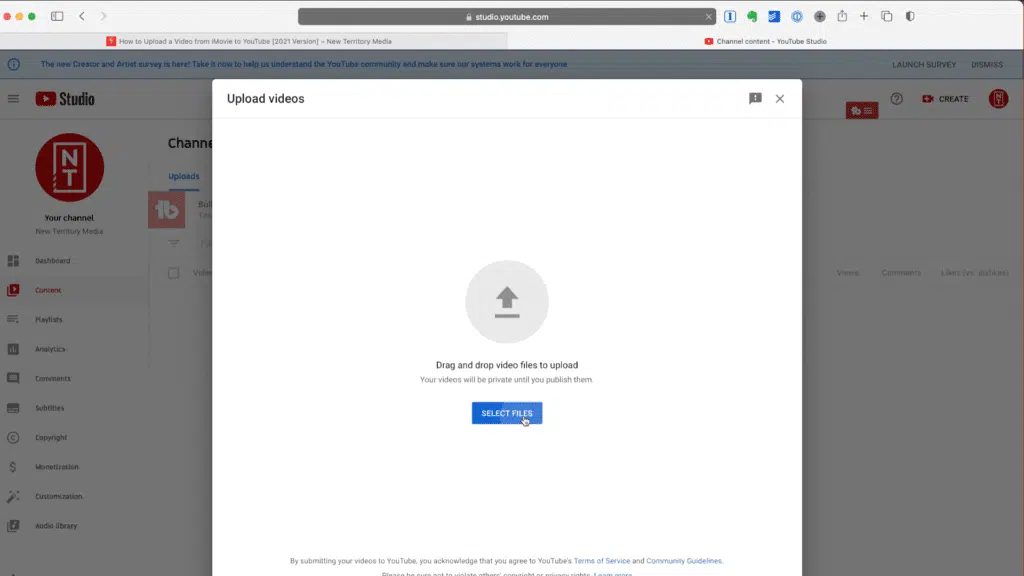 Go to YouTube Studio
Click on Create, then Upload Video
Click Select File and find the file you just exported from iMovie
Click Next to start uploading your file
Step 3 – Edit Your YouTube Video's Metadata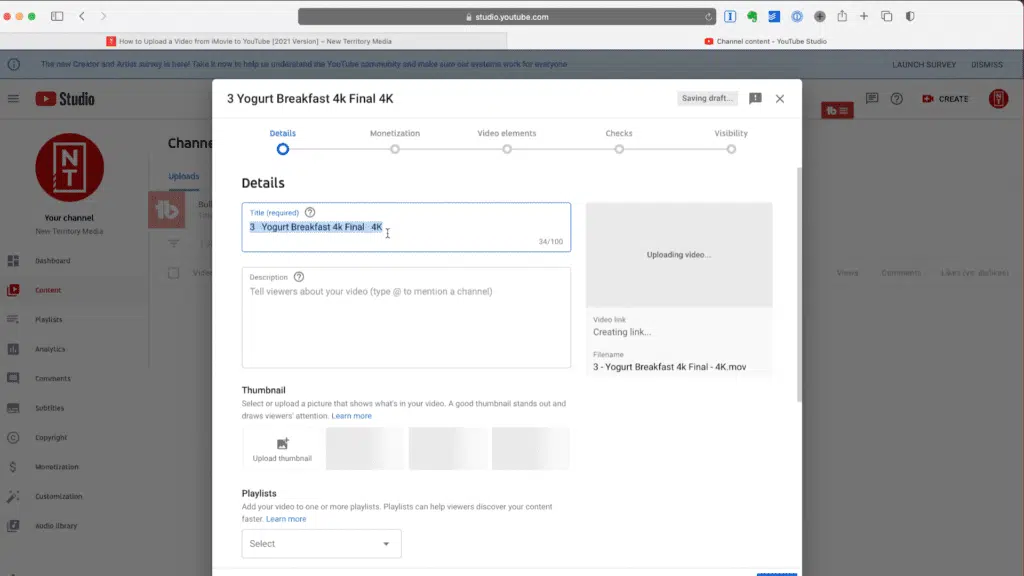 While your video is uploading you can set its metadata. Add a title and description.
Once the video uploads, you'll be able to choose a frame for the thumbnail or preferably upload your own custom thumbnail.
Scrolling down you'll be able to add your video to any Playlists you may want.
You'll also see the option to mark if your video is made for kids. While your video may be appropriate for kids, unless it was specifically made with kids being the target audience, you want to select No, it's not made for kids.
If you click Show More you'll be able to add more info like tags and location.
On the next page, you can turn on Monetization for your video (if your account is eligible).
On the next page, you can add an End Screen and Cards to your video.
The next page will check your video for any copyright flags.
And the last page is where you set the visibility. If you're ready to go set the status to Public. If you want your video to be viable by only people with the link, set it to Unlisted. If you don't want anyone to see your video, set it to Private. You can also Schedule a specific time for your video launch and you can set the video as a Premiere.
That's it! Your video is ready to go.
How to Upload to YouTube from the iMovie App on Your iPhone
If you're using your iMovie on your phone, don't worry! It is now possible to upload to youtube from the iMovie App on your iPhone. Check out these simple instructions you can follow. Take note that you can only do this for versions of iMovie 2.3.2 or later.
Step 1. Click Share.
Open the iMovie app and go to Projects Browser. Here, you can pick which project you want to share.
Tap the Share button indicated by the icon with a box and an arrow pointing upwards.
Click on Options at the top of your screen. You can change the project aspect ratio, orientation, and any other advanced options.
Select Done to apply the new settings.
Step 2. Save Video
Click on Save Video to have the file downloaded to your Photos library. For those with iCloud enabled, the video can also be accessed on your drive using other Apple devices.
Step 2. Upload your Video on Youtube
Go to the YouTube app on your phone (or computer if you transferred the file).
Click the + icon on the bottom, then Upload a Video.
Tweak your description, title, thumbnail, etc. Click publish, and you're done!
Note: YouTube will not allow you to upload videos longer than 15 minutes if your account has not been verified.
Take Our iMovie Course for Free
In less than 60 minutes you'll be an iMovie pro
How Long Does it Take for iMovie to Upload to YouTube?
To give you an idea, a 3 GB-size video upload from iMovie will take you 1 hour with good internet speed. 200 MB will only take you 5 minutes. Upload time varies from a few minutes to possibly several hours because of the video quality settings, your video's file size, and your internet upload speeds. Note that just because you have a fast download speed doesn't mean you'll have a fast upload speed. Use a speed tester like Fast.com to find out your upload speed.
How to Make YouTube Uploads Go Faster
Quality Settings
For faster uploads, follow these settings.
YouTube recommends uploading your videos in MP4.
If your video resolution is set at 4K, change it to 1080p.
Avoid ProRes. MP4 files are good enough.
Length of Movie
The shorter the video length, the smaller the file size. Cut down on any dead air moments and long intros and outros. Stick to the meat of your content so that you'll successfully get shorter but valuable videos for your subscribers to enjoy.
Internet Upload Speeds
Try these tips to get a faster internet connection.
Switch to ethernet cables and connect your device directly to your router.
Turn off any unused devices connected to your wifi.
Avoid doing anything else on your device to avoid jamming the internet connection.
What to Do if iMovie Won't Upload to YouTube
What if iMovie failed to export and upload to YouTube? Worry not! Here are the most common iMovie issues and how to resolve them.
"My iMovie export failed"
Try to check if you have:
Enough free space in your Mac's hard disc.
No errors on your timeline or glitchy video
Try exporting in a different resolution
"My iMovie is slow"
Most likely, iMovie is being used with other programs competing with memory use. Try quitting all applications and using a program like CleanMyMac to clear out memory and storage space.
If you've tried closing all applications and it is still slow, most likely your equipment cannot support iMovie.
"The trailer of my videos isn't showing correctly"
Use the "Fonts" app that will activate all fonts. After you've logged in, iMovie will restart. You'll have to go to the "disk utility" button and click on "repair permission" and "restart OSX."
"My video has distorted segments."
Recheck your video in iMovie, where the distortion begins. If you see it, try editing it out before uploading it to YouTube.
"My iMovie keeps crashing"
Try these simple steps to keep iMovie from crashing:
Clear cache folder. Go to your iMovie application and click on Preferences. Tap "delete render files and confirm deletion. It will be a huge help especially if you have an upcoming project that requires a lot of space.
Empty the preference folder or delete your preference file from iMovie. Its file name is com. apple.iMovie app.plist. You can find this in the user folder labeled as "Library/Preferences."
Close the iMovie Application and find the .plist file of your iMovie to the system desktop. Try to open it again and see if there are any changes.
Reinstall the iMovie application or update it to the current version.
Take Our iMovie Course for Free
In less than 60 minutes you'll be an iMovie pro