YouTube is a massive platform with more than 2 billion monthly users. However, to call it a social network is an understatement.
As the leading video sharing and streaming site in the world, it's more than a social network: it's an entertainment and education hub for millions.
With so many potential customers coming to the website every day, it's a no-brainer to create a YouTube channel for your business, especially as part of a YouTube SEO strategy.
In this post, we'll guide you through everything you need to know about YouTube brand accounts and how to set one up for your business.
We'll also cover how to add users to manage your account and how Google's new channel permissions differ from brand roles.
What is a YouTube Brand Account?
A YouTube brand account is an option that gives your business or brand a YouTube presence of its own. If video marketing is part of your strategy, YouTube is a must.
It is a separate account from your personal one that uses your company or brand's name. You can manage the account by yourself or share the management duties with others in your team.
The ability to add channel managers is one of the awesome features that differentiate a brand account from a personal account.
A YouTube brand account provides you with the ability to add roles and other users to the account to help manage and moderate comments, uploads, and other channel content. Multiple people can manage your YouTube channel.
With a YouTube brand account, adding managers helps to streamline the process of keeping up with your channel without compromising or risking your personal YouTube account information, such as your own email address and personal password.
Once your brand account has been successfully created and set up, you can begin designating roles for your employees and those who are helping to cultivate your brand online and with the use of social media.
YouTube Brand Account vs Personal Account
On the surface, a YouTube brand account and personal account are extremely similar.
Brand accounts add an additional layer of privacy and collaboration to manage a YouTube channel.
Advantages of a YouTube Business Account
You can use a different than your personal Google Account on YouTube, like your business name
You can share access to your YouTube channel without sharing your password.
You have more control over different permission levels when granting access to your YouTube channel.
You can keep your name and email address private. There's no public association between personal and brand accounts.
You can manage multiple YouTube channels from one Google account (all the channels must be YouTube brand accounts.
How to Create a YouTube Brand Account
First, make sure you're logged in to Google with the account you want to use to manage your YouTube brand account (either your personal or Google Workspace account).
If you don't have a Google account you can easily create one for free via Gmail.

Once logged in, go to the channel list. Here you'll be able to see every YouTube brand account connected to your Google account.
Click Create a New Channel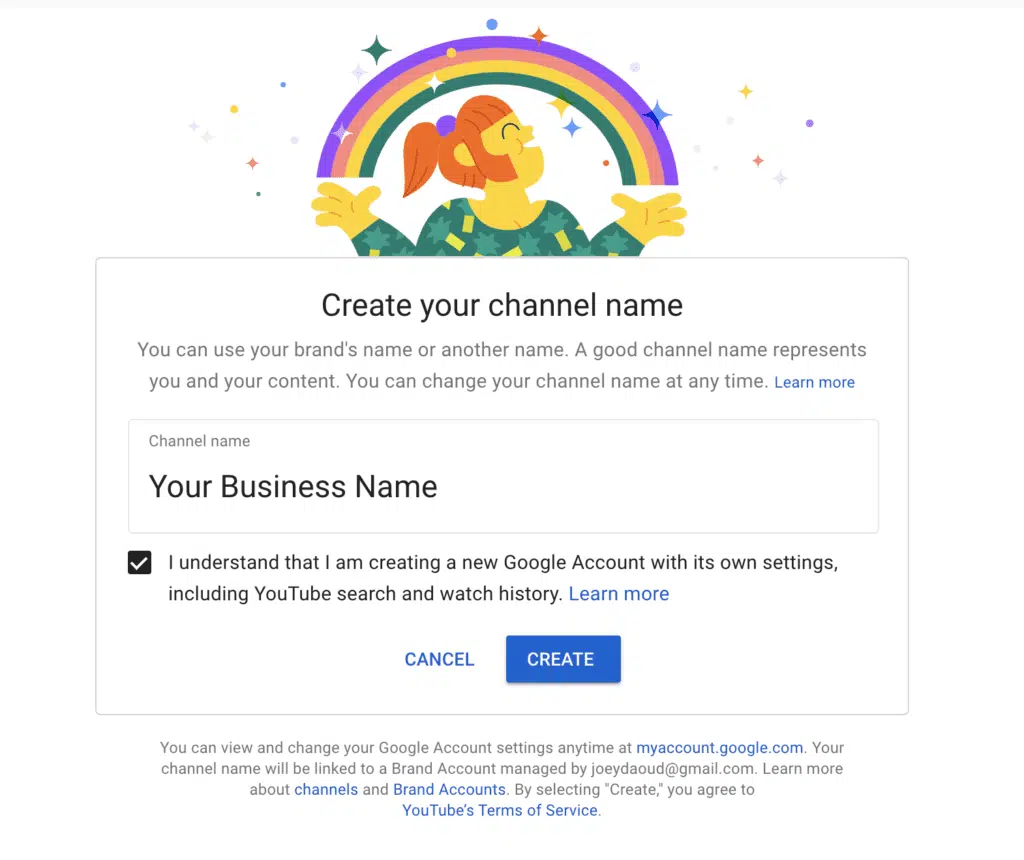 Type in the desired name of your YouTube channel, which should be reflective of the actual name of your business or brand.
Do not use a generic name or a name that is personal to you, as this name will be public to all of YouTube's users as well as your channel's followers.
Name your YouTube Brand Account as close as possible to your actual business or brand's name, based on availability.
Some tips when creating and naming your brand account include:
Always use proper spelling and grammar when creating a brand account name, especially for a legitimate business and/or brand.
Avoid hyphens and special characters within names of businesses and brands as much as possible.
Do not use odd or unique spellings when creating a brand if you do not already have a following of customers or a successful online presence.
Spend time researching your online competition as well as YouTubers who may have similar names as well as content or videos.
Once you've entered your title, click next.
After a simple account verification, your YouTube brand account is created!
Customize Your YouTube Brand Account
Once created you'll want to customize your account with channel art. Use logos and branded graphics to appeal to prospective viewers and to establish a professional and legitimate reputation and presence online.
Because first impressions matter when it comes to browsing online, uploading high-quality and relevant graphics, as well as logos, is a must with your YouTube business account.
In YouTube Studio, go to Customization on the left.
Under Layout, you'll be able to customize how your channel page looks. This is extremely important – your channel homepage is the landing page for new users. You want to show off your best content to get them to subscribe and to make it easy to navigate all your videos.
You can organize your content into playlists and organize your channel page to display the different playlists.
But at this point, your channel probably doesn't have any content. When you do start creating videos, make sure it's exported and uploaded in the highest quality format for YouTube.
Under Branding you'll be able to add:
Picture or channel icon
Banner image for the top of your channel
Video watermark
Under Basic Info you can add:
Channel description
Custom channel URL
Links to your website or other social platforms
Email address
Check out our guide on setting up a YouTube channel for more details on channel customization.
YouTube Channel Permissions and Brand Roles
One of the biggest advantages of a YouTube brand account is the ability to set roles and permissions.
When you manage an online presence for your brand, you may require assistance from other individuals, content creators, and community moderators as you continue to grow and scale.
Once you have set up your YouTube brand account, you can add managers and other roles for those you want to help with your content.
There are currently three YouTube Brand Account Roles. They are:
Primary Owner: This is your role as the primary owner of the account. The individual who creates the business or brand account from their personal YouTube account with automatically be deemed as the Primary Owner of all business or brand accounts created within.
Owner: The owner label can be used to distinguish the actual owner of the business or brand from other managers and individuals simply contributing to the moderation and content schedule for the channel itself. The owner permission is identical to the Primary Owner – they can do everything, including deleting the channel. So be careful who you grant owner permission to.
Manager: Using a manager role is optimal for anyone who has permission to manage the content as well as comments and uploads on a brand's channel without extensive admin permissions. A manager's role may include deleting or removing comments, responding to messages, or uploading content altogether. However, a manager will not have the ability to make permanent and/or fundamental changes to the main account.
As you can see, there are really only two levels of user roles here, which doesn't give a lot of fine control over permissions.
Recently Google rolled out a new option for designating YouTube channel management roles called Channel Permissions.
Channel Permissions (aka Studio Roles) include:
Owner: Can do everything, including deleting the channel, but can't transfer ownership of the channel
Manager: Can edit channel details but can't delete the channel
Editor: Can edit everything but can't delete the channel or videos
Editor (Limited): Identical to Editor but can't see revenue data
Viewer: Can view all channel details but can't edit anything
Viewer (Limited): Identical to viewer but can't see revenue data
Channel Permissions are a new feature that you currently have to opt in to. While it does offer more levels of user permissions, not everything that is available under brand account roles are available with studio roles.
Things that a Manager cannot do under YouTube brand accounts with Channel Permissions:
Manage playlist order
Live stream as the channel
Upload via mobile
Create a post
Comment on another channel's videos as the channel
Create a story
Access Studio Mobile
Read more about YouTube channel roles here.
---
Building an online business or brand does not have to feel overwhelming, confusing, or impossible, even if you are new to the realm or have little prior experience with selling or marketing online.
With the right tools and social media accounts on platforms such as YouTube, maximize your online reach and your ability to establish your business and brand as professional and trustworthy as quickly as possible.