A mere few years ago, a video marketing plan might have entailed uploading a few videos to Instagram and Facebook and calling it a day. Maybe you uploaded the same videos to YouTube just because it was there. And that was it.
If this still sounds like your current video strategy (or worse, sounds better than your current strategy), you could be missing out on valuable search real estate and inbound traffic.
Fear not, we've got you covered. In this post, we'll explain the dynamic relationship between video SEO and video marketing, why video marketing should be a vital part of your marketing strategy, and how to rank your videos in both Google and YouTube from start to finish.
Video Marketing Meets SEO
Video marketing is a pretty broad term. A video could be as simple as a 5 second Instagram story to as complex as a 30-minute mini-documentary, with many variations in between.
People's desire to watch more and more video content has only been increasing every year. An average person will spend 100 minutes on video every day.
SEO, or search engine optimization, is the process of properly optimizing your content for targeted search and keywords. When someone searches for your keyword on Google, the goal is for your content to show up at the top.
Traditionally SEO applies to text-based articles (like this one!). Still, with Google indexing more types of media, such as video, there's a subset of vital skills specific to video SEO to get your videos discovered – not just on Google but YouTube as well.
When mapping out your video SEO plan, there are three main destinations your videos will live.
Brand Website
Social Media (like Facebook, Instagram, LinkedIn, TikTok, Twitter)
YouTube
You might be thinking, "Why isn't YouTube just part of social media?" and that's a valid question. But when it comes to medium and long-form video (anything more than 2 minutes), YouTube is in a category of its own. Let's break it down.
Why YouTube is Vital for Video SEO
It's hard to talk about video SEO without talking about YouTube, and that's for one big reason – YouTube is the second largest search engine in the world, right after Google.
90% of people say they discover new brands and products on YouTube. People go to YouTube to look for answers to problems, learn about a topic, search out product reviews and tutorials. This is vital real estate to own.
Google's Video Search Results Box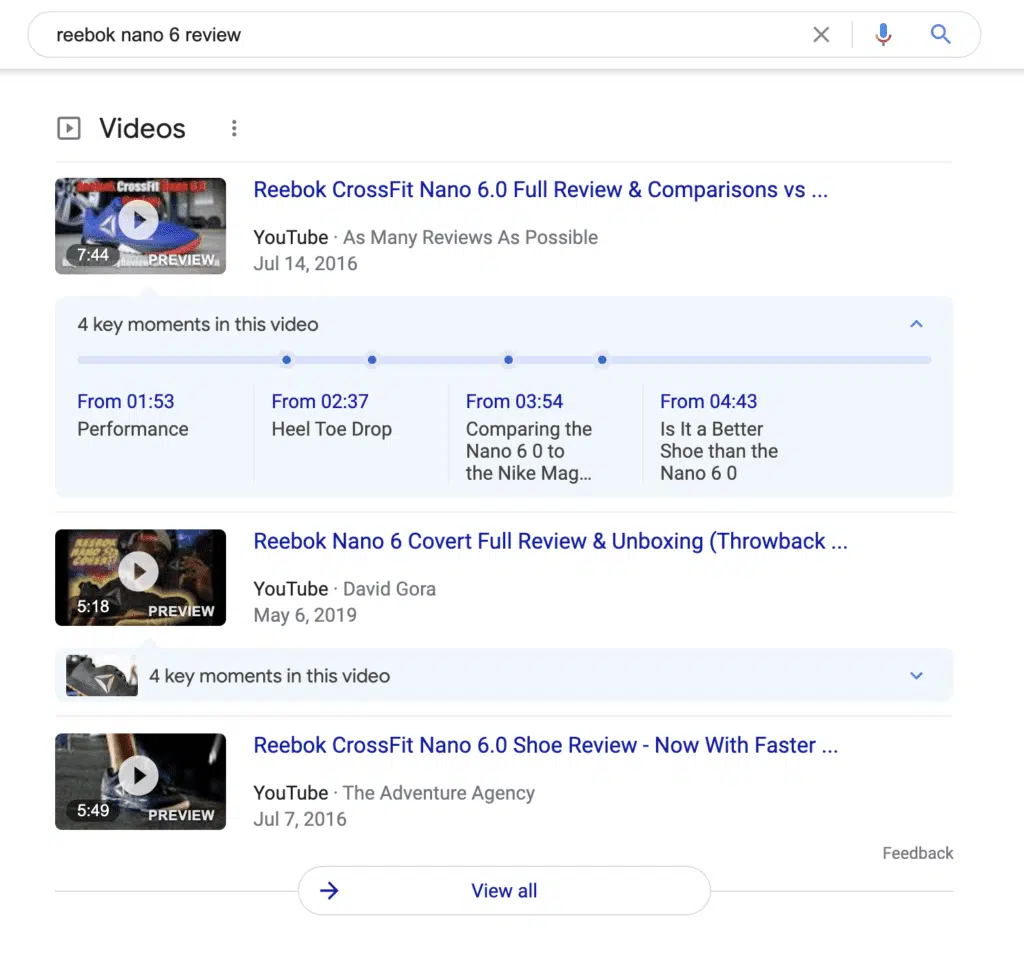 The double benefit of video marketing, especially on YouTube, is ranking your videos in Google's video box, which appears on certain searches. If your content ranks in the box it's an excellent way to bypass all other search results and end up at the top of the list.
While technically any video on any website is eligible to rank in the video search box (as long as it has the proper schema markup), it makes sense to host your videos on YouTube to capitalize on two search engines with one video.
Getting Started with Video SEO and Marketing
Creating a roadmap of your brand's video marketing goals is very important. Nowadays there are various tools and apps you can utilize to create videos.
The following steps are going to outline your SEO process right from the basics.
YouTube Keyword Research
Before hitting record, you want to do some research to plan what your video should be about. This isn't the most important step for quick Instagram stories, but it's vital for creating a YouTube SEO plan.
Here are a few free and paid ways to do some keyword research.
YouTube Auto-Complete is a great way to learn the popular, ongoing topics of your subject matter. Start typing out a broad term in your niche and see what YouTube suggests to complete the search phrase. This is a good gauge on what people are searching for and what you can create videos about.
Google trends provide you with detailed information on what is the most trending video within your niche. So you can plan your video according to the results of that research.
Competitor Channels – Go to a competitor channel. A competitor doesn't necessarily have to be someone you compete with in your product – it could be a content competitor who ranks for your target keywords.

Look at their main page. Are their vidoes organized into any categories? That would tell you those categories probably do well.

Go to their video page and sort by Most Views. Look at their most popular content and see what gets the most videos.
YouTube Keyword Research Tools
| Tool | What it Does |
| --- | --- |
| VidIQ | VidIQ is one of the few tools which provide a keyword search specifically for YouTube. You get detailed information about the keyword, such as its search volume, search score, and top videos and creators. |
| Ahrefs | Ahrefs keyword explorer provides information on the click rate of the selected keyword. Ahrefs is unique in SEO tools because they also provide YouTube keyword data. |
| Content Explorer Tool by Ahrefs | It carries information of a billion web pages and you can use it to gauge the organic keyword traffic for both Google and YouTube. To check for consistency, you can view the traffic graph. |
| Keywords Everywhere | Keywords Everywhere is another tool that specifically provides YouTube data. It also suggests additional keywords apart from the ones you have already searched. It's a Chrome plugin that will display the search volume directly in Google's auto-complete section. Further, it also displays CPC (Cost-per-click) and competition data. |
| TubeBuddy | TubeBuddy contains many valuable features and helps you get the maximum benefit out of YouTube. All these features are inbuilt in your YouTube interface after you add a Tubebuddy extension. It helps you get brand alerts, competition scorecards, GIF generators, keyword tags, end screen templates, and so on. Apart from these, there are several more Tubebuddy features to explore. |
Creating Your Videos
The actual process of producing high quality videos is a post…and book…and course in itself.
In fact, we've done a few courses on the topic already. Check out our Skillshare course on shooting high-quality video with your iPhone and our other video on editing with iMovie.
Plus we've got a few useful blog posts:
Publishing and Metadata
Creating great content is only half the job. Making sure your videos have great metadata so people will discover your videos is the vital second half.
Title
Your title should capture the viewer's attention enough to make them watch the video. 
The title should have the targeted keywords, preferably in the beginning itself
It should be concise, around 5 to 7 words. (60 to 70 characters). Otherwise the title may not be completely visible in other viewing devices.
Add intent specifiers: Tips, How to, Review, Best, Top # and so on
Keep it catchy and appealing
Leave any extra information to the end. (For example, brand, series name, episode no)
Description
Your first one to two sentences are the most important because that's what will show up in search results. Provide a good hook to what people will gain by watching your video.
Make sure to organically include your target keywords in your description.
Add your brand URL in the description so viewers will be directed to your website.
You should also add relevant timestamps in your descriptions. YouTube will automatically index this and add chapters to your video. Just make sure the first timestamp is 0:00.
Tags
Tag your content with as many relevant terms as you can. TubeBuddy and VidIQ have great recommendation tools for additional tags. 
File name and format
Yes, your file name also affects your video SEO score. Make sure to keep it relevant and include target keywords. You should also ensure the file format meets YouTube standards.   
Video Thumbnail
Once your account is verified, YouTube allows you to upload a custom thumbnail. Utilize this feature as it will help differentiate your YouTube video from the others. 
| | |
| --- | --- |
| Acceptable formats | JPEG, .PNG, .GIF, or .BMP |
| File limitation | 2 MB |
| Size | 1280 x 720 |
End Screens & Cards
An end screen is great to direct viewers to more of your videos and promote your channel.
YouTube allows you to add four elements to your end screen: Videos or Playlist, Channels, Subscribe, and External Site.
Analyze your subscriber report and add a high-converting video or a follow-up video to your channel.
You can experiment by placing different end screens. Later you can analyze your end screen with the report and set the high-performing one.
Include a verbal CTA (Call to action) for a personalized effect.
Backlinks
When bots crawl and analyze your page, they also want to ensure page quality. YouTube, like Google, uses backlinks as a ranking factor, and so you must accumulate backlinks both to your videos and your Channel. This will allow you to certify the credibility of your Channel. You can attain backlinks through the following means: 
Collaborations with other content creators: You can co-host a video with a collaborator to increase your Channel's engagement and incoming views. If you have a growing brand/channel, you need a backlinks outreach plan.
In the video description – custom link section, you can add multiple links but ensure the main URL is in the first box.
Social media: Sharing your video to sites such as Reddit, LinkedIn, and Pinterest etc is a great way to create links and engagement.
Comment links to answer questions, such as on Quora. Specific impactful comments can generate more views.
Captions
Captions are not only useful for SEO, it's vital for people with accessibility issues to enjoy your content. You can use a service like Rev to easily caption your videos.
Marketing & Distribution
While most of our focus has been on YouTube, you definitely want to tap into your brand's other social media channels. The good news is with all the work that went into producing YouTube videos, it's very easy to repackage that content into social media posts for other channels.
If you think of a hub and spoke model, YouTube is at the center with your longer video. By taking key elements out of the video and creating shorter videos, you have multiple spokes to post on your other social channels.
The posts should be able to stand alone by themselves, but ideally it teases enough of the video that people watch it on YouTube.
The tricky thing is every platform has their own video length limits. Generally keeping the video under 60 seconds will work for most. But we've broken down a full list of every social media platform's maximum video length limit for each type of content.
Video Platform
Video Type
Maximum Video Length 
Facebook
Post
240 minutes
Story
120 seconds
Instream
5 to 120 seconds
Instagram
IGTV
15 seconds to 10 minutes60 minutes for verified accounts
Story
3 to 120 seconds
Feed
60 seconds
Live video
60 minutes
Reels
15 seconds
Twitter
Tweet and story
2 minutes 20 seconds 
10 minutes long videos: You can apply for Twitter's media studio business product's permission  
LinkedIn
Native video
10 minutes
Video ad
30 minutes
Snapchat
Story
60 seconds
Quick snap ad
10 seconds
Video to Blog – Adding Videos to Your Own Site
Another great tactic is to embed the video on your own website and create a blog post from the content.
Analysis and Improvement
Even if you have implemented an excellent SEO strategy, there is always room for improvement. Hence, it is crucial to analyze how well your video has performed and how you can improve. YouTube Analytics, an option in your YouTube Creator Studio, gives you a detailed analysis of your video performances in the following key metrics:
Watch time
Retention of viewers
Demographics
Subscribers Gained and Lost
View duration
Along with video analytics, you must analyze your social media stats as well. 
Final Thoughts
Video is one of the most interactive mediums to engage your audience.
With these steps, you can improve your video market efforts, both on YouTube and your own website. Using these steps and techniques, you can create a more personalized experience for the viewers and market your videos successfully. Constant interaction with your video marketing team and achieving consistent goals will help increase your video SEO and marketing game.