Want to know which are the best YouTube keyword tools?
In this article, we'll go through free and paid tools that can help you find keywords for your content. We'll also be telling you the pros and cons of the tools, and the types of users they're best for.
By the end of the article, you'll know exactly which YouTube keyword tool is the right one for you, and what you can use it for.
Let's get started.
What Are YouTube Keywords?
YouTube keywords are words that contextualize your videos to YouTube.
Video keywords help the platform understand what's the kind of video you just uploaded, and who you made it for.
However, there are two ways to think of YouTube keywords
Video tags: This is the designated metadata area when uploading a new video to add keyword tags.
Video SEO: Treating keywords as search intent and context and incorporating target keywords into your video's title, description, script, and more
The YouTube keyword tools we cover here will assist both uses.
Channel tags are used the same way to contextualize your channel as a whole. YouTube then uses those keywords to find other users that could be interested in your videos, and suggest it to them.
YouTube needs to use these keywords to make better sense of all of its videos, and have better success at keeping users engaged and on the platform.
Here's where you can add keywords and how many keywords you should be aiming for:
| | |
| --- | --- |
| Video Title | 1 Primary Keyword |
| Video Description | Primary Keyword and as many variations as make sense |
| Video Tags | Up to 500 total characters |
| Channel Tags | 5 to 10 focusing on broad channel topics |
You should always focus on keywords with the right balance between relevancy and search volume to properly optimize your channel.
By using the right keywords, you can increase the chances of YouTube showing your content to the right person.
YouTube Keyword Research
So, using the right keywords is important.
But, how do you know which keywords to use?
That's where our YouTube keyword tools come in.
YouTube keyword tools make keyword research easy by aiding you at every step of the way. They allow you to find related keywords and decide which keywords to prioritize based on the YouTube keyword volume, their competition, and other relevant information about them.
That way, you know you're optimizing your content with data-driven decisions, instead of guessing.
The 10 Best YouTube Keyword Tools
Here are the 10 best YouYube keyword tools to get you optimizing your content in no time:
YouTube Autocomplete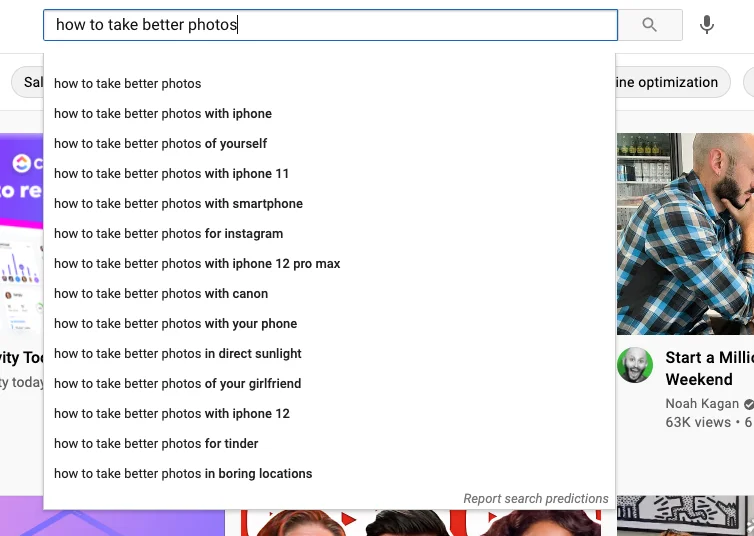 The easiest and quickest way to start with your YouTube keyword research is through YouTube itself.
Just like Google, YouTube autocompletes your words as you're typing them, allowing you to find the most popular topics based on the order they appear. And, since YouTube will only show you the most popular keywords, it can be extremely useful, for example, when trying to decide on how to title your video.
All you need to do is start typing queries that are related to your video, and you'll immediately see keyword suggestions. This allows you to find good long-tailed keywords to start developing videos for your niche.
Best For:
Quick searches, and as a starting point of your keyword research process. Good for quickly finding top keyword searches on YouTube.
Pros:
Cons:
Doesn't show traffic
Only gives results relevant to the user's location
No YouTube keyword analytics
Ahrefs' YouTube Keyword Tool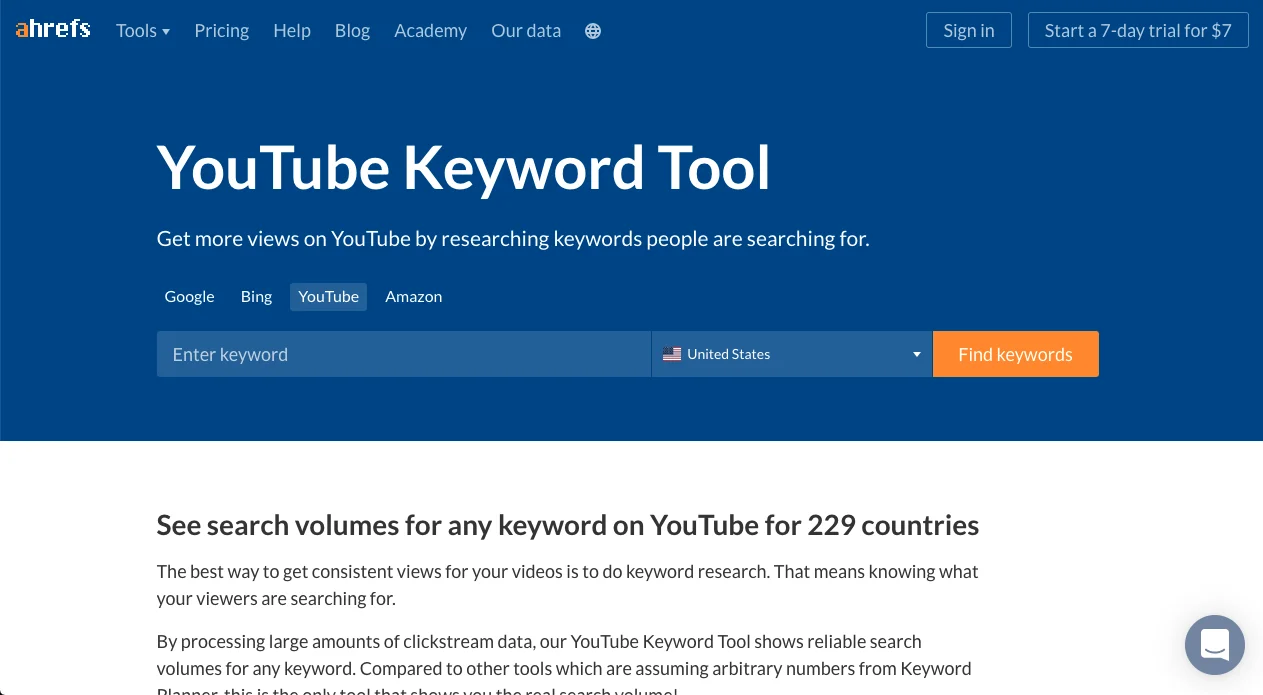 Ahrefs is a hugely popular tool used by creators and video marketers alike because of the level of detail it offers users and the quality of their data.
That's why it's no surprise to see more and more YouTube video producers using Ahrefs' YouTube Keyword Tool. With it, users can quickly find out keywords and their search volumes in up to 172 countries.
The platform makes it easy to handle a large amount of data by simplifying the whole process with a surprisingly intuitive UI.
You can start by searching for your keyword, and allow Ahrefs to pull all of its data on related keywords and clicks. By focusing on finding a balance between high search volume and lower clicks, you can see potential gaps in knowledge that your videos can fulfill.
You can also use Ahrefs to find the keyword's relevant search phrases to expand your keyword's variations and their use in your content.
The free version still shows good keyword variations and traffic, making it a good part of your process if you're gathering information with a limited budget.
Best For:
Anyone looking for a simple and free tool they can use to get a good idea of search volume and keyword variations. Also good for companies who are willing to invest more in finding successful content ideas faster.
Pros:
High-quality data
Easy to understand
Useful dashboard
Useful free keywords tool
Cons:
Limited free capabilities
Doesn't fulfill all keyword research datapoints
Fairly expensive paid tiers
KeywordTool.Io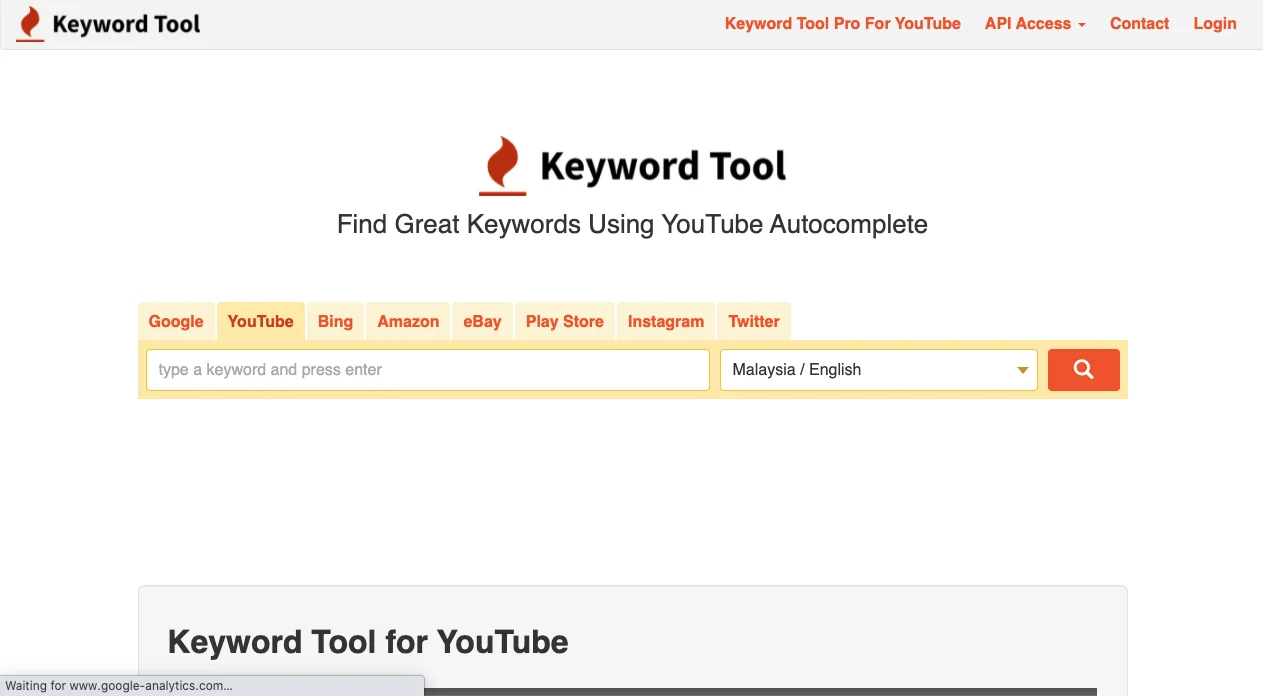 KeywordTool.io has a YouTube autocomplete keyword scraper that works by searching and finding keyword variations through YouTube's autocomplete feature.
The free, limited version shows you keyword variations, search volume, trend, CPC, and competition of the top 5 keyword variations. It's quite limited, but can be used with other tools to maximize your knowledge.
If you want to get more advanced data, like API requests, CPC data, and thousands of keywords per day, you'll have to choose one of their paid tiers, starting at $69 per month.
Best For
Companies looking for all the information YouTube can provide from users from multiple countries. Also, good free version to complement keyword search for specific keywords.
Pros:
Extensive, high-quality data
Useful free limited data
Can grow along with your channel
Easy to create and export keyword lists
Cons:
Limited free data
No search volume data
Google Keyword Planner

Although not as accurate as other tools listed here, the Google Keyword Planner can be a useful, free YouTube keyword tool.
With it, you can get search data for keywords on Google as a whole. While not specific to YouTube, it can give you a gauge on if a certain term gets a lot of searches or few searches.
Unlike other tools, it doesn't offer as much volume detail, keyword ideas, or search trends.
But it can help you find and add keyword variations to your content, and identify keyword trends to find ideas for your future content.
Best For:
Getting a free gauge on Google search trends to create content around.
Pros:
Free
Accurate Google search data
Cons:
Limited only to Google search data, not YouTube
Not a lot of search info or trend details
TubeBuddy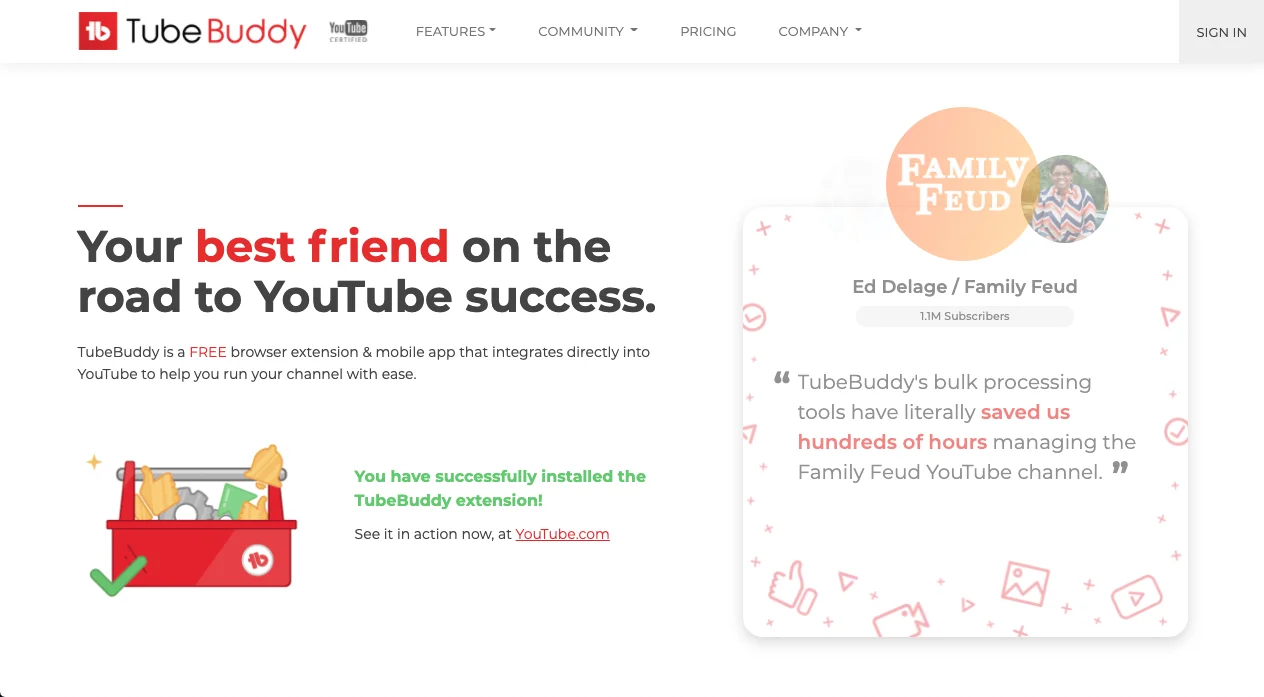 TubeBuddy is an amazing YouTube SEO tool. You can use TubeBuddy across every step of your keyword research process, allowing you to find high-performing keywords for your content. The tool can also help you optimize older content with basic guidelines and promotion tools.
With TubeBuddy's dashboard also shows your search terms' score, competitivity, traffic, and much more. Plus, the tool itself is fairly easy to use, since it comes in a light-weight Chrome extension that stays there until you need it when browsing videos and looking for content.
TubeBuddy gives you all of these features for free, just install it and use it. You can also pay $9 per month to optimize your videos through TubeBuddy's mobile app, with other paid tiers giving you access to brand and competitor alerts, and video A/B Tests.
Best For:
Users who are just getting started on YouTube and small channels with a small budget for simple, day-to-day keyword research and overall optimization for YouTube videos.
Pros:
Good free limited options
Good for more than just keywords
Powerful features
Affordable pricing
Cons:
Lack of detailed data
Best features only in paid plans
vidIQ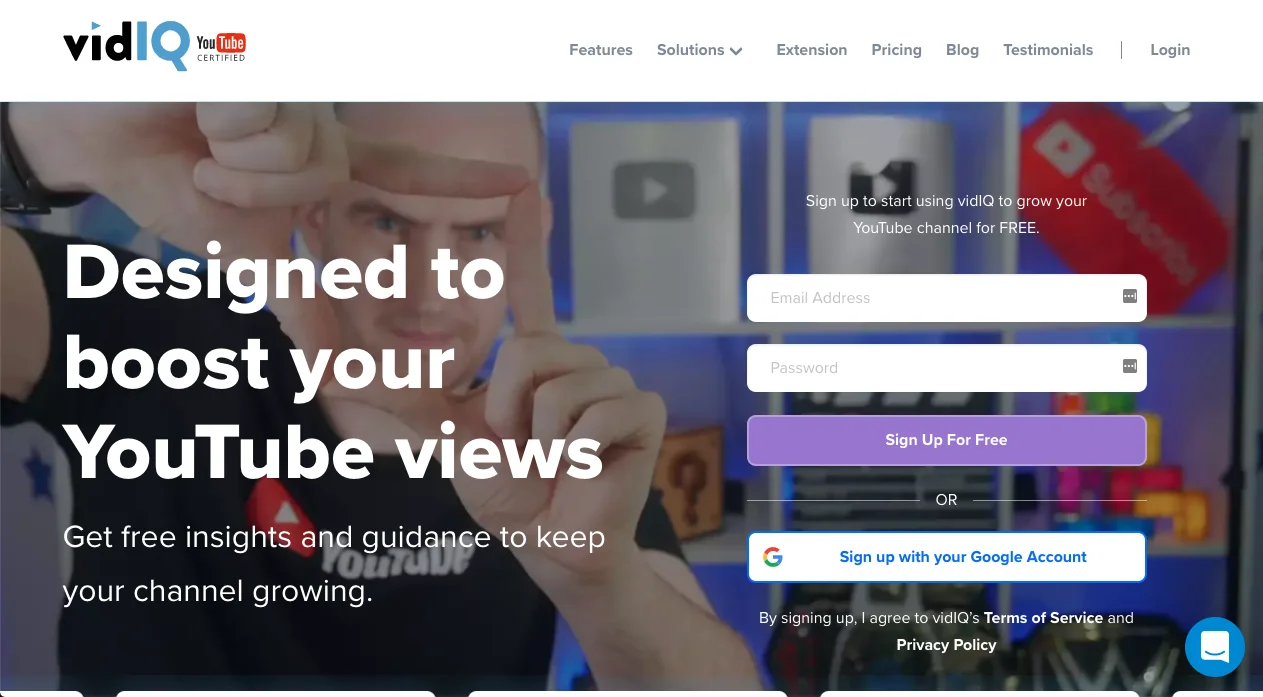 VidIQ is a YouTube Certified partner and Chrome extension with great keyword searching capabilities. The platform comes with many useful keyword tools, that allow you to research YouTube keywords and find the average view count on them.
You can also use it to find competitor tags, autocomplete tags, and to use its templates for keywords. Using it is fairly easy. Just search for a term and let the platform pull all of its data on it, like its search volume across time, and related keywords.
The platform offers a free plan with limited video analytics. VidIQ also offers three paid tiers, starting at $7.50 per month for keyword research tools and other features.
Best For:
Anyone looking for a basic keyword tool at affordable prices. Also offers full suite of YouTube channel tools and competitor research.
Pros:
Good free features
Affordable pricing
Personalized coaching in premium tiers
Competitor tracking and research
Cons:
Plug-in only available for Chrome
Non-intuitive platform
Semrush's Keyword Magic Tool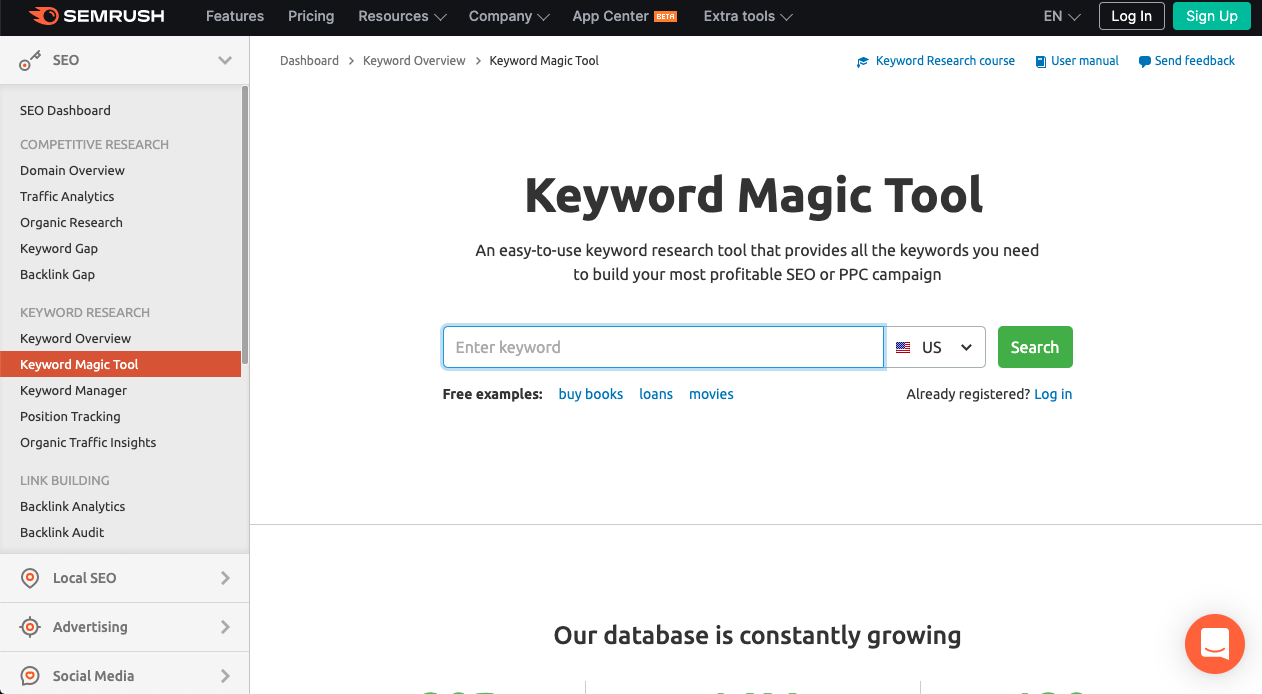 Semrush's Keyword Magic Tool is filled with YouTube keyword search statistics, and it's easy to use.
The platform has a database of over 20 billion keywords and can offer up to 14 million ideas for a single keyword. Then, it shows you its search volume along with how competitive it is, and how hard it'll be to outrank the competition.
The platform also has powerful YouTube keyword planning capabilities, like auto-grouping keywords, smart filters, and seamless integrations with other tools.
Semrush, however, isn't the cheapest YouTube video keyword generator around, with its pricing starting at $119.95 for up to 5 projects and 500 keywords to track.
If you want more advanced features, like historical data and Google Data Studio integration, you'll have to go for the Guru plan, starting at $229.95 per month. Finally, the Business tier, at $449.95 per month, gives you API access, 40 projects with unlimited targets, and powerful content marketing tools.
Best For:
Businesses and professional SEO and marketing users. Large, professional channels can also find useful information on detailed keywords and content generation.
Pros:
Huge capabilities
Good for more than keyword research
Works with tools you may already be using
Cons:
Expensive platform
Limited free options
Morning Fame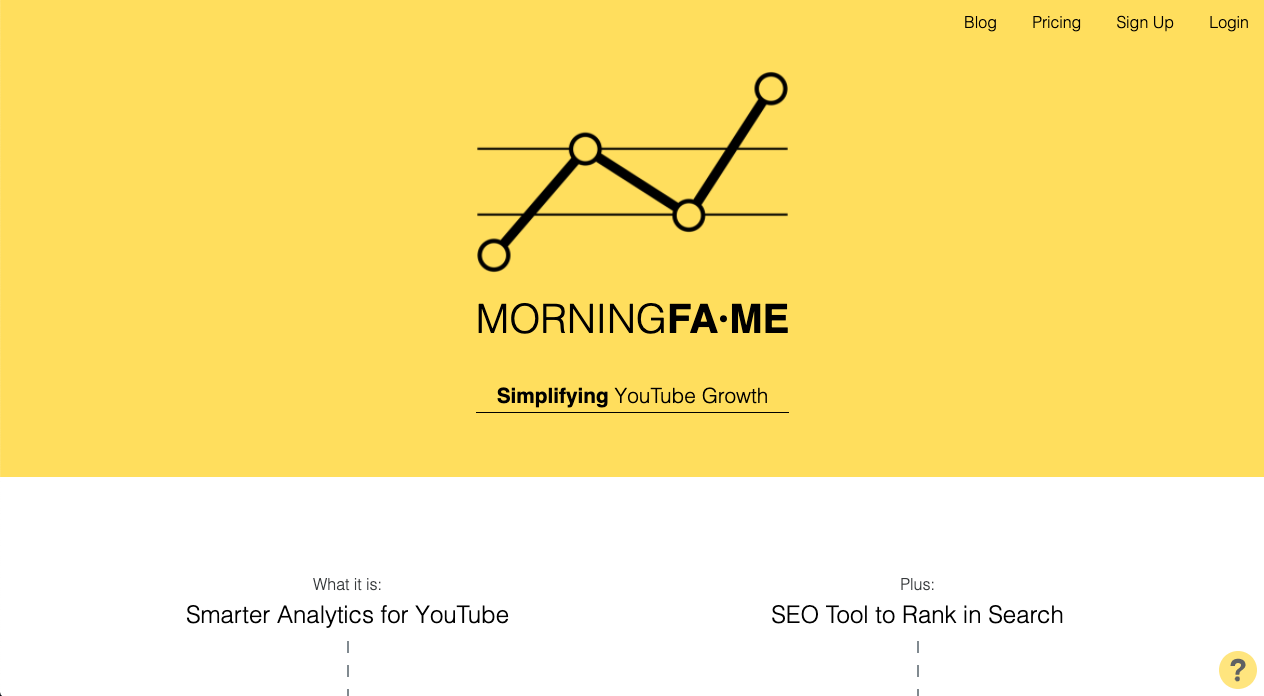 Morning Fame is a fairly new YouTube keyword research tool for your channel. The platform works by invitation only, so you'll need to find someone to give you a code to start using it.
With Morning Fame, you can easily use keyword research to optimize your videos, and comparing you with similar channels to find weak spots on yours. The platform also keeps track of your videos, letting you know how they're performing.
Morning Fame cannot be used for free. Instead, its paying starts at just $3.90 for channel analytics and limited keyword research capabilities. For the full keyword research tool, you'll have to pay $9.90.
Best For:
Smaller channels looking for a basic YouTube keyword suggestion tool and willing to go through the hassle of getting an invite from someone.
Pros:
Affordable pricing
Intuitive reporting
Useful visualization tools
Cons:
Only available through invitation
Still needs multiple regular updates
Not for heavily detailed information
Basic features
Google Trends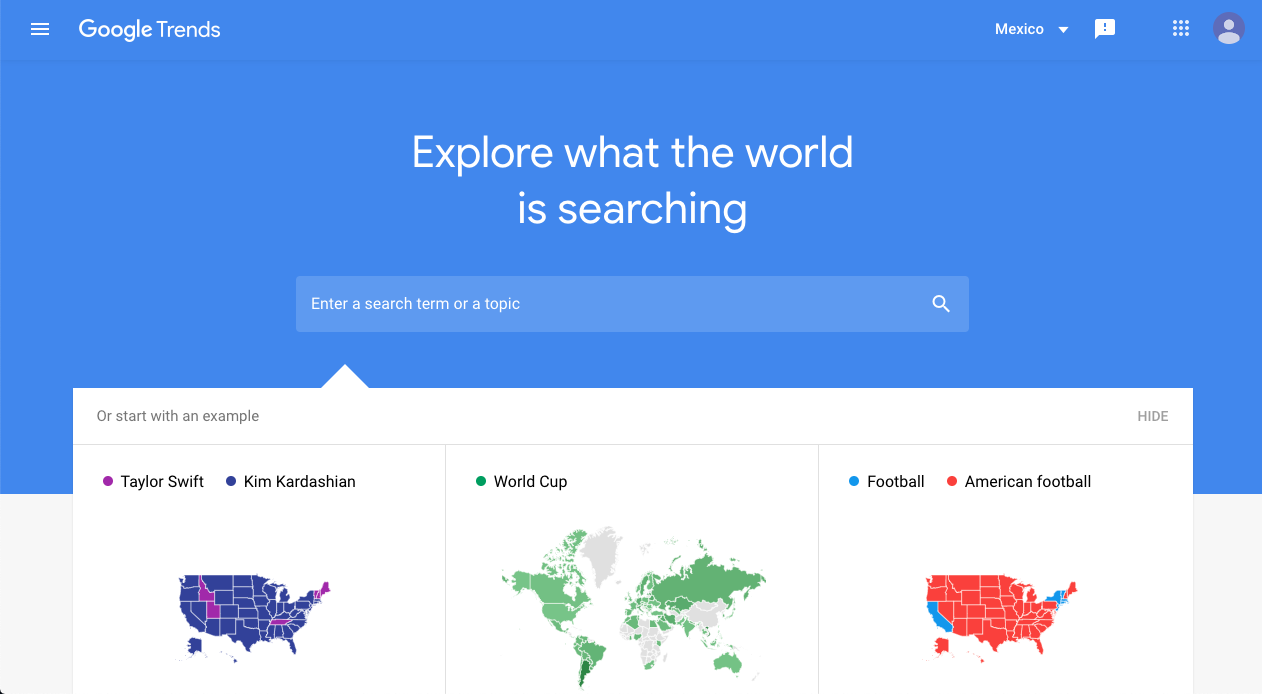 Google Trends is a simple tool you can use for basic keyword research. However, you should keep in mind that the data in Google Trends represents the relative popularity of the keyword, rather than its search volume.
Since it's free and easy to use, it's a helpful tool when comparing a few keywords' popularity, and identifying new and recurring trends.
Using it is as simple as searching for a keyword. Google Trends will then give you related keywords along with their historic popularity. You can filter results based on location, and find new keywords with Google Trends Categories.
Best For:
Quick comparisons between keywords, and basic local keyword generation.
Pros:
Completely free
Easy to use
Cons:
Limited capabilities & data
Limited YouTube keyword analytics
Not great for long-tail keywords
Your Competition
Regardless of how big or small your channel is, you should always keep an eye on your competition.
Your competing channels will likely have great ideas for new videos that can get your keyword research started. All you need to do is to find who your competitors are. The more similar they are to your channel, the better. Then, go through their videos and see which topics have worked for them the best.
If you want to get even more data, you can also find which tags a video is using. To find it, open the page source to see its HTML code. Then, search for the word "keywords". You'll find a section saying "'keywords':", the terms following that are the video's tags.
Previously mentioned tools like TubeBuddy and VidIQ offer a suite of tools in their plugin to instantly display this info on other YouTube channels, search results, and video pages.
Best For:
Any user looking to generate new keywords and staying up to date with new trends and topics.
Pros:
Free
Highly-personalized
User-driven
Cons:
Time-consuming
Limited data
Getting Started with Keyword Research
Finding the right keywords for your YouTube videos is vital for your success. That's why you need to find the best keyword research tool for YouTube for you and your company.
Which YouTube keyword tool is the best one for you? The larger your budget is, the better the chances of you finding one tool that can do it all. But, even if you have zero budget, you can still do powerful YouTube keyword research by using multiple free tools.