Running a YouTube channel for your business (or as a business) is a great way to drive sales by building trust and familiarity with your customers. But, like everything else in digital marketing, it's not as simple as just making a nice-looking video, using the correct YouTube upload format, and pressing Publish.
If you want to maximize the reach and value of each YouTube video, you need to master YouTube SEO – starting with these YouTube SEO tools.
What is YouTube SEO?
Search Engine Optimization (SEO) is the practice of creating content that is designed to appear at the top of the search results for a given term.
YouTube might be the world's largest video site, but it's also the second biggest search engine in the world- right behind Google.
People use YouTube's search bar when they are curious about a topic or have a question. When they find your video sitting at the top of the search results? That's YouTube SEO.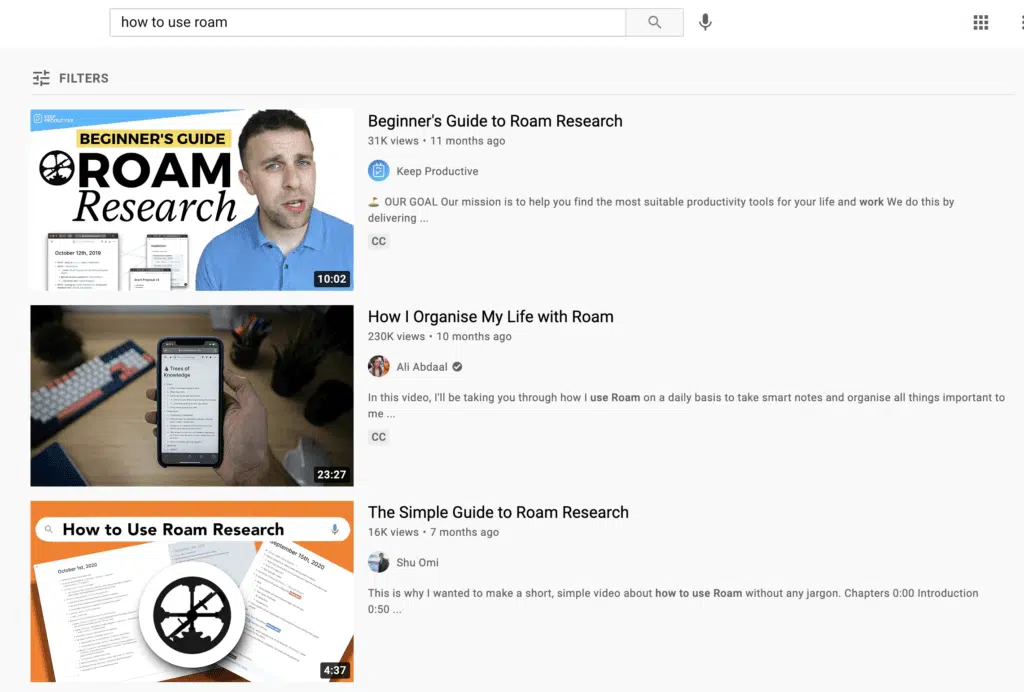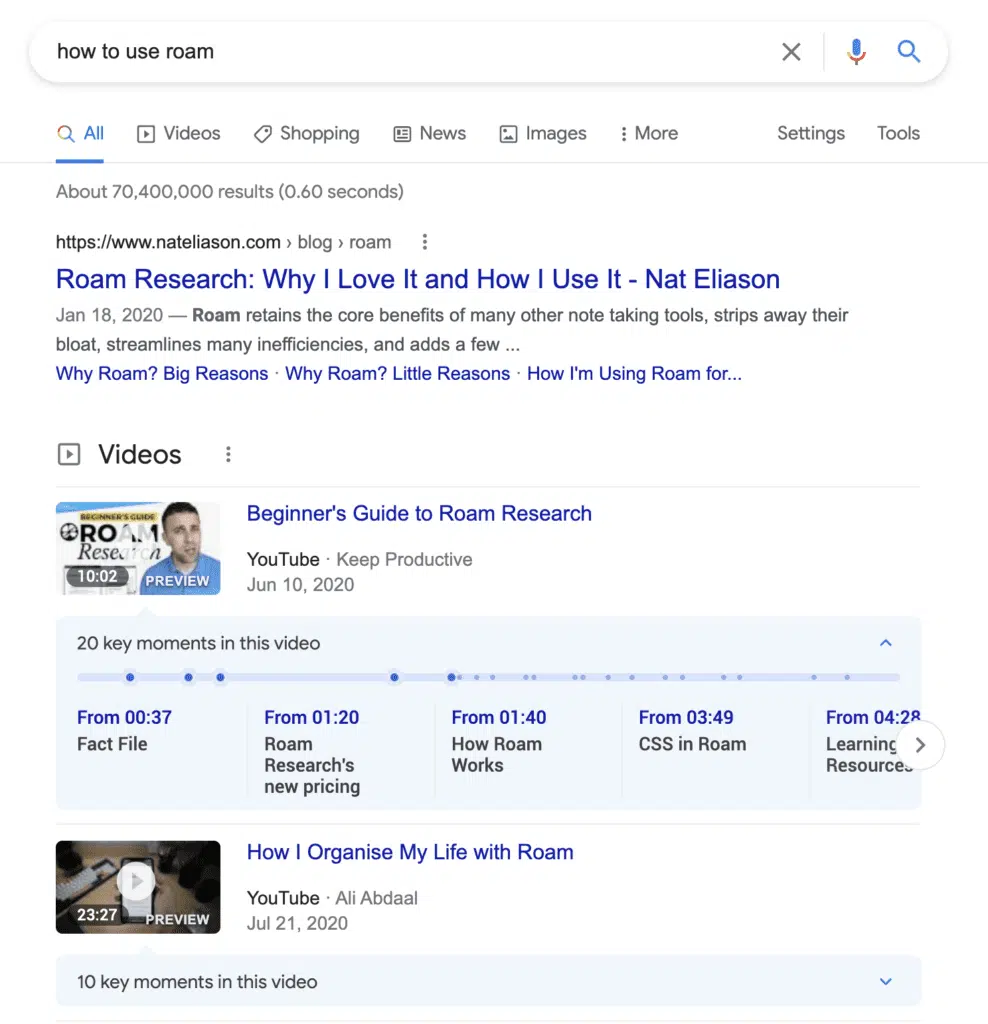 How Do You Optimize Your YouTube Videos for Search?
When a new YouTube video is uploaded, YouTube analyzes all the data involved, trying to learn what the video is about. If their algorithm determines that your video is relevant to your target keyword and of sufficient quality, they'll place it near the top of the results for that term.
How do you ensure that YouTube's algorithm can decipher your video's content and put it in relevant searches? At a bare minimum, you'll need to:
Include the target keyword in your YouTube video title
Fill out the video's tags with related words/phrases
Write an informative and engaging video description that include the target phrase and similar keywords
Transcribe the video's dialogue for captions (YouTube's algorithm also reads this to learn more about the video)
Create an attractive, informative thumbnail
It isn't quite that simple, though. YouTube's algorithm is hard to predict, and you can't just stuff keywords into your video and hope for the best.
Plus, there are dozens, if not thousands, of other brands competing to rank for those same searches. That's precisely why you can't rely on your intuition to rank your YouTube video.
You need to incorporate at least a few of the tools you're about to see if you want to grow your audience!
The 12 Best YouTube SEO Tools
| | | | | |
| --- | --- | --- | --- | --- |
| YouTube Tool | Cost | Video Optimization | Keyword Volume | Browser Plugin |
| YouTube Search Autocomplete | Free | n/a | Use to find new keywords; no volume data provided | n/a |
| Answer the Public | Free, Pro version available for larger businesses | Topic ideas for creating videos | Use to find new keywords; no volume data provided | n/a |
| YouTube Analytics | Free | Track your progress and audience size | n/a | n/a |
| Google Keyword Planner | Free | n/a | Find new keywords, uses Google search volume | n/a |
| KeywordTool.io | $69/Month and up | | Find new keywords using both YouTube and Google search volumes | n/a |
| VidIQ | Starts at $7.50/month | Audit your channel and videos, provides a series of tools for optimizing tags, YouTube video descriptions, and more | Excellent keyword research tool as part of package. Uses search volume data | Click To Install |
| TubeBuddy | Starts at $7.20/month | 15 different optimization tools for every part of the production process. | Great tools for keyword research, including search volume data | Click To Install |
| Tubics | $790/month | Step-by-step, actionable guides for optimization | Easy keyword research that provides all relevant data | n/a |
| NoxInfluencer | Most tools free, paid starts at $30/month | Great tools for analyzing revenue potential, researching competitors | n/a | Click to Install |
| Ahrefs YouTube Keyword Tool | Free light version, paid starts at $99/month | Suite of tools are for websites, not YouTube channels | Research thousands of keywords with search volume data and past ranking histories | n/a |
| Morningfame | Starts at $12.90/month | Easy-to-follow and insightful analysis and optimization guides | In-depth research and data, just like many other tools. | n/a |
| Canva | Free; Pro version is $9.99/Month | Optimize your video thumbnails to be appealing and clickable | n/a | n/a |
YouTube Search Autocomplete
Key Features
Automatic search suggestions
Great for basic keyword research
Easy and free to use
While YouTube search isn't an "SEO tool" by design, it can be used that way to great effect. The search bar on YouTube automatically populates with suggested searches.
For example, if you type in "Lebron James," YouTube's big ol' brain sets off to work trying to figure out what you're looking for:
Often, these auto-populated search suggestions are based on what other users are searching for.
If your business's YouTube channel is looking to expand its reach, find out what people are searching for and make videos around it!
YouTube keyword tools are essential to both use and master, and YouTube Search is one of them that is too often ignored.
Answer The Public (ATP)
Key Features
Learn what questions people have about a topic
Works rather quickly for a free tool
Helps you become a trusted authority in your industry or niche
ATP is an excellent resource for any marketing team or content specialist who wants to get beyond auto-populated suggestions. Type in a keyword, press "enter," and AnswerThePublic will scrape the internet, looking for all the questions people have related to that keyword. The term "advanced robotics," for example, returns this list of questions:
The questions are arranged how they would have been in your junior high English class: Who, What, When, Where, Why, and How.
Using ATP will help you get a sense of what people are interested in when it comes to your business.
Effective content marketing efforts are focused on building interest and trust in your business rather than selling the products themselves.
This makes AnswerThePublic a valuable tool that you can use to establish credibility and familiarity with potential clients/customers.
Answer The Public also has a "Pro" version starting at $99/month, but it really isn't worth it unless you're managing a huge brand.
Check out Answer the Public Now!
YouTube Analytics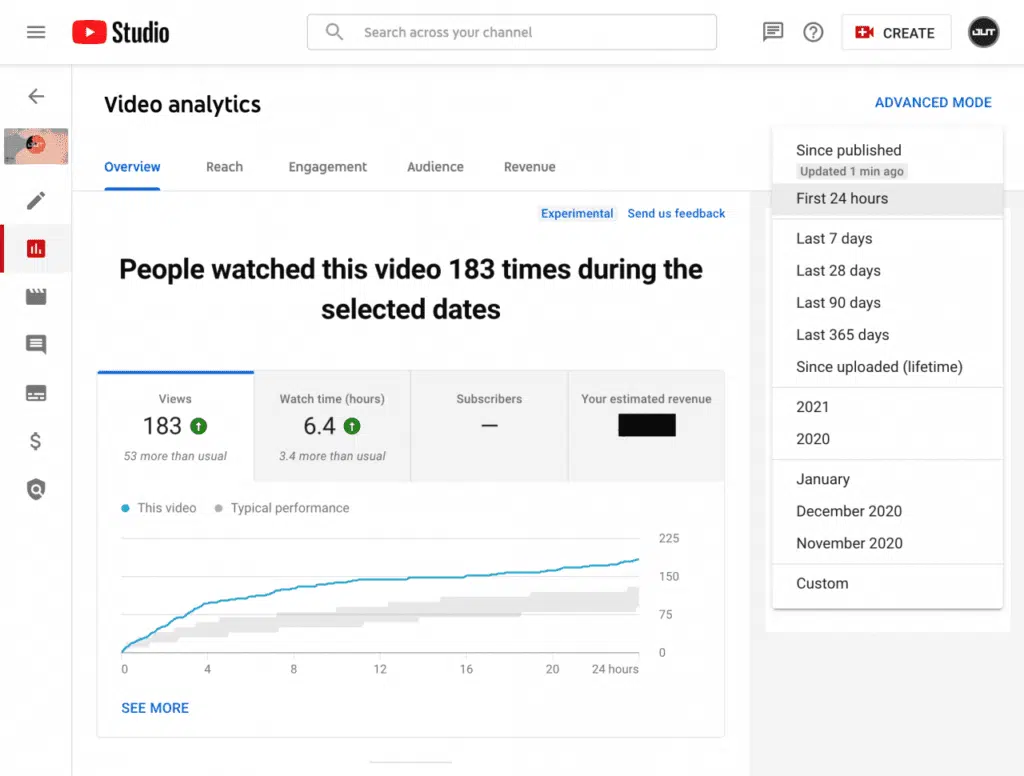 Key Features
Track your channel's progress and signals you to what is (or isn't) working
Judge how well your video content strategy is working in real-time
YouTube's analytics tool isn't the most complex in the world, but it is useful for more than just tracking views and revenue.
Use Analytics to get a sense of how your video marketing strategies are affecting your channel's growth (or lack thereof).
It's also great for discovering how your audience is finding your videos – search, home page, recommended videos. This can help you optimize future videos to capitalize on what's working.
If you implement changes to your YouTube videos, this is where you'll start to see the results.
Check Your YouTube Analytics Now!
Google Keyword Planner
Key Features
Easily find search volume for millions of searches
Predict competition for different keywords
Completely free
Keyword Planner is another tool that you should have in your arsenal. It helps people run PPC advertising campaigns, but it has proven helpful for millions of business owners and creators, whether they run PPC or not.
It's also easy to use: simply type in a keyword that you think might have potential, and you'll see the estimated search volume for that keyword, as well as a competition rating. The competition rating indicates how likely it is that other brands will be targeting that keyword, which gives you an idea of how hard it will be to rank for it.
Keyword Planner uses data from Google, not from YouTube, so you can't count on a term that gets 10,000 Google searches performing the same on YouTube search. However, people tend to search on Google the same way that they do on YouTube, so you can assume that a popular keyword on Google Search will still be popular on YouTube search.
Additionally, video search is on the rise. 62% of Google searches are done by people looking for videos – and 80% of Google video searches go straight to YouTube.
If you can optimize your videos to show on both YouTube and Google searches that's a double win. So, integrate Keyword Planner into your YouTube SEO practices to make sure you're not missing out on a large portion of interested users!
Check Out Keyword Planner Now!
KeywordTool.io
Key Features
Instantly returns hundreds of keywords with search volume and more data
Can be divided into simple queries, questions, and other types of search entries
Ultra-straightforward process
This is, hands-down, the best tool for finding keywords to target. It's extremely simple, but it provides valuable data that you can put to use right away. With KeywordTool.io you can get keywords for every major search engine and refine your list of keywords through various filters.
Thanks to their Chrome plugin, when searching for keywords in YouTube, KeywordTool will display keyword data right inside the search page in a sidebar. From there you can save terms you want to target into a custom list.
Price: Limited free version; paid starts at $69/month.
VidIQ
Key Features
Easy video tags suggestions
Find keywords, audit your YouTube channel, and more.
Intuitive design and layout
Video title recommendations
VidIQ is like the Adobe Creative Cloud of YouTube SEO tools- you don't get one tool or feature; you get all of them. Starting with keyword research and finishing with in-depth audits and performance analysis, you can do just about everything you need to with VidIQ.
If you are serious about growing your YouTube channel, this is an essential tool. It gives you actionable information on how you can do things better, how your competitors are doing things, and where your YouTube audience spends its time.
Pricing: There is a free version, and the paid version starts at $7.50/month.
TubeBuddy
Key Features
Tracks your rankings in searches
Excellent video tags suggestion/ranking features
Intuitive and straightforward keyword research
TubeBuddy is another full-featured software that aims to be your complete destination for YouTube SEO. It includes many of the features you'll also find in VidIQ, so we won't list them again. Of particular note, however, are TubeBuddy's tag features.
TubeBuddy will auto-suggest tags with high ranking potential as you type them. It will also tell you exactly where your video ranks for each of your individual tags. You can even translate your tags into different languages at the touch of a button- helpful for business owners in multilingual areas or industries.
This software's "Opportunities" feature is also worth mentioning. SEO audits are helpful, but they can be hard to turn into actions; interpreting the growth opportunities for your channel can be a difficult task.
TubeBuddy does some of the interpretation for you, identifying ways that your channel can rank for new keywords that you may not have thought of. For anyone serious about using YouTube videos as a marketing tool, TubeBuddy can't be ignored.
Price: Free version available, paid versions starting at $7.20/month.
Tubics
Key Features
Step-by-step checklists for video optimization
Strong keyword and tag research tools
Track video rankings
SEO suggestions that provide simple, actionable guidance
It may cost $800/month (a bit of a ridiculous price), but any YouTube optimization software that can help a global brand like Samsung grow their YouTube traffic twenty-fold is well worth the price.
If you typically choose your tags purely based on what's similar to the video topic, Tubic's tag suggestion tool is for you. The software will suggest tags for you to use based on search volume, not just topical similarity. It's a data-driven way to ensure your video has the best possible chance to rank.
Tubics also provides an easy-to-follow set of suggestions for SEO best practices on each of your videos. It'll analyze the video either before or after it's posted and give you a list of suggestions accompanied by a light- red, yellow, or green- that lets you know how you're doing on a given metric.
Got a red light on your description? Tubics will tell you exactly how your description needs to change to get that light to turn green.
To be honest, these features still don't make Tubics sound as though it's worth the money. That might be why they have a host of case studies on their website (including that Samsung story) that demonstrate how their tools- which look familiar on the outside- deliver better results for creators.
Price: $790/month
NoxInfluencer: For Competitor Research
Key Features
Perform detailed research on successful YouTube channels
Research competitors on other marketing channels such as Instagram and TikTok
Useful free features such as YouTube trends and their Chrome Extension
NoxInfluencer is, first and foremost, a tool that connects brands to potential sponsors and influencers. This means their paid software isn't going to be very useful for your YouTube videos even though your marketing team might want it for other reasons.
NoxInfluencer's free tools, though, are incredibly useful. Very few of the analytical features are locked behind the paywall!
The Video Analytics tool shows you the estimated value of your YouTube videos, which helps you gauge how much revenue your competitors are bringing in from each video.
YouTube Trends gives you a bit of direction when planning out your next videos; if you can see which way the winds are blowing, you can set your sails accordingly.
They also have a Video Title Analysis tool that helps you write compelling, click-worthy titles for all of your videos!
All in all, NoxInfluencer's YouTube tools aren't mind-blowing, nor will they singlehandedly revolutionize your business' channel.
They are completely free, though, which means you have no reason not to incorporate them into your SEO toolbox.
Price: Many tools are free, paid versions (intended for brands that work with influencers) start at $30/month.
Ahrefs YouTube Keyword Tool
Key Features
Returns dozens of keyword suggestions for YouTube tags (hundreds if you have the paid version)
Keyword suggestions organized by country, has a tab to see keywords in the form of a question
Fast and easy to use
Ahrefs has long been considered the gold standard of SEO tools. While most of Ahrefs features are built for websites, they do track YouTube keyword data that lets you research search terms on YouTube, complete with search volume, that is incredibly useful.
If you're already paying the $99+ monthly fee for Ahrefs as part of your larger marketing strategy, you have no reason not to start using the keyword research for YouTube videos as well.
It may not be worth the price to use Ahrefs only for YouTube, but the good news is that you can get almost all the data you need from the free version of the tool.
Ahrefs will give you a long list of keywords, along with search volume, for the country that you choose. The only things hidden behind the paywall are the keywords that have the lowest volume, which most YouTube creators won't be targeting anyways.
Price: Free but limited YouTube keyword research; paid version starts at $99/month.
Check Out Ahrefs YouTube Keyword Tool Now!
Morningfame
Key Features
Detailed reports that read like suggestions from a person, not a contextless graph
Solid YouTube Keyword research
Actionable suggestions for YouTube search optimization
All it takes is a short demo of Morningfame's optimization/analysis layout to understand why so many people love it.
Instead of spitting out a random sequence of statistics and performance metrics, Morningfame assembles a detailed, readable report that feels more like a meeting with a real person than a bar chart. It's friendly, helpful, and walks you through exactly where your channel is both succeeding and failing.
Morningfame also has a keyword research tool that performs just as well as other companies and comes with Morningfame's friendly readability. The catch?
Currently Morningfame is invite-only, which means you have to have an invite code from an existing member. Once you get the code, you will have a 24-hour trial of the keyword tool and a month-long trial of the analytics.
If you get yourself an invite code, however, you'll quickly discover just what makes Morningfame so special. To date, they've helped their members add 190 million subscribers and 36.4 billion views to their channels.
Price: Invite only, starts at $4.90/month.
Canva
Key Features
Easily create professional and appealing video thumbnails
Free version is very robust
Access to thousands of templates and stock photos
"Canva? What does a graphics app have to do with SEO for YouTube videos?"
You can do everything possible to make your video great – fill it with incredible content, professional editing, etc – and work even harder to get it to rank well.
If your thumbnails aren't up to snuff, though, no one is going to click to watch your video. Your search rankings are pretty worthless if you can't get people enticed enough to click on them and that's what your video thumbnail does!
Canva gives you access to hundreds of thousands of templates and stock photos; you can make a professional and appealing thumbnail for your videos in less than 10 minutes!
The free version of Canva is more than enough for most people, but the $10/mo Canva Pro is well worth it for unlimited access to templates and millions of stock photos.
Unless you happen to have a graphic designer on retainer, Canva is the way to go!
Price: Free version available, the pro version is $9.99/month (add $4.99/month for each additional team member).
YouTube SEO FAQ
What SEO tools do you use for YouTube?
There are a variety of free and paid YouTube SEO software tools for YouTube but the two most popular ones are VidIQ and TubeBuddy. Other YouTube optimization tools include MorningFame and KeywordTool.io.
How do you do SEO on YouTube?
Optimizing your YouTube video for search engines starts in the planning stage when researching keyword ideas. You'll then want to create a video based on a target keyword, upload the video to YouTube, then optimize all the metadata around the video to include the target keyword, include your video title, description, tags, thumbnail, and captions.
Wrapping Up: YouTube Video & SEO
Creating your YouTube channel is one thing; populating it with high-quality videos is another. Both of those tasks require creativity and skill, but they're ultimately worthless without quality video SEO.
Using the tools above will take you a long way toward success in video marketing.